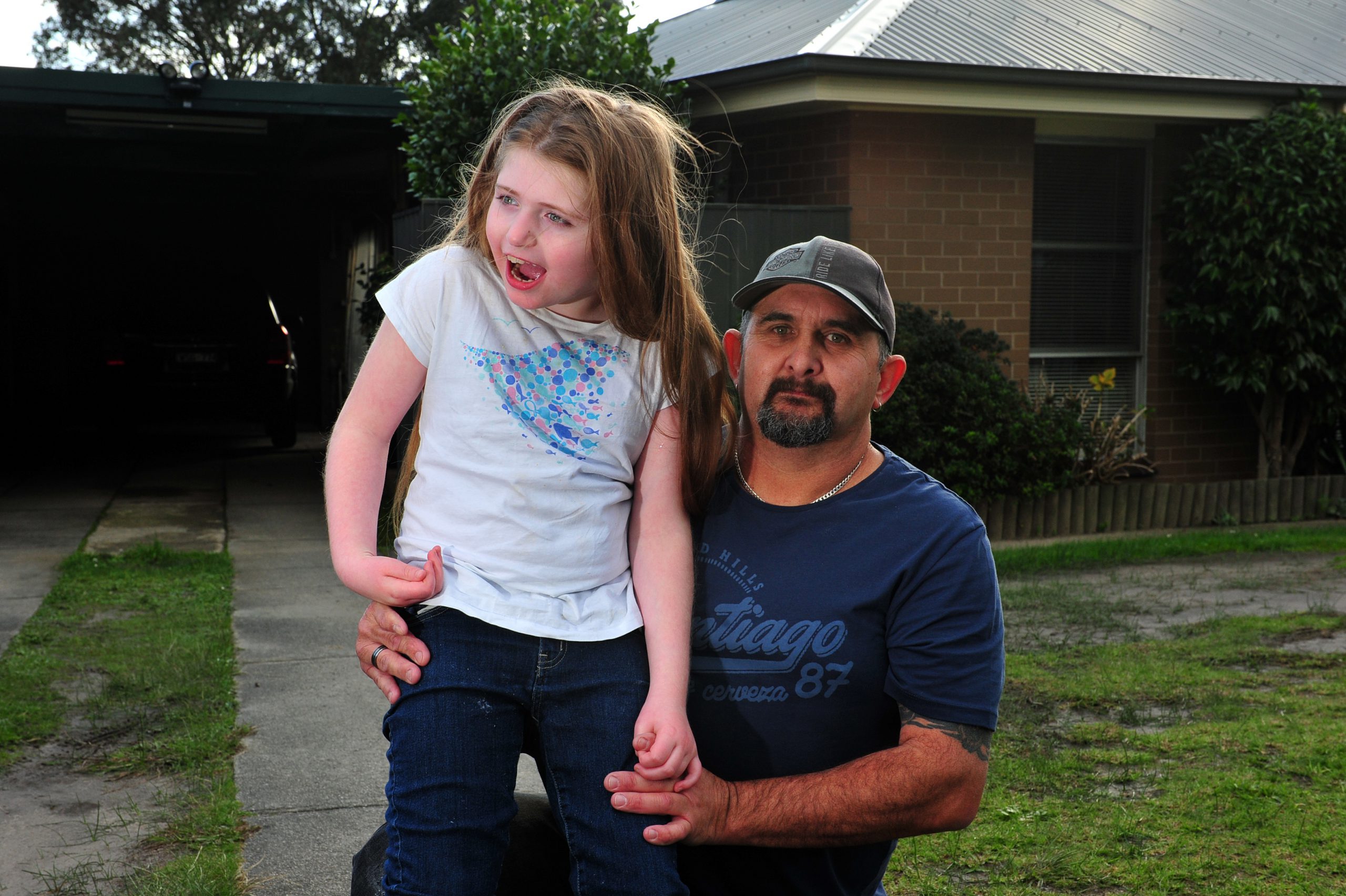 A Latrobe Valley father-of-two would like the thieves of his family car to know they've stolen more than just a hotted-up vehicle.
Peter Saunders woke to the sound of his driveway gate banging about 4am last Tuesday.
When he went to check on the noise, he realised he was standing where his car should have been.
He immediately phoned police.
"Whoever took it needs to think about how they impact other people's lives," Mr Saunders said.
"But, I suppose they don't care."
Inside Mr Saunders' 2002 modified VY Holden Commodore is a custom-ordered seat that allows him to safely transport daughter Chloe.
Chloe, who turns eight in August, is living with Angelman Syndrome – a genetic condition that causes intellectual disability, delayed motor development and hyperactive behaviour.
"She needs your attention 100 per cent of the time. She doesn't know dangers or anything and she just doesn't stop," Mr Saunders said.
"Chloe doesn't play with much. It's just full on, 100 per cent go.
"She usually only sleeps between four and five hours a day."
Without Chloe's Carrot Car Seat 3000, which is worth close to $4000, Mr Saunders struggles to make it a kilometre before Chloe is out of her seatbelt.
"It's just a car seat, but it's a special needs one… just to hold her in her seat, because she gets out of all the other seatbelts," Mr Saunders said.
"It's a booster seat, but a better quality one with a five-point harness for her."
Chloe attends the Warragul and District Specialist School four half-days a week. Mr Saunders said it was important for her to attend for socialisation.
"They've probably got more of an understanding how to teach her the way to do things," he said.
Now that he's without his car and Chloe's specialised seat, Mr Saunders is struggling to get her to school.
"You sort of don't think about how much it does impact," he said.
"We normally go down the street and get the mail in the morning.
"We can't do that and she is so focused on routine, it's changed, and she gets, yeah, she plays up."
Mr Saunders said the theft had also impacted on his 11 year-old son, who was facing the prospect of not making soccer training or matches.
His mother, Margaret, who lives with Mr Saunders and his two children, is helping out for the time being. So too, are his friends.
But he is Chloe's full-time carer, and relies on a disability support pension for an income.
He is paying off his mortgage and said he did not have the money to replace the seat, his car or even to hire a vehicle as a temporary solution.
"Not only did they steal a car, but they've stolen part of Chloe's life," grandmother Margaret said.
"They've prevented her from going to school and now she's going to have to change from one car to another. Change doesn't go well.
"Everything's regimented as to what you do. So now all of a sudden this car's not here, she's devastated, but she can't understand why it's not."
Moe Police First Constable Daniel Engel said the theft appeared to be planned, as the car was parked behind a locked gate and wasn't visible from the road.
He is appealing for anyone with information to speak with police.
The vehicle is a black 2002 VY Commodore with red leather interior and a skull on the front grill.
Anyone with information is urged to phone Crime Stoppers on 1800 333 000 or First Constable Engel at Moe Police Station on 5128 1100.