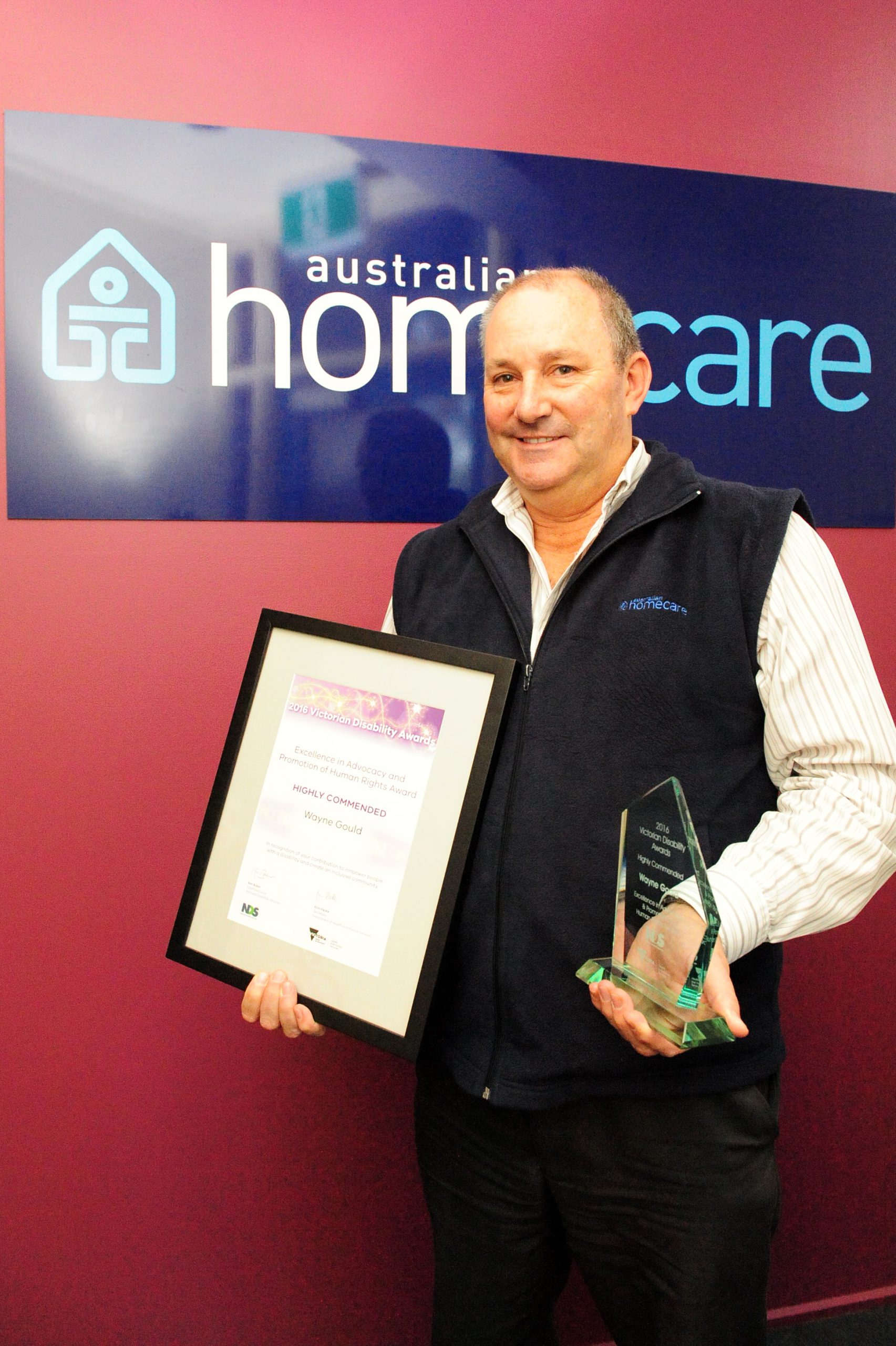 A Fifty-five year-old Moe man has dedicated about the past two decades to supporting people living with a disability.
And this month Wayne Gould was recognised for his efforts at the 2016 Victorian Disability Awards where he was highly commended for Excellence in Advocacy and Promotion of Human Rights.
"I was excited of course, I was humbled," Mr Gould said.
"The only reason I feel like that is, I think it's simply because you know there's a lot of other people who probably deserve it a lot more than me.
"But I'm very passionate about the field, about disabilities, so I've always been one to advocate on behalf of people with disabilities."
The client services manager at Australian Home Care is keen to give people with disabilities choices.
He set up day outings and holidays so clients could socialise and make friends, something the broader community can perhaps take for granted.
"I wanted to see people with disabilities be able to have the same opportunities as you and I have, so I wanted to see them get out and make friends," Mr Gould said.
"I thought to set something up for them where they make friends and… it worked out really well."
It was this initiative that saw State Housing, Disability and Ageing Minister Martin Foley present the high commendation to Mr Gould at a 15 June ceremony in Melbourne's Federation Square.
Mr Gould said seeing his work have a positive impact on clients made "it all worthwhile, that what you're doing is working".
He hopes once the National Disability Insurance Scheme is rolled out across the country, people with a disability will be given more choices.
"To have more holidays or camps and get out and meet new friends," Mr Gould said.
"It's not that they don't have that chance now, but let's give them some more.
"They need someone to advocate on behalf of them and that's my main goal here."
Australian Home Care provides in-home care and support services for people to live as independently as possible in their own homes and communities.
For more information about the organisation visit
www.achs.org.au or phone
1300 303 770.