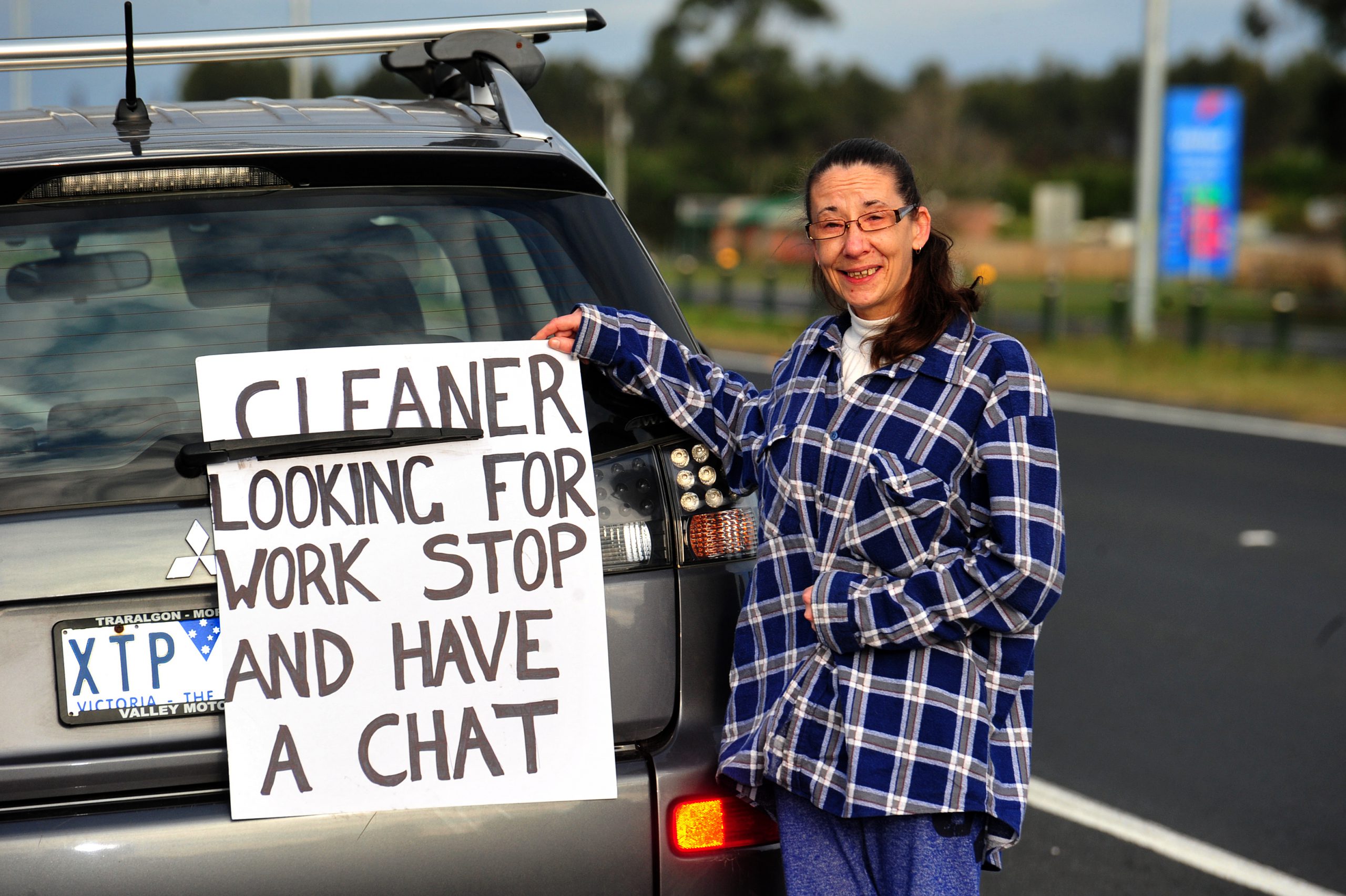 FOR Latrobe Valley jobseekers like Deborah Peatey, it is an ongoing struggle to find employment.
A 43 year-old former cleaner from Traralgon, Deborah's "desperation" for work has forced her take to the side of the Princes Highway in a last ditch-attempt to secure a job.
Speaking to The Express on Monday, Deborah said she had been actively looking for work since November, when she was let go from her previous employment.
But with no luck she is now at her wits' end – tired, hungry and sick of applying for job after job.
"Any cleaning job, any job I'm qualified for I go for… but they always say I'm unsuccessful," Deborah said.
Borrowing money to pay her bills and put food on the table, Deborah has resorted to drastic action in a bid to catch someone's eye.
Every morning since Monday she has parked herself on the side of the Princes Highway with a sign looking for work.
Encouraging people to "stop and have a chat", Deborah is hoping to stand out in a sea of applicants in what she described as competitive job market.
Her extreme measures follow the release last week of the nation's latest quarterly job figures by the Australian Bureau of Statistics, revealing an above average unemployment rate for the region.
Latrobe-Gippsland currently stands at 7.7 per cent unemployment, slightly down from 9.1 per cent for the previous quarter but above the state average of 5.8 per cent.
In a statement to media, the State Government said full-time jobs across regional Victoria had increased by 4300 people over the past three months.
But the search for work has proved no easy feat for Deborah, who said she had attracted "a lot of attention" but no concrete job offers.
She said she was constantly fighting against hundreds of other job seekers for "any and every position available".
"The population is getting bigger but the workforce seems like it's getting smaller," she said.
"I don't think there are enough jobs; I think everyone is finding it hard."
She said every weekday morning she would park herself on the highway, across from Latrobe Regional Hospital, until she secured work.
"It's a matter of sticking out against 500 people going for the one job, so I'm just trying to stick out," Deborah said.
The job hunting is wearing thin, but Deborah said she was determined not to give up, refusing to accept government payments or charity donations.
"I like the charities and appreciate all they do but I'd rather do it on my own, I like to pay my own way," she said.
Anyone with work available can contact Deborah on 0439 404 440.