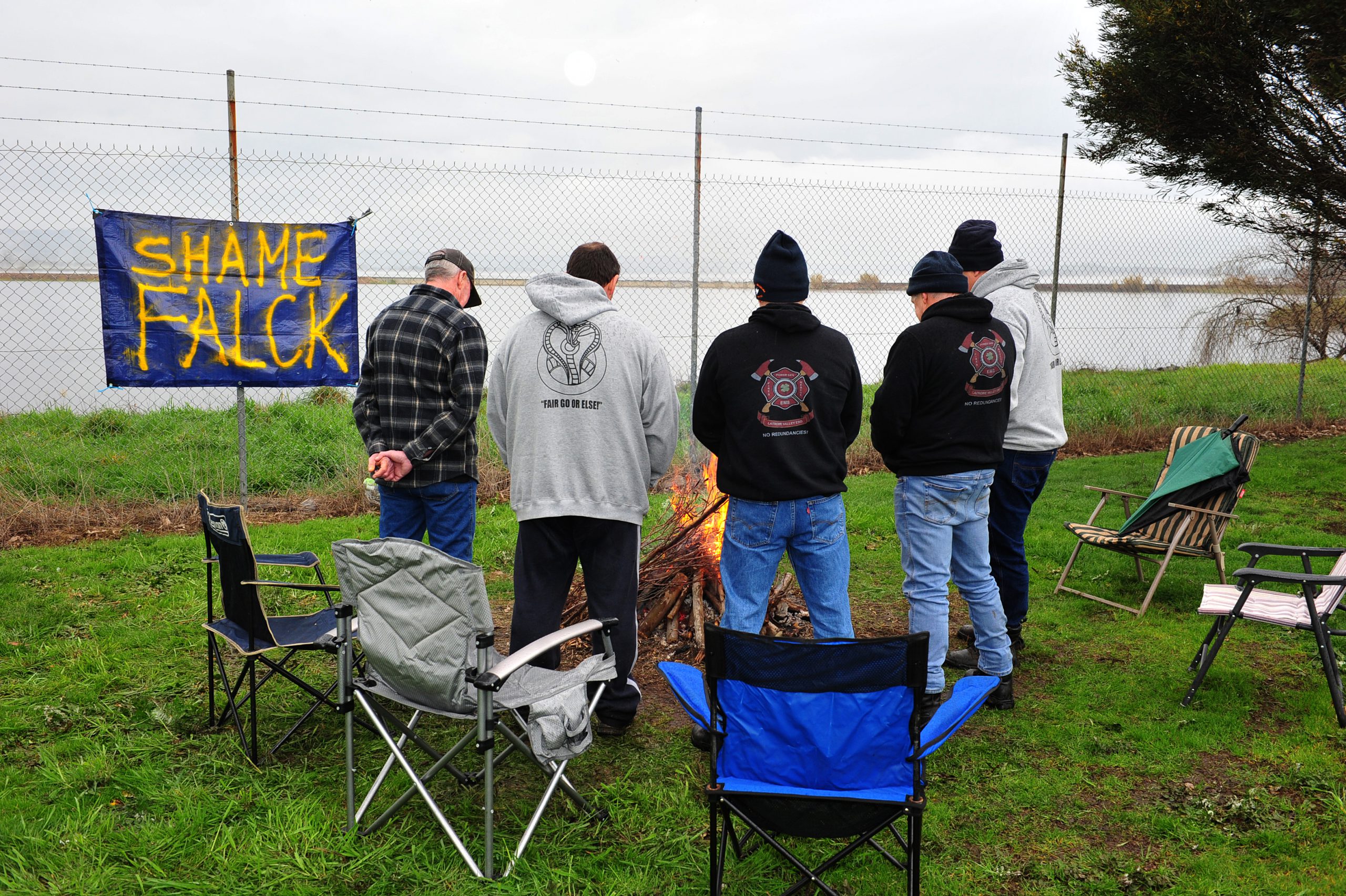 Campfires were ablaze outside of Hazelwood and Loy Yang A this week when a group of former emergency services and security contract workers protested their job losses.
It follows contract changeovers with international company Falck at the two Latrobe Valley power generator sites.
The Construction, Forestry, Mining and Energy Union claims Falck did not offer reemployment to 10 workers based on "flawed" medical examinations.
"The standard of the examination was unrealistic and in fact flawed due to the fact that some people who were deemed unfit have since had specialist opinion that is not the case," regional CFMEU organiser Duncan MacGregor said.
"Basically this mob has refused to reconsider their prospective employment and stated flatly that is the end of the conversation."
Falck officially took over the emergency services and security contracts at Loy Yang A on 14 July and at Hazelwood on Monday, 1 August. An ENGIE Hazelwood spokesperson said the employment matter was up to Falck to resolve with the union, although stressed there would be no disruption to the provision of emergency, rescue or fire services at Hazelwood.
"The safety of all onsite is our highest priority, and we will work with our site emergency services and security provider Falck to ensure that this is not jeopardized," the spokesperson said.
An AGL spokesperson said Falck was selected for its ability to further improve the company's emergency services capability with the responsibility of on-site first aid, fire and rescue, and security patrols.
"All staff formerly engaged by MSS at Loy Yang had the opportunity to apply for roles with Falck as part of the transition of services," the spokesperson said.
A Falck statement sent to The Express confirmed employees of the previous service contract provider(s) were invited to apply for positions with the company.
The statement said Falck had undertaken "a thorough process" to assess all applicants "including the use of appropriately qualified and experienced professionals, where relevant".
"Falck is pleased that it was able to engage the services of the majority of the applicants from the previous contract provider(s), however several applicants were not offered positions as they did not meet all the company's requirements for engagement," the statement read.
"Falck is conscious of the sensitivity of these matters and for the privacy of the individuals involved. Falck has no intention of elaborating further other than to say that Falck takes workplace health, safety and its duty of care seriously.
"It would be highly irresponsible to require a person to undertake duties for which they are not fully suitable to undertake for whatever reason."
Mr MacGregor said he appreciated Falck's obligation to have a healthy workforce.
"But given the Hazelwood people not so long ago were at the mine fire and worked long hours virtually seven days a week, we would question Falck's assertion they're not fit to do the job," he said.
He said he would be a "supreme optimist" to believe the small protests would lead to Falck taking "these previously proven employees back on".
But due to "grim" employment prospects within the Latrobe Valley, he wanted to highlight the broader community issue.