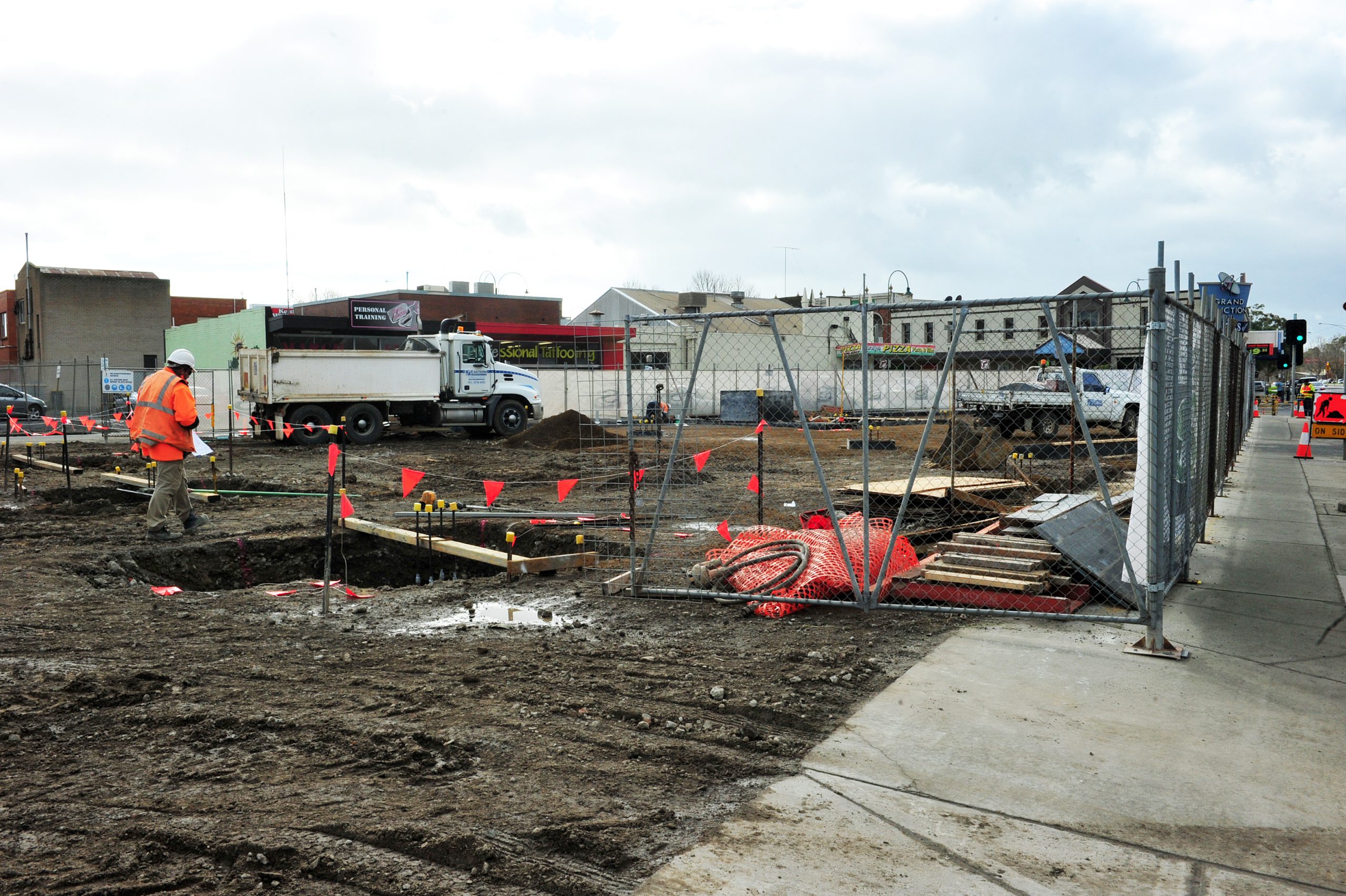 A two-storey retail and office development in the centre of Traralgon is underway after a decade-long wait.
However, car parking issues caused division among Latrobe City councillors last week when they decided to further extend the planning permit for the corner of Franklin Street and the Princes Highway.
Council granted the original permit in 2006 and extended it four times, a council officer's report stated.
But since then, council has introduced a parking overlay, which means developments that cannot provide the necessary number of car parks require a payment in lieu to council from the developer.
"If an application was made today for the subject development, a condition of approval would require the payment of $144,000," the report stated.
It recommended councillors refuse an extension to the planning permit, which was due to expire last Tuesday, meaning the developer would have had to lodge a new planning permit application.
Traralgon-based councillor Dale Harriman said the money collected in lieu of car parks went towards future parking projects in the town, and council had its sights on another level of the multi-storey car park in Seymour Street.
He said $144,000 equated to 10 to 15 per cent of the cost of the next level.
"It's getting harder and harder to get a park. We need another level. We can't just waiver everyone's car parks," Cr Harriman said.
"I'm fully supportive of developments going ahead in Traralgon and support better and faster planning approvals, but sometimes we need to say there's a cost to the community that needs to be met by the developers and I'm disappointed other councillors saw not to impose that this time."
Cr Harriman said he also feared the decision would set a precedent and other developers would argue against paying the parking cost in lieu.
Stirloch Constructions manager Wayne Loechel said preliminary work on the development started more than a year ago and detailed site works began in earnest in June this year.
When asked why the project had taken so long to start, Mr Loechel said it had taken a long time to find tenants to sign onto a lease.
"We would have liked to have built on it six or seven years ago, but you need to get the right tenant to justify the site," he said.
The building will be made up of retail space on the ground floor and the first storey will include car parking and some office space.
Mr Loechel said sporting retail store Intersport had been secured as a tenant.
He said had the extension not been granted by council, work would have stopped and 12 people currently working on the site would have been out of a job.
The extension has been granted for six months, a deadline Mr Loechel says will be met.
Last Monday night councillors Harriman, Christine Sindt, Graeme Middlemiss and Peter Gibbons voted to refuse the planning permit extension.
Councillors Darrel White, Kellie O'Callaghan, Sandy Kam and Michael Rossiter opposed this, and as the vote was split, mayor Rossiter cast the deciding vote as chair of the meeting and the motion was lost.
Cr Christine Sindt then moved a motion that council issue the extension of six months.
The motion passed with support from crs White, O'Callaghan, Kam and Rossiter.
Crs Harriman, Middlemiss and Gibbons voted against it.