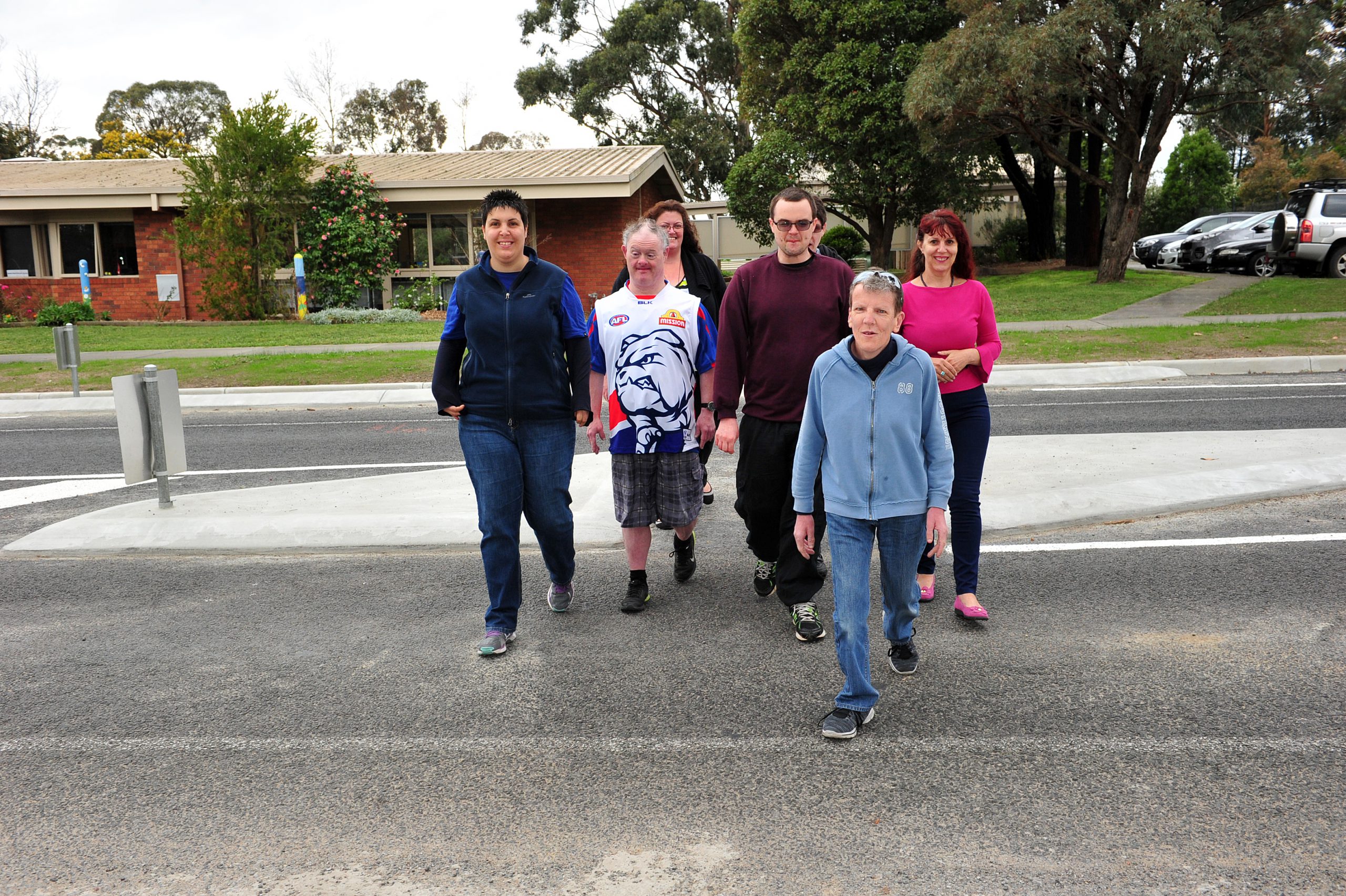 THE death of a pedestrian was the final straw.
Moe Life Skills participants had witnessed near misses as people crossed High Street outside their education centre, close to the town's notorious five-way roundabout, but seeing a fatality on their doorstep in December 2014 sparked them into action.
The group of people with disabilities, who attend MLS for work education and community participation courses, embarked on a road safety crossing campaign which has culminated in the construction of a pedestrian refuge at the site.
Their self-advocacy campaign involved the formation of an in-house committee to run petitions, community forums and traffic counts, speak at council meetings and on radio and lobby for an outcome.
MLS chief executive Carole Broxham said the recent installation of the island crossing showed what people with disabilities were capable of.
"There's misconceptions about people with disabilities around what they can do and their capabilities; this demonstrates their work is effective," Ms Broxham said.
"Unfortunately this began from a very tragic incident but the students have been able to draw on their skills they've been developing over the last couple of years, apply them and have a positive outcome not only on the community but the individual student in terms of their self-confidence and self-esteem.
"They're ready to take on any project that comes their way now."
Council approved to fund the refuge in December.
It followed the centre lobbying for safety measures at the site at a public meeting in June last year, which garnered the backing of councillor Sharon Gibson.
Cr Gibson said the crossing enabled people with low vision or mobility to safely cross the street.
"You can understand why (they've taken action), they were the ones witnessing the death," she said.
"Some of the students know of the problems with looking both ways (at a crossing), some of them can't do that, so they didn't want to see that happen again."
Cr Gibson commended the group's well organised campaign.
"What has been so lovely to see is the students, how they've grown," she said.
"They came to the council meetings and got up and spoke – that's hard anytime for people – and to see how they've done it off their own bat, done the work themselves, prepped for council meetings, radio, done the traffic counts, my hat's off to them, they've done such a wonderful job," she said.
MLS participants will give a presentation on the project and self-advocacy at the Have a Say conference at Deakin University in February.