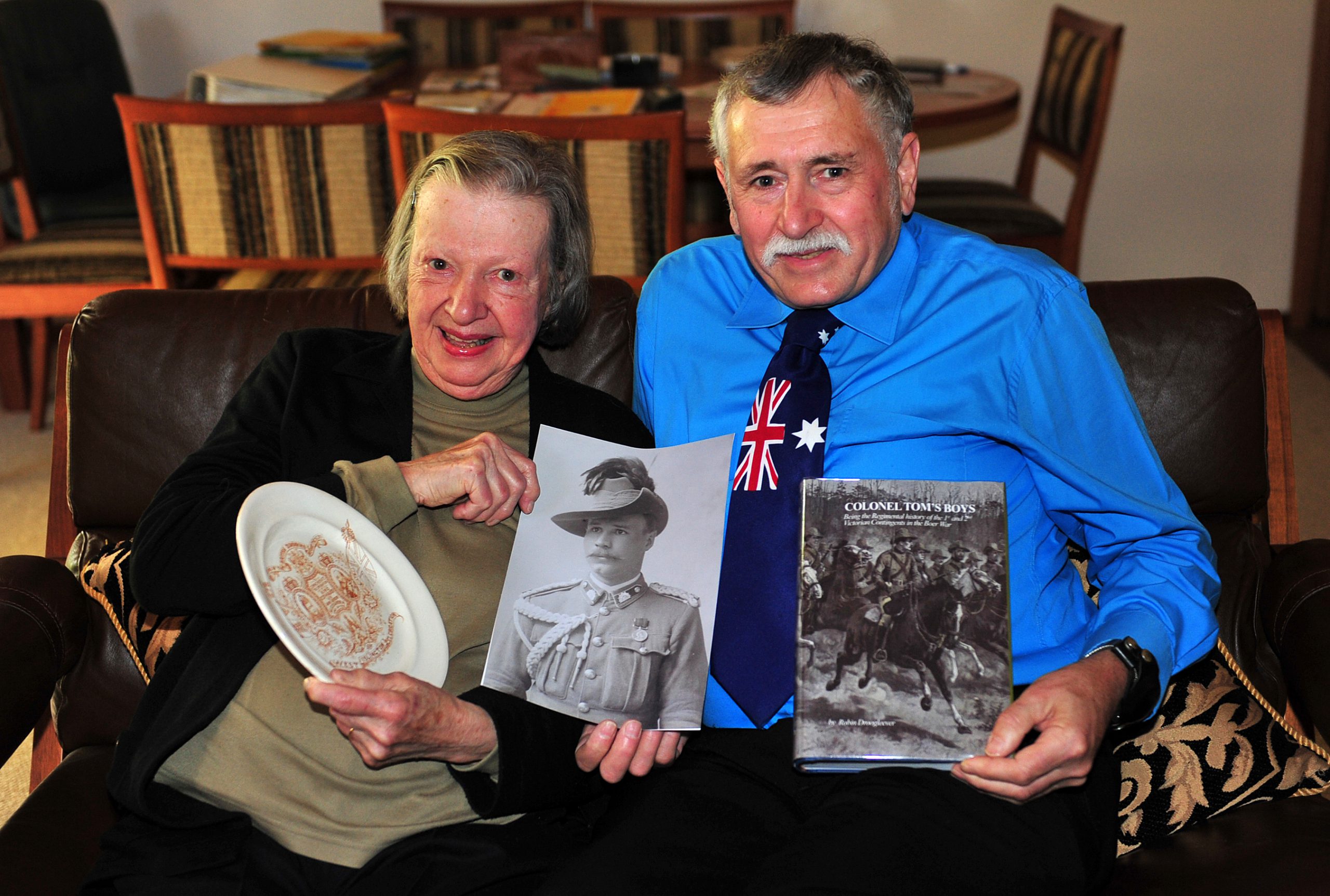 Margaret Coulson didn't see much of her uncle after his return from the Boer War.
The Hazelwood-born Private John Nadenbousch had married Mabel Cobain Kenyon and taken on a sheep grazing property near Sale, which occupied much of his time.
"I think about 1923 or thereabouts they bought a house in Sale near the lake (Guthridge). It's still there," Mrs Coulson said.
"I can remember the house because my mother and I used to visit it during the late 1930s."
Mrs Coulson said her uncle didn't speak of the war, and in recalling his manner, said he "expected things to be orderly".
She is assisting local historians piece together the story of Private Nadenbousch as they embark on a project to honour all Morwell and district Boer War servicemen and civilians.
"I think it's always very important to see what happened and why it happened and how people look at it nowadays," Mrs Coulson said.
"It's important for a country nationally to maintain these connections to the past in all circumstances, because circumstances will change but the past doesn't change, [just] different ways of looking at it."
Local historian Rob de Souza-Daw said, to an extent, the Boer War was a "forgotten war".
He said for the Morwell district, only the four men who lost their lives in active service were publicly remembered on memorials.
In conjunction with the Morwell Historical Society, Mr de Souza-Daw is compiling information for a graphic display and roll of honour that will remember the district's Boer War soldiers and civilians, including those who came home.
"It will include those from the district that were residents of the former Shire of Morwell before, on enlistment, or after the war," he said.
Longer-term, it's hoped the information used in the display will become part of a publication on Morwell district Boer War soldiers and civilians.
So far, Mr de Souza-Daw has recorded 49 known servicemen and civilians from the district and while the research is progressing well, he is seeking help from the public to complete the project.
Anybody with information or photos relating to Morwell and district's Boer War soldiers and civilians can phone Mr de Souza-Daw on 5122 1946.
Born in Hazelwood in 1878, Private John Nadenbousch was a farmer in the region, before becoming one of the first people from the Morwell district to enlist.
He was a cadet in the Morwell Volunteer Cadet Corps and later joined the Victorian Rangers as a private.
Private Nadenbousch was a member of the First Victorian Mounted Rifles which embarked from Port Melbourne on the Medic in October 1899.
On landing in Cape Town in 1899 the troops were sent to the Maitland Camp and while there, the Victorian Mounted Rifles became part of the Australian Regiment and were sent to become a part of the siege of Kimberley Relief Force.
Private Nadenbousch served 12 months in South Africa and returned home in 1901.
Local residents were unaware Private Nadenbousch was arriving on a midday train, so when he disembarked, a hastily-prepared reception was organised at the Morwell Mechanics Institute.
Private Nadenbousch was awarded his Queen's South Africa Medal at Government House by the Duke of York in May 1901 and attended the coronation of King Edward VII in 1902.
He resumed farming at Hazelwood and married Mabel Cobain Kenyon of Sale in 1907, the pair having six children.
Private Nadenbousch took on a sheep grazing property at Clydebank near Sale and later in Goon Nure near Bairnsdale.
He died at the Bairnsdale Hospital in 1946 and was buried at the Sale cemetery.
Information courtesy of local historian Rob de Souza-Daw