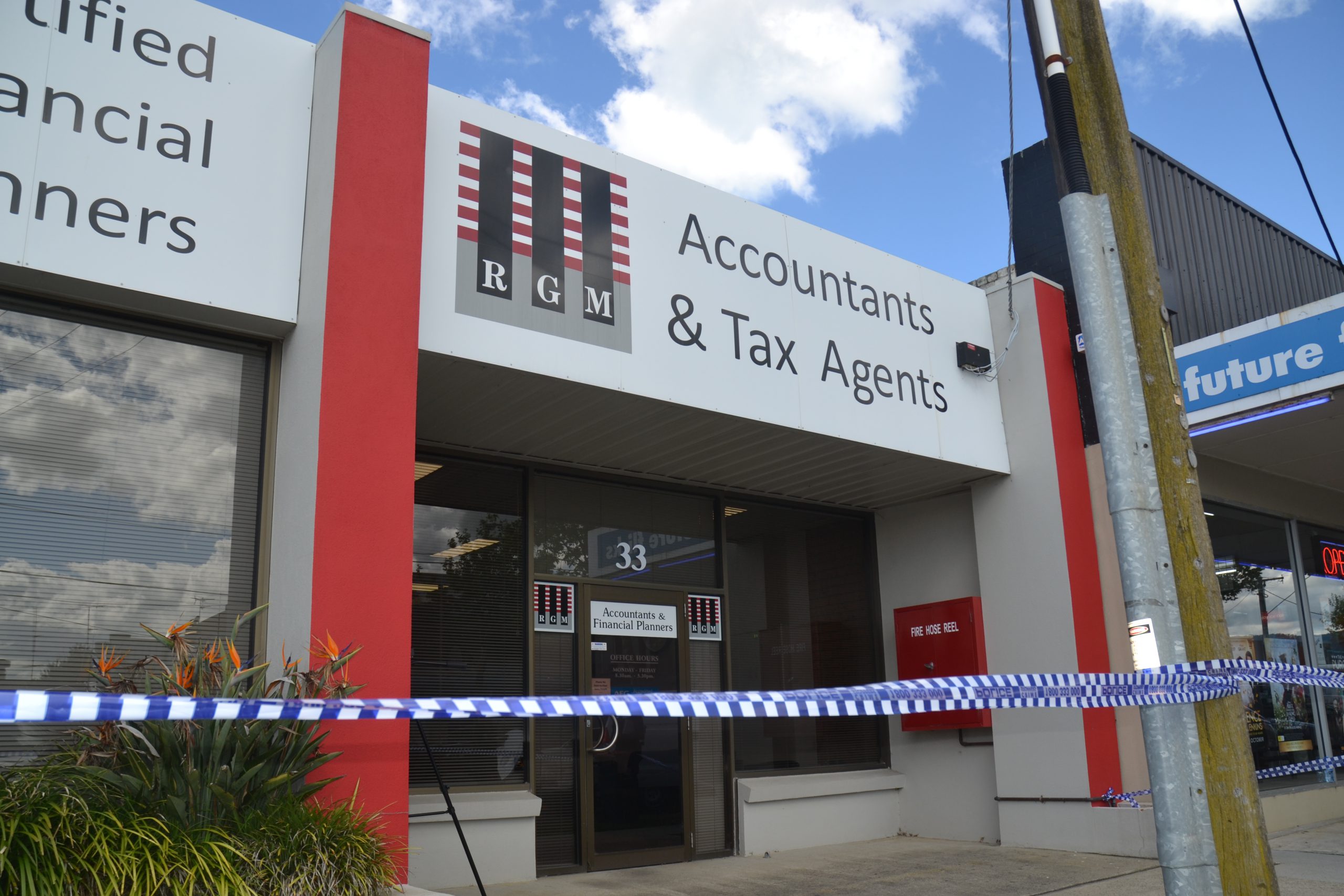 A 48 year-old man has been found dead in Newborough after he stabbed two colleagues at a Moe accounting firm on Monday morning.

Police said the man died of self-inflicted wounds at a "bushwalk" "track" in a residential Newborough area following an assault at his place of work – RGM Financial Group – on Kirk Street in Moe about 9am.
It is believed the man, understood to be Carl Richardson, used a knife to inflict multiple upper body stab wounds on two co-workers, Pearse Morgan (58) and Joe Auciello (31), before leaving the address in a vehicle.
Mr Auciello was able to escape the office and raise the alarm at the Caltex service station next door.
A short time after the attack police were called to an address in Newborough, a residential street, and there found the body of the offender deceased.

Both victims were attended to by paramedics at the scene and transported to Latrobe Regional Hospital; Mr Morgan remains at LRH and is in a stable condition following surgery late Monday night, while Mr Auciello was airlifted to Alfred Hospital in Melbourne in a critical condition.

Mr Auciello's condition was updated as critical but stable as of Tuesday about 1.30pm.
A significant number of employees, believed to be about 15, escaped the premises and a nearby school was put into lockdown following the attack.
A close friend of Mr Richardson, Tony Flynn, said the family was in shock.
"This is a tragedy for all families involved," Mr Flynn said.
"There is too much to process right now, we are all in shock, I never saw anything like this coming.

"On behalf of the family, our thoughts and hearts go out to the families affected.

"We ask that everyone's privacy be respected. We ask the families be left alone to process everything."
A neighbour of the Richardsons, Elizabeth Scott, said the family moved in about a year ago and had two young boys who would often play in the street.

"It's so sad; they're really quiet, nice people," Ms Scott said.

"You'd see the kids playing in the street, the kids seemed happy.

"This is not Moe. Moe is a quiet, country atmosphere; the whole area is really quiet."

Ms Scott said she had never noticed any commotion coming from the residence.

Latrobe Local Area Commander, Inspector Dean Thomas said he believed the attack to be out of character for the assailant and that no altercations had previously been reported at the business.

"It's something I believe to be out of character, it wasn't expected… we're just trying to piece it all together to understand the motive," Insp Thomas said.
"It was a very traumatic (experience). Everyone was severely distressed and taken by surprise. Everyone did what they could to survive and assist others."

Insp Thomas said the incident came as a huge shock to the community.
"Moe is a very good town; it has a very good community spirit. I'll be honest this is unexpected; we don't get crime occurring like this down here," Insp Thomas said.
"It was in a controlled environment within a business premises. It's really out of left field.
"When you're going to work you expect to be safe… all of a sudden this happens it's very traumatic."
Mr Auciello is a prominent member of the Gippsland soccer community as a former treasurer and club captain of Latrobe Valley Soccer League outfit Falcons 2000.
Falcons president Tony Salvatore said a number of Mr Auciello's teammates were travelling to Melbourne to visit him in hospital and the entire club was hoping for a recovery.
"All we want is that he pulls through, that was all our concern, and hopefully he's coming through," Mr Salvatore said.
Mr Morgan is a Racing Victoria director and lifelong Gippsland resident.
RV chief executive Bernard Saundry released a statement on Monday afternoon regarding the situation.

"It is with shock that I confirm that Racing Victoria Director, Pearse Morgan, has been seriously injured in an incident at his Moe business today," Mr Saundry said.
"Our thoughts and best wishes are with Pearse, his partner Sonia and the Morgan family following this tragic event.
"I know the racing industry will join me in wishing him a speedy recovery.
"Pearse is a highly valued member of the Racing Victoria Board and we look forward to welcoming him back to duties as soon as his health permits."
Police are undertaking a forensic investigation which remains ongoing.