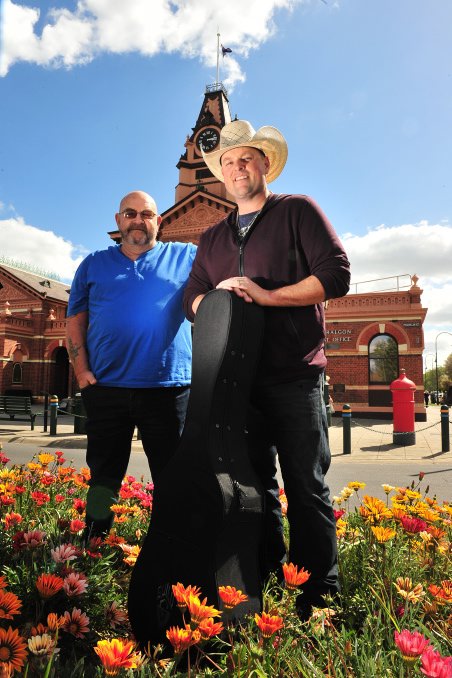 IN Canada, Gord Bamford can't walk down the street without being mobbed by fans.
In his home-town of Traralgon it's a different story.
One of the world's biggest country stars was just another face in the crowd on Kay Street when Express reporter Sam Darroch caught up with him ahead of his Traralgon show on Friday.
He spoke to Bamford about being Australia's best kept country music secret, his full-circle relationship with Traralgon and mending fences with his estranged father.
LAST time now-Canadian country music superstar Gord Bamford was in Traralgon with his father Jock, their house on Maryvale Road was not a home.
At five years of age he and his sister, who were born in the Latrobe Valley, were whisked away to Canada by his mother to escape Jock's alcoholism and it was more than a decade before they spoke again.
When he returned to play Kay Street Entertainment Complex in front of Jock on Friday as part of the 'This Crazy Life' country music roadshow, it finally felt like family.
The tour name, while coincidental, is an apt moniker for the story of reconciliation the father and son have gone through over the years.
While Gord grew up to acquire fame and fortune at the opposite end of the Earth, culminating in 22 Canadian Country Music Association Awards, Jock was learning the value of humility back in Australia.
After leaving the Valley, where he owned a prominent carpet business and helped establish the Morwell market and drive-in theatre, he got sober and has remained so for 35 years.
He became a pastor in Queensland and now runs a charity there to feed thousands of homeless and needy people every week in Brisbane and Toowoomba.
Losing his family was a wake-up call, and Jock has been on the road to redemption ever since.
"When Gord and his sister and Mum left me I was a chronic bender drinker. I didn't drink all the time but when things got pressured I'd get drunk, if things were really good and I was making a lot of money I'd get drunk, if I had too many bills I'd get drunk and I'd go on for 10 days. Then I'd quit and go back to work," Jock said.
"Sometimes I wouldn't have a drink for two years, but when I start I can't stop."
Alcoholism led to the death of Jock's father, mother, grandfather, aunty and two sisters and while it did not claim his life, piecing it back together was another matter.
Gord came out to visit for three weeks aged 18 and again the two did not see eye-to-eye.
Years later, when Gord had conquered the Canadian country scene, the breakthrough finally came.
"I just wasn't ready to forgive (at 18) I guess. I was obviously young, I came over with a lot of pent up tension and anger and felt that my dad hadn't help his end of the bargain with me and my sister and I voiced that opinion," Gord said.
"I've totally got over it, but I don't have any regrets for what happened; it's part of where we're at today.
"I'm a father too and I could never imagine not being in my children's lives. I think it's probably the biggest punishment of all for him that he hasn't been able to be around his kids.
"You've only got one dad in your life, at some point you've got to bury the hatchet.
"Now we can kind of move on with that and enjoy being back in the place we lived (together) for four or five years."
Four years ago Gord brought his family out to Australia to meet Jock and had plans to bring his music home too.
The tour didn't pan out professionally, but now with his first Australian release and seventh studio album 'Tin Roof', he's back to give it another shot.
Gord is currently touring alongside headliners 'The Wolfe Brothers' for the 'This Crazy Life' tour, encompassing seven artists on one bill.
He said he was committed to breaking into the Australian country music market and hoped to emulate the success he'd found in his adopted home in his native land.
"It's a combination of having a pile of success in Canada and Europe and the natural fit of being born in Australia, having a passport and wanting to really come back and see where I started my life, and most importantly reconnect with my family," Gord said.
"There's a ton of great Australian artists we're working with on this tour. They've worked hard to get where they are and I don't expect to just come in here and take over.
"It's a process and I'm willing to dedicate my time to it, get to know the people and country fans in Australia and try to do exactly what I've done in Canada is the goal."
While Jock has visited Gord in Nashville and seen him tour Canada – where the fanbase astounded him – seeing his son perform in the place he was born was something special.
"It's awesome. I've been on tour with him and it blew me away, I was absolutely gobsmacked. When he was a kid his mother sang and I sang all the time… it was always country western music," Jock said.
"I believe that got into his spirit and he loves what he does."