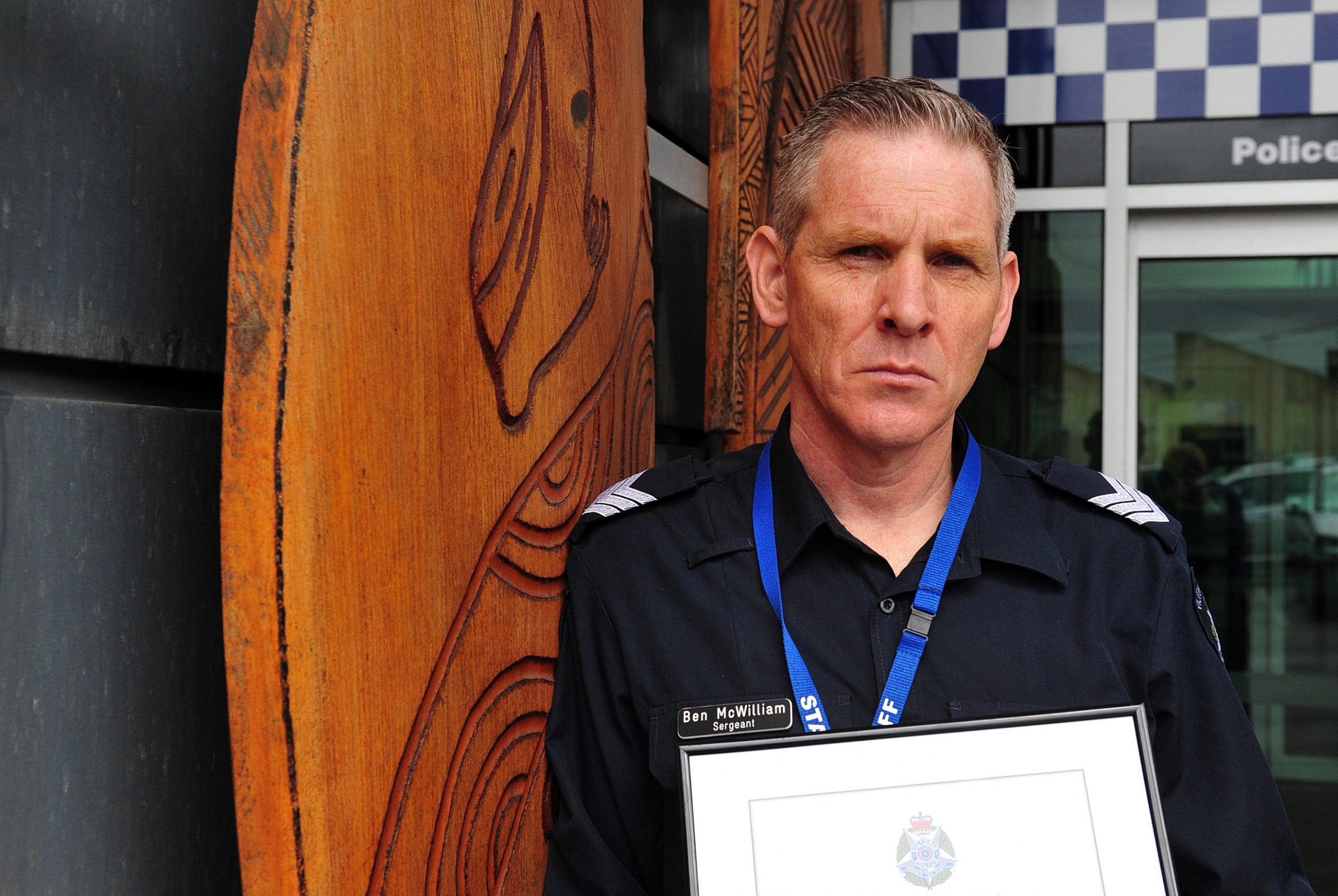 Police engagement with the Gippsland multicultural community has led to an excellence award for Morwell sergeant Ben McWilliam.

But the personal reward goes deeper than that.
Sgt McWilliam, 48, was awarded the Police Annual Multicultural Award at last week's Victoria Multicultural Awards for Excellence, held at Government House in Melbourne.
The officer of 28 years was recognised for his engagement with culturally and linguistically diverse communities through his role as secretary of the newly formed Latrobe Multifaith Advisory Council.
Sgt McWilliam said the council, the first of its kind outside of Melbourne, was about delivering tailored services to the CALD community through direct involvement.
"What we try and do is address safety by consulting the community and feeding that information back into the organisation so we can tailor a policing service to the community's needs," he said.
"In Melbourne they were running a high level multi-faith council involving different religions so we thought we'd try and emulate something like that down here and we were overwhelmed with the response we got from the community.
"The idea was we realised multicultural groups and faith based groups play a significant role in the community so we thought we'd try and get a few people together from those communities and talk about community safety."
The council stages events every quarter and has been attracting between 10-30 people per session.
Topics vary but are focused on improving safety for the community at large; the next meeting in December will address emergency management and future forums will tackle cyber safety.
"Some multicultural communities aren't aware of the threat that bushfires pose (for example) so we're going to use it as a bit of an education process," Sgt McWilliam said.
"The other thing is it's very much a two-way street, so hopefully we'll be receiving feedback from the community regarding safety so we can adjust our control strategies and ask different organisations if the multicultural community raised concerns in terms of safety."
Sgt McWilliam, who moved to Gippsland more than a decade ago from Melbourne – where he served as a detective in the crime department – to raise his family, said there had also been a personal takeaway.
"There's a whole process you go through in terms of becoming more culturally aware yourself. I hadn't had any previous involvement with the Muslim community, I had some preconceived ideas which have proved to be wrong and it's been a fairly steep learning curve," he said.
"People are concerned about safety, housing, looking after the senior members of their community, ageing parents, access to hospitals and it doesn't take long to realise that regardless of your background and faith you all have the same basic concerns at the end of the day."
Sgt McWilliam said the Department of Health and Human Services and Gippsland Multicultural Services had been key partners for the council.
He highlighted the efforts of GMS' Lisa Sinha, who was also acknowledged with a Police Community Exemplary Award, for special praise.
"Lisa's been working in the space for over 20 years so I felt really chuffed to be receiving an award with Lisa," Sgt McWilliam said.
"I felt incredibly honoured and I was in good company."