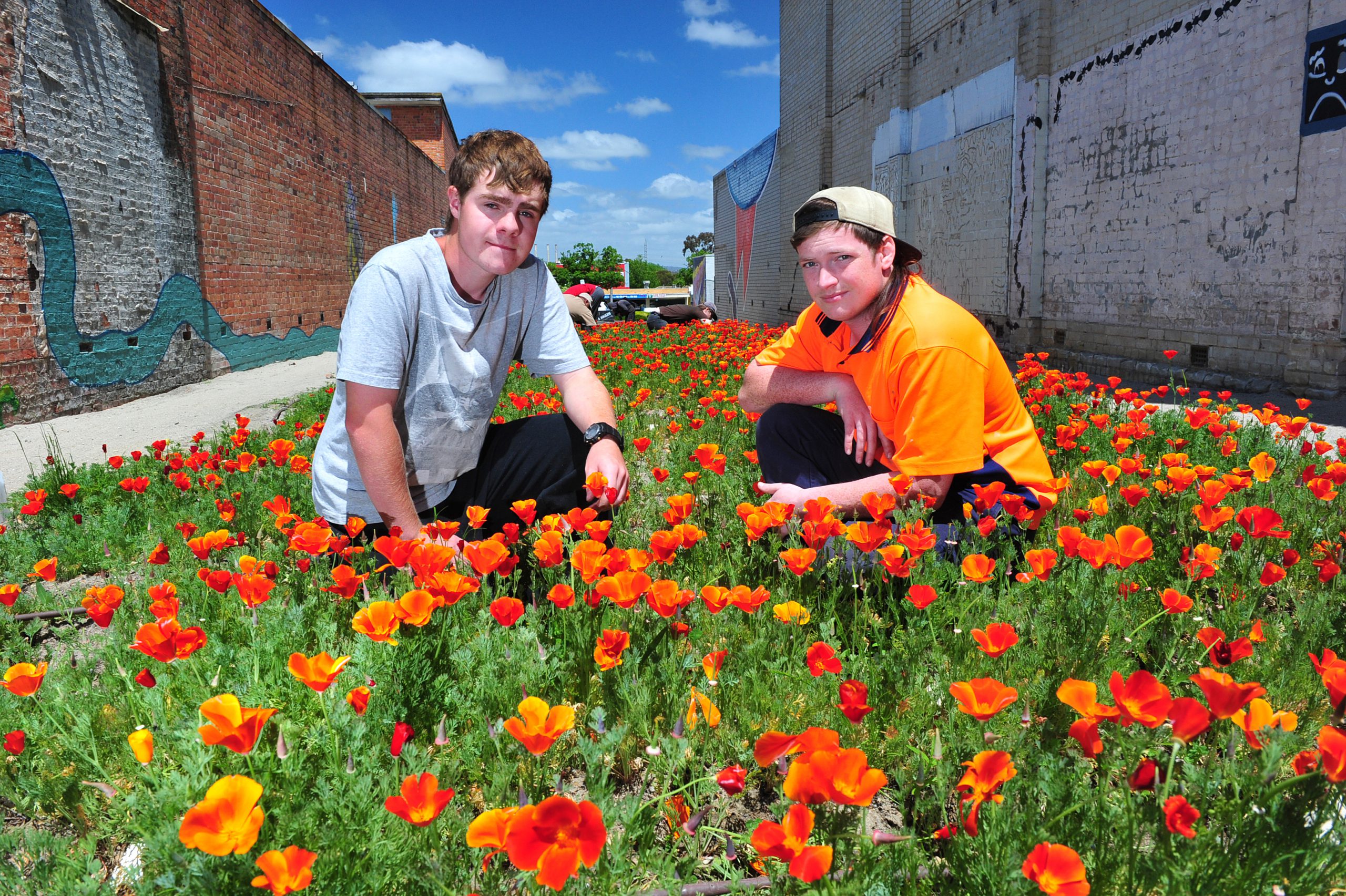 POPPY petals are unfurling to the sun's rays in a once forgotten laneway linking Commercial Road and George Street in Morwell.
As part of RMIT's Reactivate Latrobe Valley's 'Get Sunflowered' project, Lynton Azlin and a crew from the Work for the Dole program have been caring for the delicate blossoms since planting the small seeds in July.
The flowers have sprung just in time for Remembrance Day, although cast a different shade of burnt orange to the classic red and black centred variety.
Lynton, lovingly known as the 'sunflower man' to many in the community, said there was a lot of "doom and gloom" around given the announcement about Hazelwood.
"But there are good things happening as well," he said, reflecting on Morwell.
The buds are but another injection of colour into the laneway with street artist Ryan Beckett and a crew of local and Melbourne street artists finishing a collection of murals.
Richmond street artist and former Moe local Scott Edward, known in Melbourne for his letter-based New York style graffiti, has created a child-like representation of an owl based on a sketch his five year-old niece drew.
"She drew it and when she gave it to me I said I'd paint it one day," Scott said.
He said the original line-work was all hers; all he had to do was stylise the image.
"There was attention to detail put in every feather," Scott said.
The laneway is the fifth production of Morwell street art, such as Melbourne artist Hayden Dewar's homage to late rock star David Bowie in Buckley Street. Ryan wished to thank the local Morwell businesses who offered their blank, brick walls and collected donations so artists were able to buy 10 cans of paint for the voluntary project.
He also thanked S&S Equipment Hire and Sales for providing the crane.
"We'll keep changing and adding more to the walls with different artists," Ryan said.
"People walking by are looking for a change."