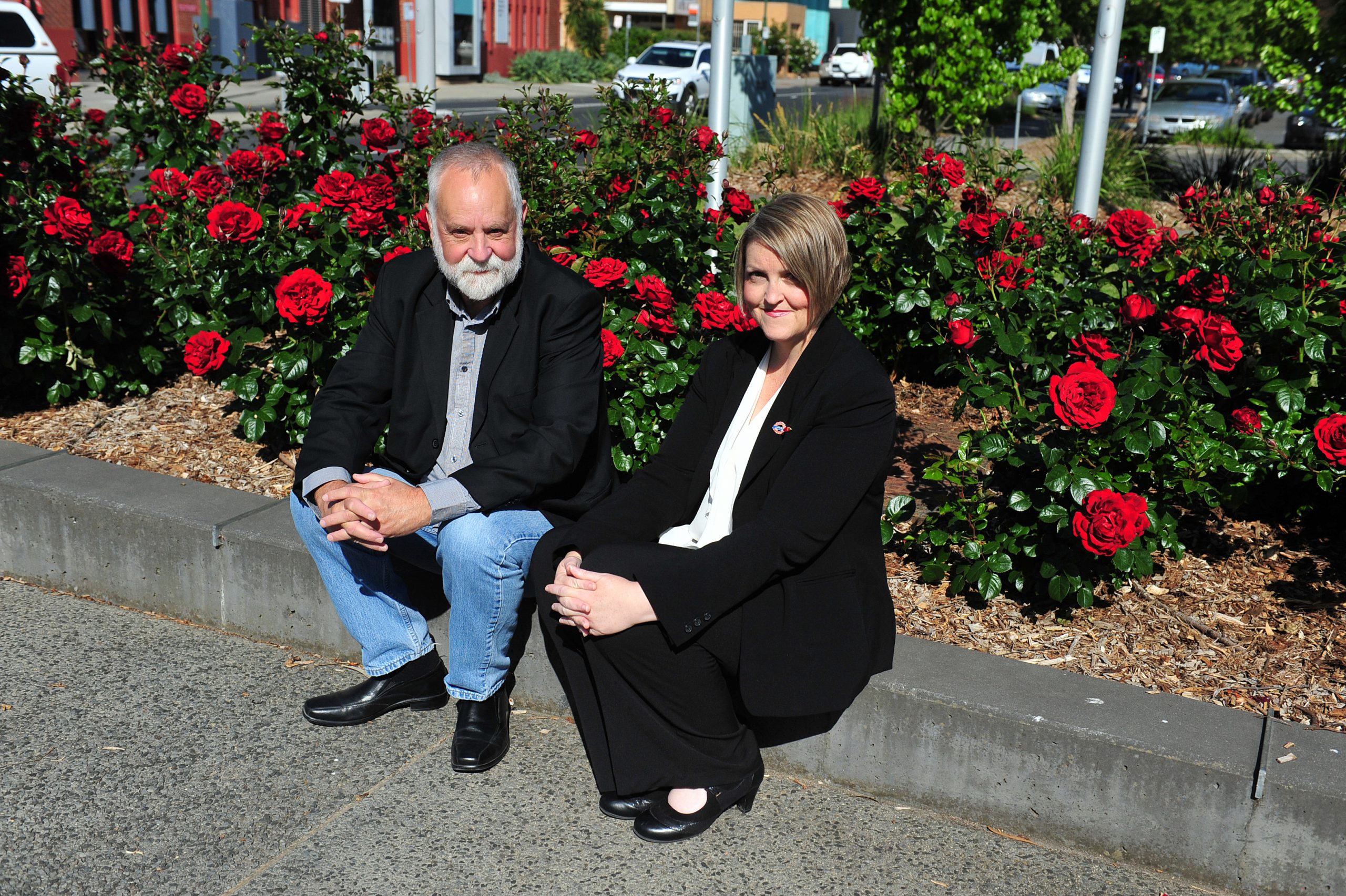 Latrobe City's newest leaders will not sit back and watch money allocated to the Latrobe Valley be spent in other regions.

Mayor Kellie O'Callaghan and deputy mayor Graeme Middlemiss have made council's position clear as all three levels of government work on diversifying the region's economy.
The State Government has allocated $266 million and the Federal Government has committed $43 million to alleviate the impact of the Hazelwood power plant's closure.
"What we don't have any tolerance for is projects that are outside of Latrobe City or that fall within the broader Gippsland catchment that are being attached to the Hazelwood closure announcement," Councillor O'Callaghan said.
"That doesn't create a transition for Latrobe City.
"Any jobs that are lost within the Latrobe Valley and Latrobe City municipality need to be replaced in the Latrobe City.
"So from our perspective we have no support for projects that fall outside of that."
Councillor Middlemiss feared governments would feel the need to act quickly, resulting in unconsidered projects.
He said council had no intention of being "pushed aside" when considering how to replace jobs and boost the Valley's economy.
Council is drafting its own transition plan, which will list priority projects for the municipality and is hoped to be out for community and political consideration as soon as possible.
"We intend to be in the decision mix, because we believe we best reflect the values and ideas of this community," Cr Middlemiss said.
Federal Member for Gippsland Darren Chester said he had a strong working relationship with Latrobe City and would make sure council had a direct input on where the funding was allocated.
The Federal Government's $43 million package is made up of $3 million in employment support for Hazelwood workers; $20 million for regional jobs and investment to assist local small to medium businesses; and a $20 million regional jobs and infrastructure fund.
"All of the $43 million Federal Government investment package will be spent on projects that will directly benefit the Latrobe Valley economy, and I expect the majority of funding will support initiatives in Latrobe City itself," Mr Chester said.
"It's important to note that one third of the Hazelwood workforce does not live in the Latrobe City local government area, and the ripple effect will be felt in towns such as Rosedale and Trafalgar.
"However, as I've previously stated, the primary focus of the investment package remains for the Latrobe Valley."
The State Government's $266 million package arrived on top of a $40 million investment announced in this year's budget.
The $40 million package included a $10 million economic facilitation fund – the first slab of which went to a Trafalgar abattoir. The latest investment involves $22 million of support for Hazelwood workers and businesses; $174 million for community infrastructure and investment; a $50 million economic growth zone that spans across Latrobe City, Baw Baw and Wellington; and a $20 million Latrobe Valley Authority.
"The Latrobe Valley communities can be assured that every dollar of our $266 million Hazelwood package will go directly to benefit the Valley," a spokesperson for Premier Daniel Andrews said.
"We stood by the Latrobe Valley communities during the mine fire and we'll stand by them now."
Councillors O'Callaghan and Middlemiss said they would not let the Hazelwood closure overshadow service delivery in rates, roads and rubbish.
The first ordinary meeting for Latrobe City's newly-elected councillors will be held tonight.