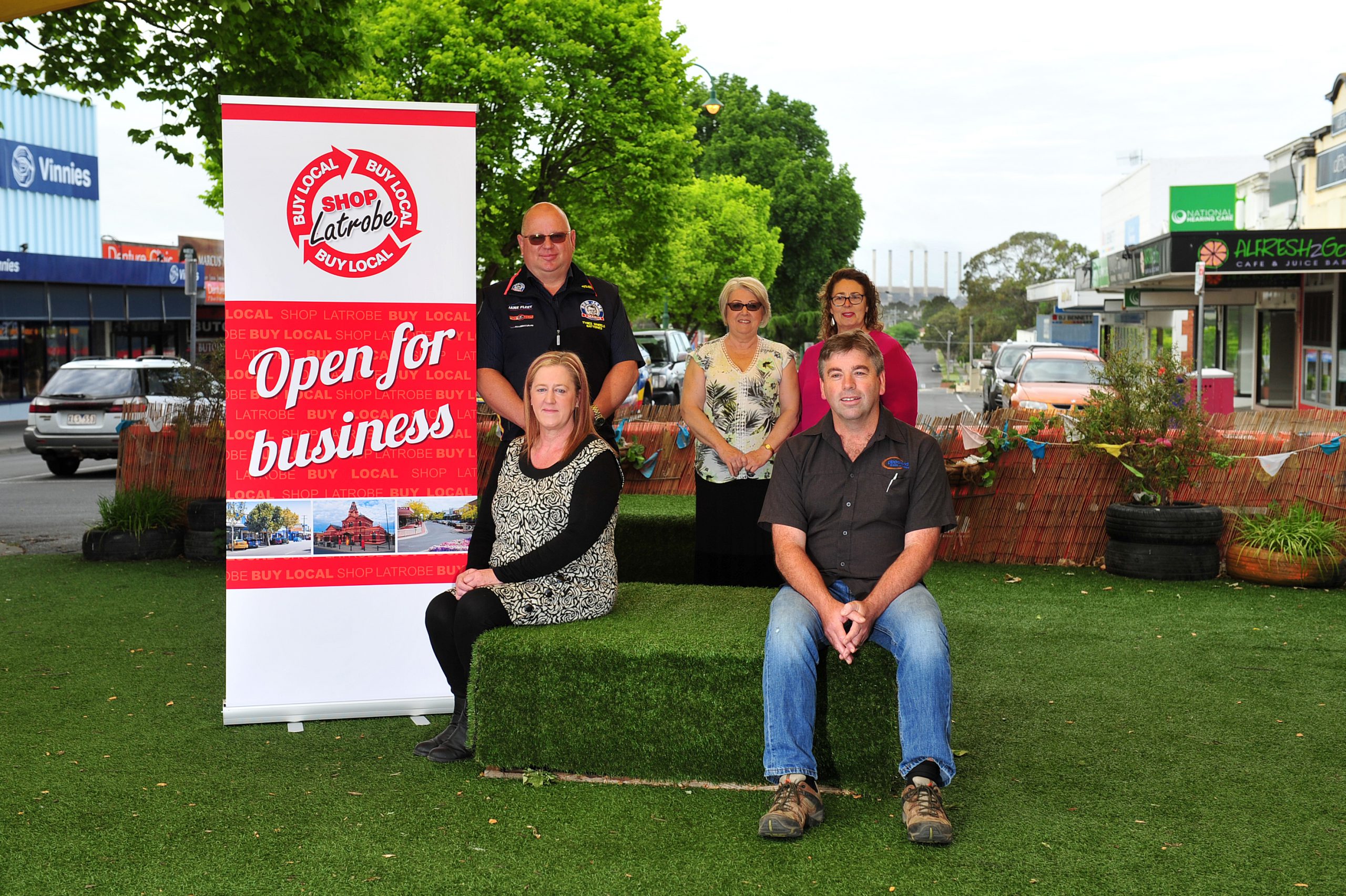 LEADERS of trader groups representing the Latrobe Valley have united for a campaign urging the region's shoppers to buy local.
The push to support the region's traders comes ahead of the busy Christmas trading period and follows the announcement Hazelwood will close in March.
Advance Morwell, Moe Traders Association, Traralgon Chamber of Commerce and Industry and Morwell Traders Group have all given the 'Buy Local – Shop Latrobe' campaign their backing, along with the Latrobe City Business and Tourism Association and The Express. LCBTA chair Peter Ceeney said the groups' decision to unite had been coming for some time and made business sense.
"It's something that's been in progress for the last couple of years or even longer," Mr Ceeney said.
"If the community wants to go for a grant to get something new they're better to do something collaboratively.
"We can't do it individually – business is coming together because it needs to."
In addition to encouraging people to buy local, the campaign will include stories in The Express about local businesses which have enjoyed success in the region.
It also aims to highlight the Latrobe Valley's strengths and demonstrate why so many businesses choose to call it home.
Express general manager Bruce Ellen said the region had a vibrant business sector and with Hazelwood closing it was time to showcase it.
"Every day at The Express we deal with a variety of businesses – from retailers to real estate agents – and I'm always struck by their hard work and dedication to our community," Mr Ellen said.
"With Hazelwood closing we need to focus on the local success stories and showcase why the Latrobe Valley is a good place to do business."
Despite the Latrobe Valley's hardships, the region's financial strengths are highlighted in Latrobe City Council's 'Economic and Population Indicators 2014' report.
The report revealed that in 2013 the Latrobe Valley generated goods and services worth $3.4 billion.
The biggest contributors to the region's economy are electricity, gas, water and waste, health and community services, manufacturing and mining.
Retail trade generated $212 million in the City of Latrobe in 2014.
Morwell Traders Group's Ruth Codlin, who owns Soularity on Commercial Road, said local traders fulfilled a niche by "specifically catering to what local people want".
"Local people get behind that and every time you spend money in a local business you support a local business," Ms Codlin said.
"Every time you do that it's better for your local community it enables you to shop without having to get in your car and go somewhere else."
Moe Traders Association secretary Sue Broadbent, who owns the Turn Back Time Caf on George Street, said when the community supports local businesses those businesses can in turn help the community.
"Moe is a very tight, very together town and that's why the businesses give regularly to all the clubs, because we know we get it back," Ms Broadbent said.
"We're getting up to the Christmas period and there are a few people that need reminding to keep their money local.
"Without the local people shopping here we don't survive."
Advance Morwell committee member Lynn Keeley came to the region about eight years ago.
Four years ago she opened her own business, Flowers in the Valley, because of the town's assets, such as the Centenary Rose Garden.
Ms Keeley said by buying local the community could help generate jobs in the region.
"We need to support local businesses," she said.
"Whether it be retail shops around town, whether it be the local solar energy installer – you're keeping jobs in the Valley.
"If you want to go online and buy from China that's good, you'll get things cheap but your kids won't get any work out of it."
Traralgon Chamber of Commerce and Industry vice president John Groen was an SEC worker who left the region after privatisation.
Mr Groen said while he had left the region more than once he always returned.
He has now bought his own business and doesn't plan to go anywhere.
"I have now joined the Bob Jane T-Mart team and (I'm) looking forward to eventually retiring in Traralgon," Mr Groen said.
"Our children, family and friends live locally and love the area."