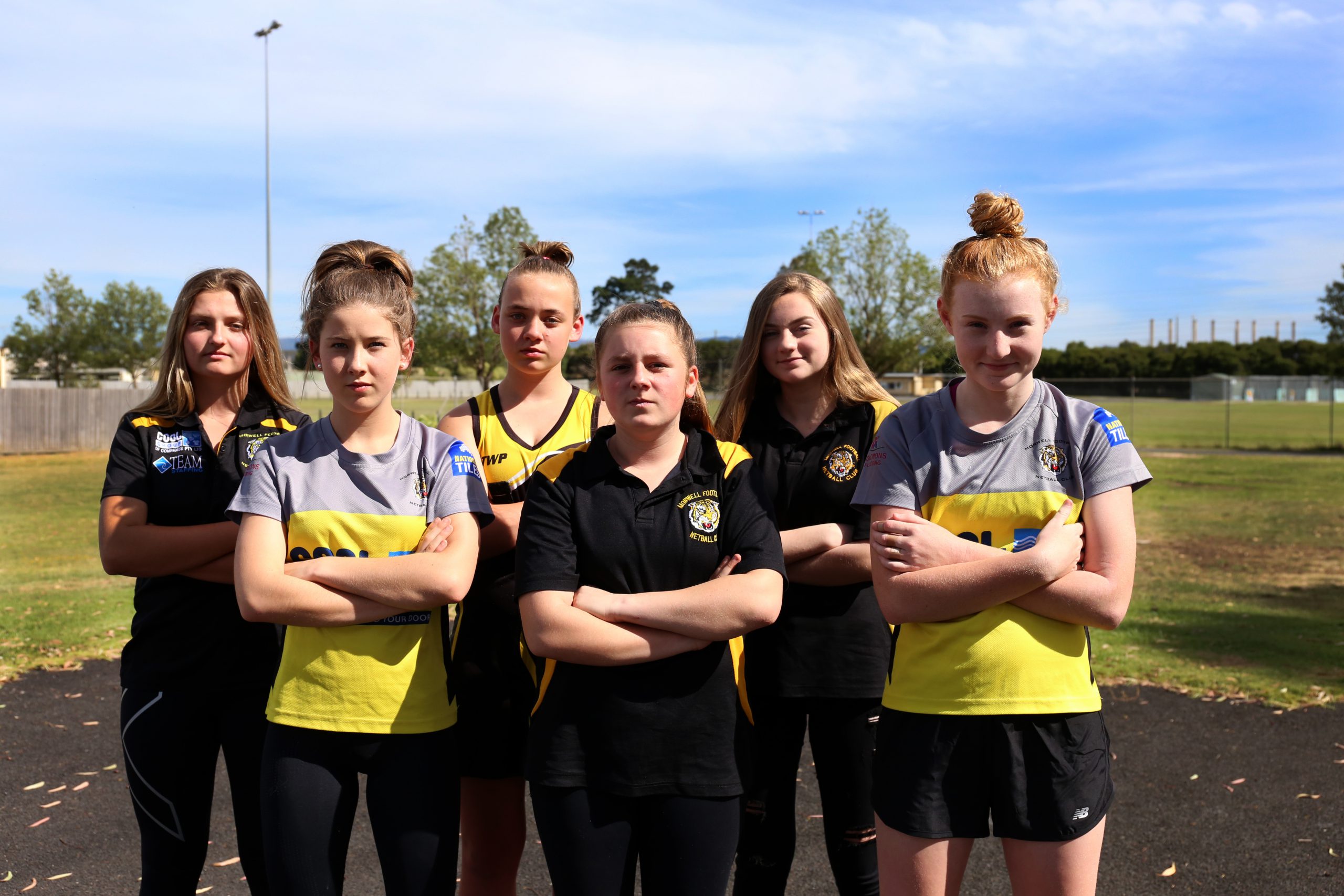 Sub-standard netball facilities have worn thin on Morwell's netballers and the town's youth is leading the charge for change.

Sick and tired of the long-term and lacking netball amenities at Morwell Recreation Reserve she and her teammates put up with each season, 14 year-old Lucy Bertrand has taken a lead in the campaign to upgrade since last August.
The tenacious Tiger has contacted Premier Daniel Andrews, local MPs Harriet Shing and Russell Northe, State Industry and Employment Minister Wade Noonan and the newly established Latrobe Valley Authority to press her case.
With an existing 2014 Latrobe City Council endorsed master plan for the site, Lucy believes the time is ripe to pull it out of the pipeline in the face of Hazelwood's impending closure.
The Kurnai College student, who was evacuated during the 2014 Hazelwood Mine Fire, told State Government leaders that investing in the precinct was a chance to "prove you have confidence in the community of Morwell… and that you want our town to prosper".
Originally costed at $9.8 million, the plan includes 10 key recommendations for the site including extensive refurbishment of existing facilities, new and relocated netball courts, a public play space and picnic area, a shared netball/cricket match day pavilion and a pathway network within the reserve.
Lucy argued a boost to the reserve was a boost for the town's recovery prospects.
"If we develop the sports precinct in Morwell… we will, as a matter of course, build on the volume of parents to travel to our town. With better facilities at Morwell we could then attract more tournaments, squad events and sports carnivals," she said.
"The lead on from this is that our sports precinct is in the unique position of being within very close proximity to our CBD, which means that parents could walk up to that area and see what we have to offer.
"If there was a presence of people in the town, small and big business may take a leap of faith to pursue their business dream and occupy one of the many vacant shops in Morwell. Honestly, I cannot see how this plan and investment would not work."
Lucy's earnest approach has earned the endorsement of Mr Northe and the Morwell Football Netball Club committee, who have embraced her as a key figure in the lobby process.
Incoming Morwell FNC president Russell Donoghue lauded Lucy's efforts and is keen to see key elements of the precinct plan fast-tracked.
The club is currently in talks with Latrobe City Council to push for early action.
"This plan was prepared over two-and-half years ago, it would be encouraging to see work commence sooner, rather than later, on some of the key recommendations and certainly redeveloped netball facilities, with a pavilion to provide cover for spectators, is a priority," Mr Donoghue said.
"With the State Government more recently announcing funds to focus on sport and recreation as part of the Latrobe Valley's economic transition, we think it is critical that Morwell benefits from this support.
"Like the rest of the town, the Morwell FNC was impacted significantly by the mine fire and its families now face uncertainty as a result of Hazelwood's closure – it would be terrific to see something positive happen."
Morwell FNC has an application for funding pending with the LV Authority.
A recent response from authority interim chief Kylie White indicated the Community Facility Fund for the Latrobe Valley could potentially include elements of the master plan.
"To have the best chance of securing funding, it is imperative that the Latrobe City Council prioritise key elements of the master plan to be progressed first," Ms White said.
LCC chief executive Gary Van Driel said council was currently undertaking a Latrobe City Recreation Needs Assessment to identify priorities for infrastructure upgrades and developments in the region.
Mr Van Driel said council was exploring funding opportunities for the Morwell precinct.
"In terms of any transition packages, Latrobe City Council is yet to determine its priorities for recreation projects, however, Latrobe City Council recently committed to seeking funding from Sport and Recreation Victoria's Country Football Netball Program for the rebuilding of the netball court at the Morwell Recreation Reserve," he said.
Mr Van Driel said council had submitted an application to SRV in December 2016 for $100,000 and would provide a matching contribution of $300,000 for the construction of two netball courts, with match standard LED lighting.
A draft Recreation Needs Assessment will be released for community consultation early this year.