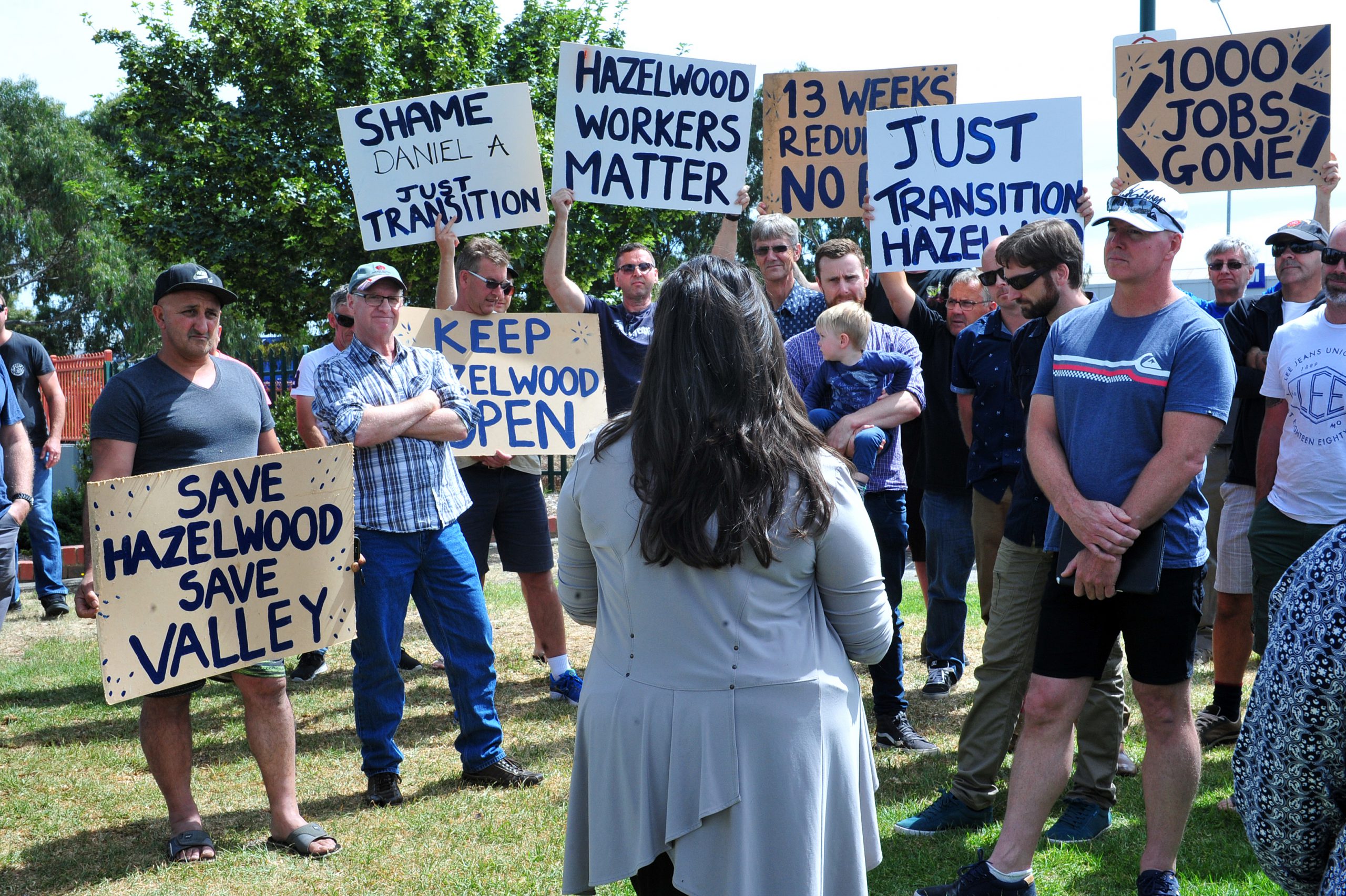 An anxious crowd of 60 Hazelwood workers and their families confronted State Member for Eastern Victoria Harriet Shing in Morwell yesterday to demand answers about the State Government's plans for their futures.
Ms Shing held an impromptu forum with concerned workers, brandishing closure protest signs, to discuss a range of issues surrounding the impending shutdown.
The group quizzed Ms Shing about the impact of the State Government's increase on coal royalties, prospects for a staged closure of the power station, transition plans, and what tangible assistance was being offered to retrenched employees.
Workers told Ms Shing they were "petrified of what's to come" and wanted more state and federal government support.
They also questioned the effectiveness of the new Latrobe Valley Authority; one worker told of contacting LVA the day after the closure announcement and being yet to receive any assistance.
Concerns were raised about the effectiveness of renewables and a potential baseload power shortfall, with workers advocating a staged closure to test other sources of energy as they closed off units at Hazelwood.
"We're not against renewables, but do it in a controlled manner", was one plea, while others included "we need power jobs not aged care jobs", and "give us something tangible".
Ms Shing told workers the State Government "tried everything we possibly could" to negotiate a staged closure but foreign owner-operator Engie was not willing to bargain as it made a global withdrawal from coal.
"We poured every resource into exploring opportunities to keep it running as long as possible," she told the crowd.
She also said that Engie had given assurances increased royalties was not the catalyst for closure. Ms Shing told the group she would continue to fight for their jobs, lobby for a staged closure, pooled redundancies and just transition, and invited an open dialogue to help ensure they were getting the help they needed.