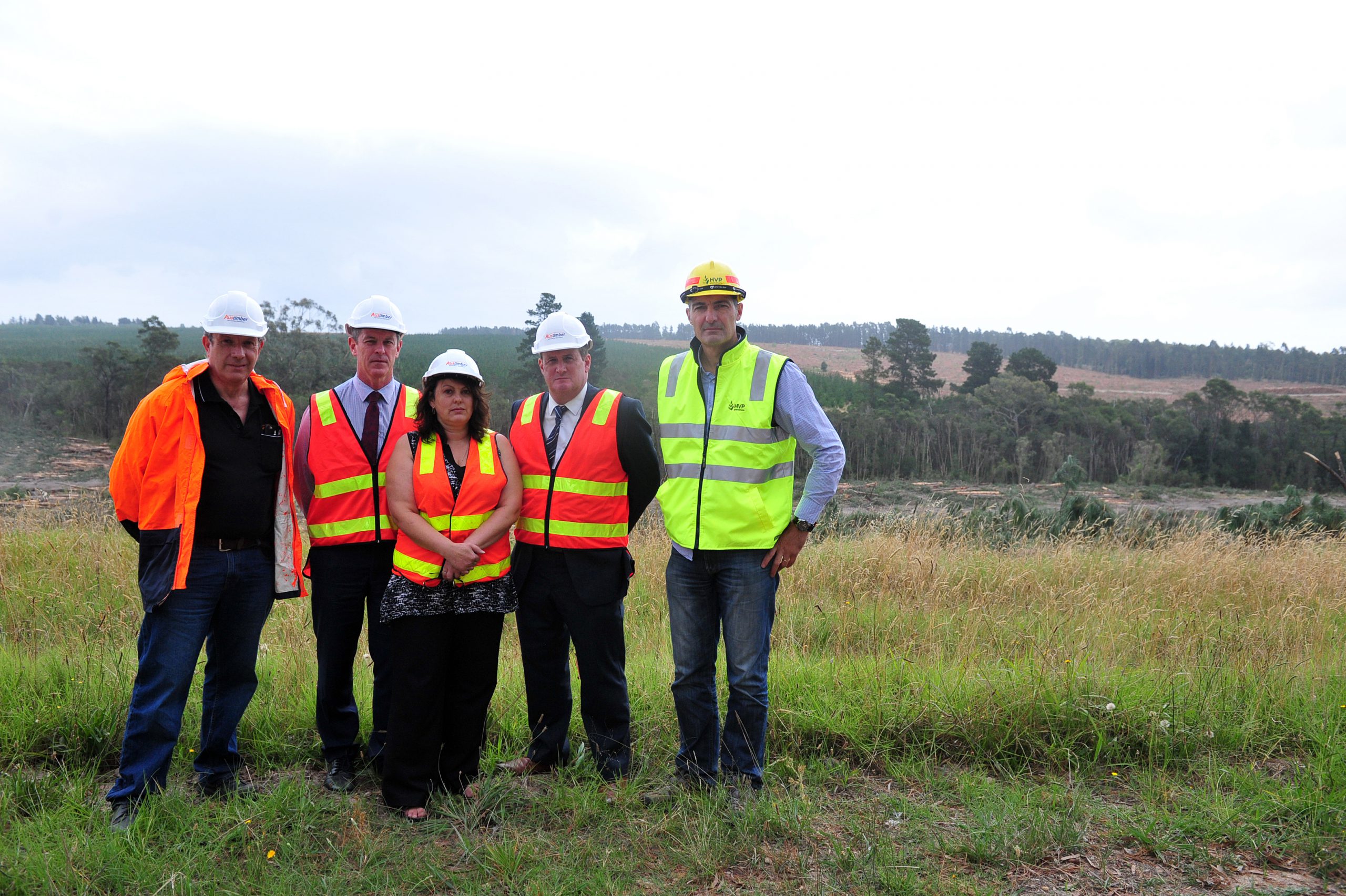 MORE jobs in the timber industry could be at stake as Hancock Victoria Plantations faces uncertainty over the future use of local plantations.
HVP, a major supplier of Australian Paper Maryvale and Morwell-based sawmill Carter Holt Harvey, has a number of long-term State Government land leases in limbo and awaiting renewal.

About 1000 hectares of HVP plantations are on state-owned land, including operations around Thorpdale, Callignee and Yallourn North, and the company wants to reinvest in all existing leases.
It is understood transport costs for operations outside 100 kilometres of APM would put a strain on the financial viability of supply.
One HVP lease expired as of December 2016, with another due to run out on 30 June this year and a third within the next two years.
National Timber Councils Association president Dale Harriman joined Member for Morwell Russell Northe to call on the State Government to urgently sign off on new leases to allow HVP to continue operating.
"We can't afford this land not to be producing trees as quick as possible; any delays now delay harvesting and delay the product being available for Carter Holt Harvey or other sawmills and Australian Paper, and down the track means we're putting those jobs at risk," Mr Harriman said.
"We're talking thousands of jobs, a huge impact on the local economy and we're talking the biggest paper mill in the southern hemisphere being put at risk."
The plantations operate on a long-term rotational basis over about 30 years.
The Express understands if leases lapse the company is charged with the rehabilitation of sites at its own cost.
Mr Harriman said the industry was completely sustainable and HVP needed certainty to plan for the future of its assets.
"It just beggars belief that the Treasury officials can't get off their butts and actually look at how big an effect this is going to have and say 'it's been going for 30 years, it's all the land is good for, we need to re-sign and we need to look after these local companies'," he said.
"It's sustainable. This is plantation hardwood, this is unusable farmland. It's the same as harvesting wheat, it just takes longer.
"It's not putting the Leadbeater's Possum at risk, it's not putting koalas at risk; it's putting jobs and people's livelihoods at risk."
Mr Harriman said using more timber products in the construction industry, which he said contributed about 40 per cent of CO2 emissions in Victoria, could also help reduce our carbon footprint.
Member for Morwell Russell Northe said there were concerns the State Government was looking at re-classifying the land as 'farmland' or 'grazing' rather than 'plantation' which would incur a higher cost to lease.
"My understanding is HVP couldn't afford to have that classification applied and it's not applied for the correct purpose. It's not quality grazing land where these plantations are, it's low quality soil," Mr Northe said.
"It appears Department of Treasury and Finance are just trying to elicit further monies out of HVP and that's not morally right."
The Express understands some negotiations have been taking place between DTF and HVP.

HVP has other operations on land it owns outright and has alternative licenses for.
The DTF did not respond to questions from The Express in time for print.