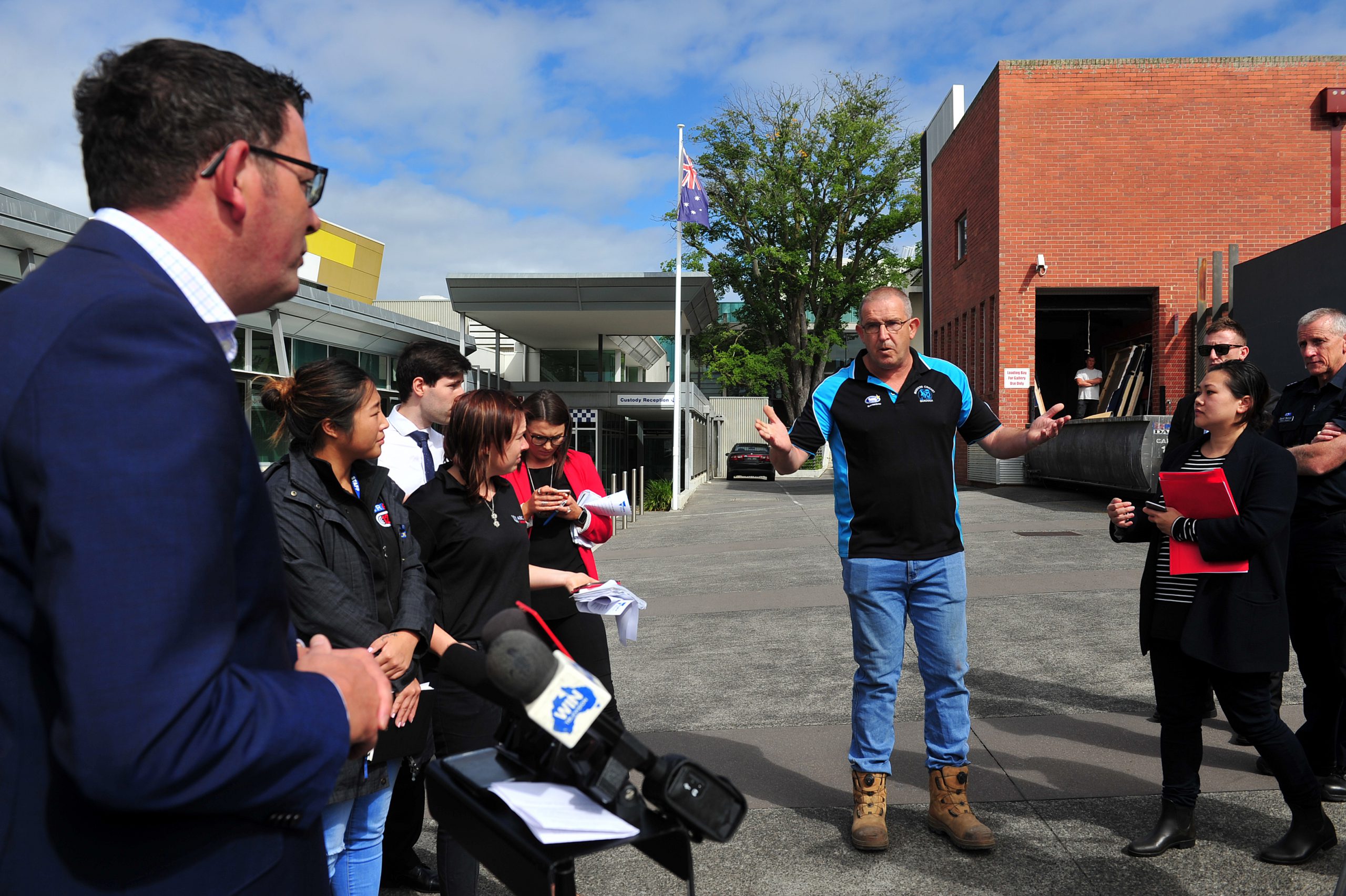 Anthony Wilkes has spent the past six weeks trying to contact Premier Daniel Andrews about the fate of his job and 250 others at Australian Sustainable Hardwoods.

He's made phone calls, sent emails, and crowd funded $25,000 to print an open letter to the Premier in a metropolitan newspaper, all to no avail. On Friday he finally met Dan in real life when he crashed a media conference to confront Mr Andrews about the supply shortfall threatening Heyfield's major employer.
The passionate ASH employee parted a sea of journalists to ask the Premier to visit the beleaguered mill and questioned what was being done to save it.
"We're human beings and we want an answer on our jobs," Mr Wilkes told Mr Andrews.
The Premier said while he wasn't in a position to broker a deal between timber supplier VicForests and ASH, being a commercial negotiation, the State Government was working toward a solution.
"I know you'd like me to be able to do a deal right here now; I can't do that," Mr Andrews said.
"As far as working with the company we are as we speak working toward meeting any additional needs they might have; things we might be able to do in partnership with them for your job, for the other 250 jobs at your mill and all the economic impact that comes beyond that.
"We're also happy to work hard to save your job and believe me we're doing it."
Mr Andrews said he was open to visiting the mill and speaking to the workforce in the future.
The pair had a brief tete-a-tete following the media stop which drew a mixed response from Mr Wilkes.
"I find it quite disappointing that I've got to come all the way to Morwell to catch up with the Premier; Heyfield is only 40 minutes down the road and he doesn't have the balls to come down there and see all the blokes and see what they do," he said.
"He said he'll let us know in the next couple of weeks what's going to happen with the mill and he's quite happy to come down there and let all the workers know, whether it's good news or bad news."
ASH is currently negotiating with state-owned VicForests to secure short-term timber supply to keep it afloat during a proposed transition to plantation wood.
The company's board put closure talks on hold for the month of February to bargain for a solution.