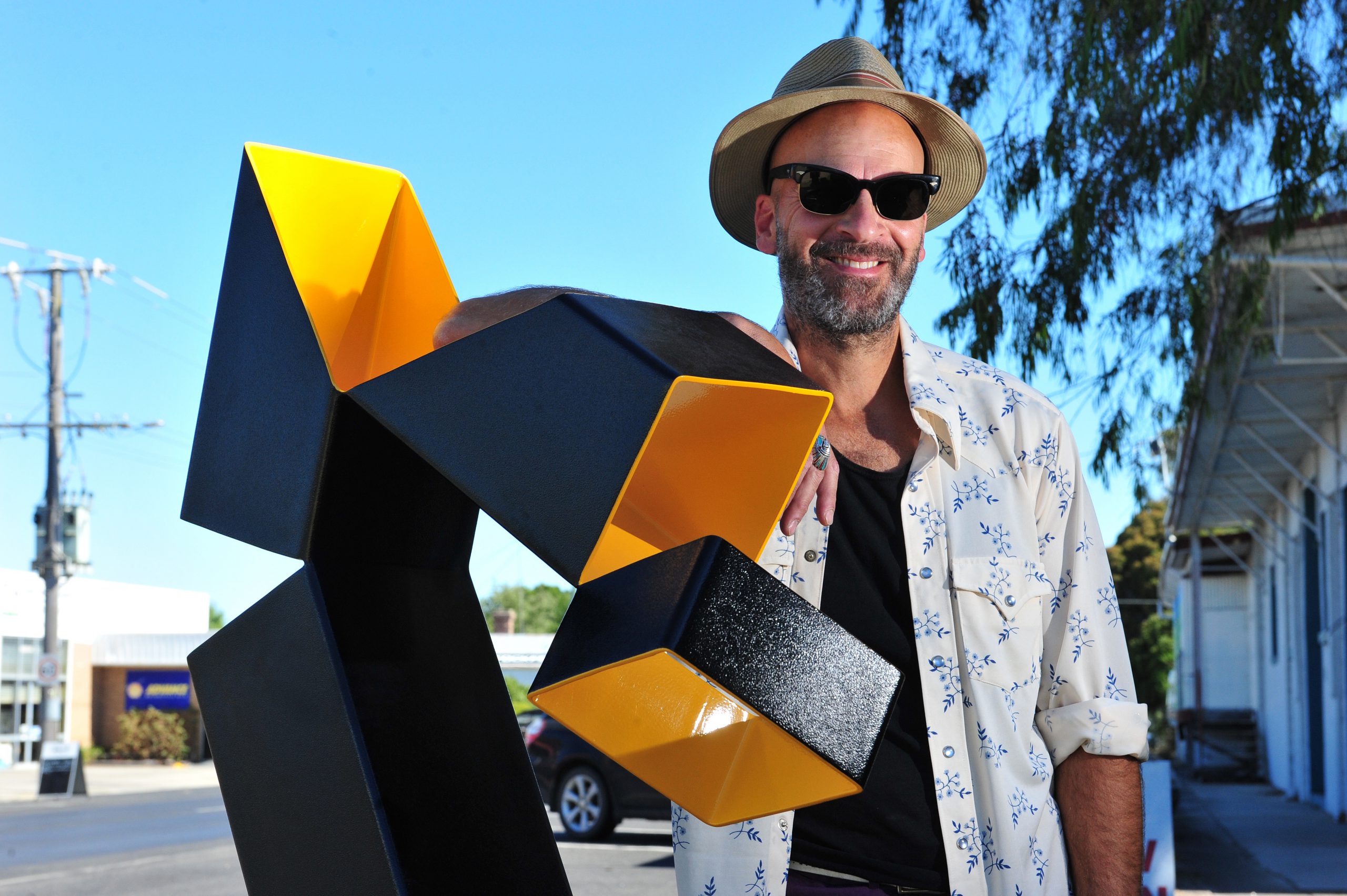 An abstract representation of a building that's been demolished and frozen in time will be featured on the streets of Yinnar next month.
Mirboo North artist Piers Buxton's piece 'Tall Poppy Syndrome' will stand alongside a range of sculptures by local and international artists as part of the inaugural 'Gippsland Sculpture Exhibition'.
"Initially I started with a piece of pipe that stood quite tall. It looked like it needed to be lopped down, its height made it look vulnerable and that's where the idea of Tall Poppy Syndrome came from," Mr Buxton said.
"The sculpture highlights the higher you get, the harder you can fall – hence the name of the artwork."
Mr Buxton, who is represented by Melbourne Art Rooms (MARS) in Windsor, had the sculpture powder coated and internally sanded and painted with two-pack paint to represent the inside of a person.
Exhibition curator and organiser Nicole Allen said more than 50 external and internal sculptures would be on display along the main street of Yinnar and in arc Yinnar from April to May.
They will range from figurative artwork through to abstract formations and be made from the likes of steel, stone, ceramic, bronze, wood, glass and concrete.
"There will be 43 artists who will showcase their work in the exhibition, one of those is accomplished Japanese-Canadian artist Kazumi Tanaka who will showcase a large exterior stone sculpture in the main street," Ms Allen said.
"He'll be working on it in the grounds of arc Yinnar in the lead up to and during the exhibition."
Some of the sculptures on show will range from a $300 plasma cart steel kangaroos by Kilsyth artist David Doyle to a $29,000 stainless steel abstract form sculpture by Ben Fasham of Clayton.
Artists who enter the exhibition will have an opportunity to win one of three prizes including the $5000 Glover Prize donated by Alan and Margaret Glover for best exterior work.
The Allen Prize is for the best interior sculpture with $2000 up for grabs and the $1000 people's choice award has been donated by the late Frank Peel of Yinnar South.
The exhibition will be judged by well-renowned Australian sculptor Kevin Mortenson.
Ms Allen said the exhibition would bring the community together, draw visitors to Yinnar and showcase some unusual and fascinating forms of art.
"I'd love this to be a yearly exhibition and it would be great if a sculpture could be purchased each year so that it could remain in the main street of Yinnar for years to come," Ms Allen said.
The Gippsland Sculpture Exhibition opening ceremony will be on 1 April at 2pm where the sculpture prizes will be presented to the winning artists.
The exhibition will run until 28 May.
For more information phone arc Yinnar on 5163 1310 or visit arcyinnar.org.au