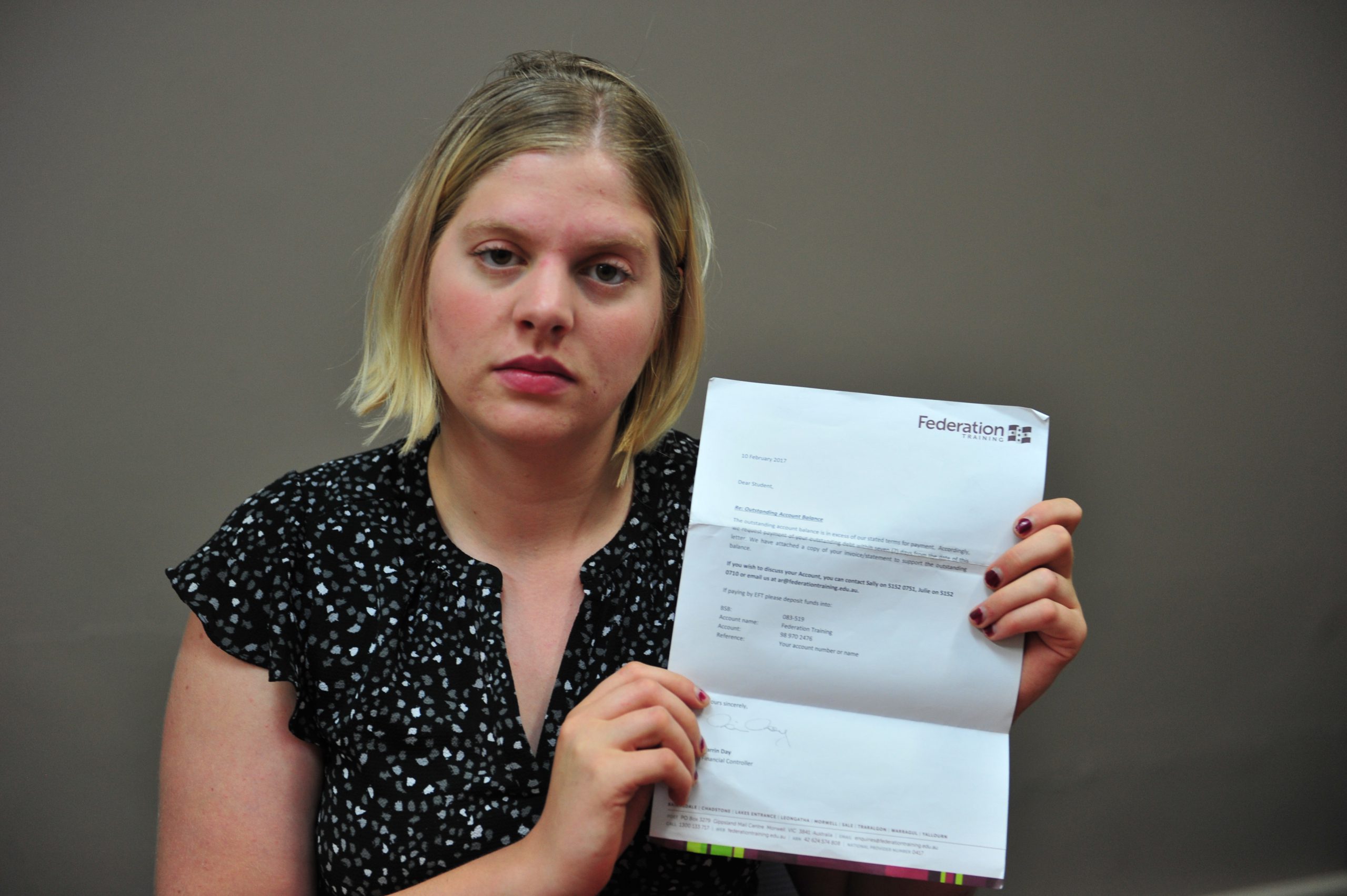 A Federation Training student who received a bill for fees she did not need to pay is warning others to make sure they actually owe the money.

Certificate IV in Disability student Catherine Webb said she received a letter from Federation Training on 17 February requesting "payment of your outstanding debt within seven days".
But there were two problems with the TAFE's demand she repay the outstanding $1275 owing on her course.
Firstly, the letter to pay within seven days was dated 10 February – a week before she received it – and secondly, Ms Webb is on a payment plan for her fees and did not owe any money.
"I am on a payment plan which is a six month contract," she said.
"I'm paying exactly how much I need to finish that within the six months."
Ms Webb managed to clarify the issue after calling the TAFE and speaking with a staff member.
"She actually said all students had received this letter in case they were in debt which is obviously taking advantage of people who wouldn't question it," she said.
"I don't want other people to pay this.
"They're doing pretty much what Centrelink's done and they're looking for quick funds from vulnerable people who wouldn't read the terms and conditions or follow it up."
But on Thursday, Federation Training issued a statement which said a "small number" of invoices had been incorrectly sent to students and apologised for the mix-up.
"Last month Federation Training sent out invoices to a small number of students in error incorrectly requesting the payment of outstanding fees," the statement said.
"The invoices were incorrectly coded in our payment system and were sent to students on payment plans.
"Upon recognising the error Federation Training has been making contact with students affected to apologise for the mistake and any concern it may have caused.
"We have also identified the cause of the error and rectified the issue so that it does not occur in the future."