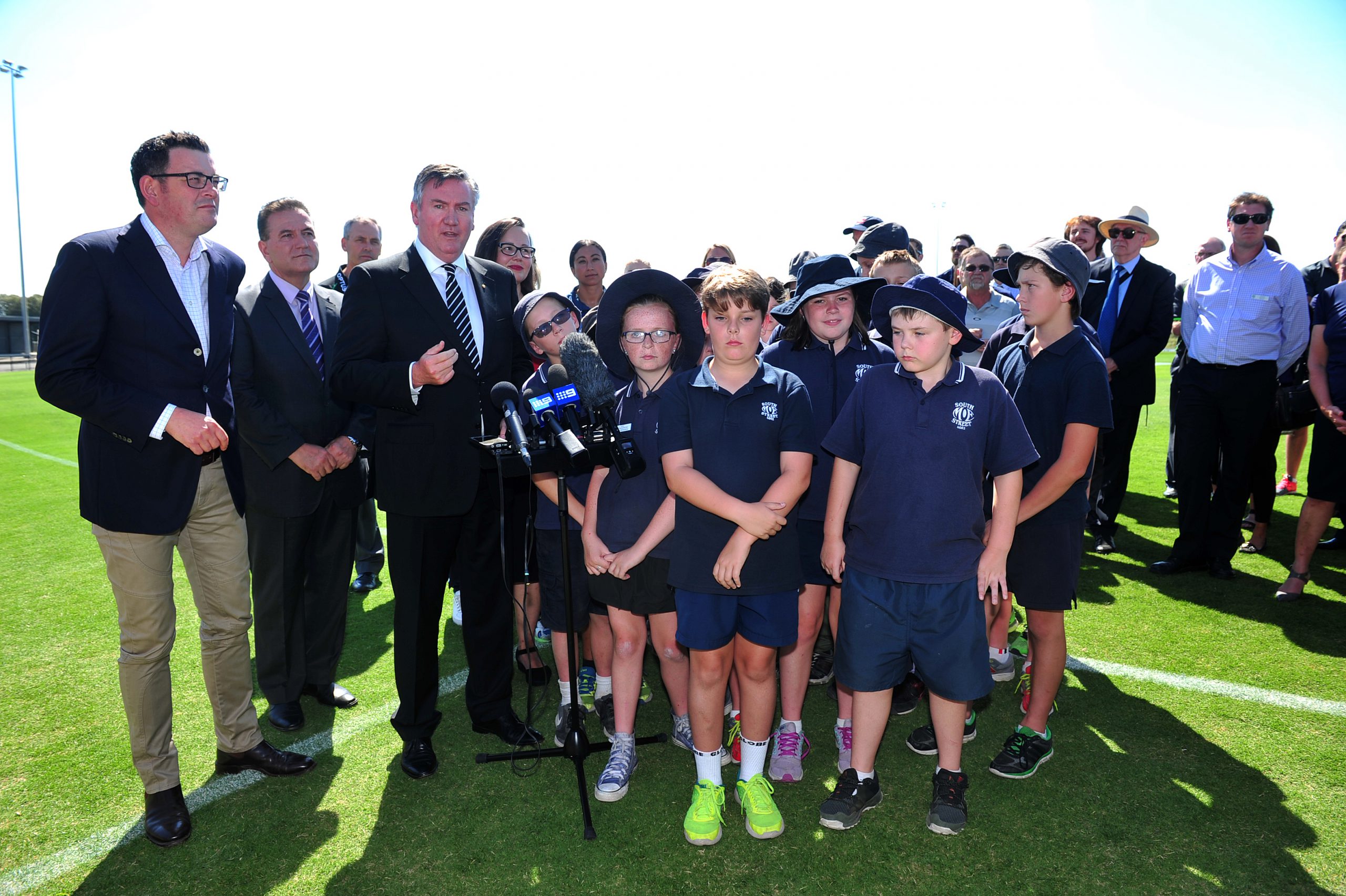 Sport was the winner on Friday when Premier Daniel Andrews announced an $85 million sporting infrastructure funding package for the Latrobe Valley.

A host of sporting facilities were slated for major upgrades through the State Government's $266 million transition fund with the Gippsland Regional Aquatic Centre the main beneficiary, allocated $46 million.
Mr Andrews said there would be 300 jobs created in the construction phase for the $85 million in capital works and 275 ongoing jobs related to the finished products.
"These are profound investments and they will mean more and more people get the quality facilities they are entitled to, more and more people come and visit and share in all you have to offer and that will mean more and more people have secure and good jobs for the future," Mr Andrews said.
"We're going to upgrade all of these facilities to put you first and make sure you're getting what you have long needed and been denied by too many.
"It's a massive vote of confidence in a proud community and one that should be really hopeful about its future."
The resultant upgrades will pave the way for an increased elite presence in the region, backed by a $6.9 million investment over five years to attract more major sporting events to the Valley.
Mr Andrews said the area would play host to more elite practice matches, friendlies, pre-season competitions, clinics and community carnivals as a result.
Collingwood Football Netball Club, Melbourne Victory Football Club, Twenty20 cricket team Melbourne Stars, men's basketball team Melbourne United, Swimming Australia and the Melbourne Vixens were all slated as having an increased presence in the Valley.
A man who is no stranger to giving out million dollar cheques, Collingwood and Stars president Eddie McGuire, said his two franchises and a host of others would make the Valley their home away from home.
"We're here because we want to be here, we want to be part of the Latrobe Valley," Mr McGuire said.
"We'll put the heart and soul into everything here so that every young kid realises playing in the big time is no longer a dream, it's a reality.
"We want to make sure our expertise comes here so that any kid who wants to get into events management, sports medicine, sports media, not just the athletes, but all the auxiliary jobs that go around this (can)."
Morwell Recreation Reserve ($4 million) and Ted Summerton Reserve ($3 million) are in line for major upgrades to increase their off-field capacities.
AFL Gippsland Region Manager Travis Switzer said it was a boon for both elite and grassroots sport.
"I think this is going to go a long way to setting some of our grounds up to be able to host games like we've got tomorrow (the JLT match) and maybe in the future AFL games, so it's the start of something big," Mr Switzer said.
"It's also, probably more importantly from my point of view, for grassroots footy… being able to play with great facilities means they get the best out of it and themselves."
Among the beneficiaries are the GRAC ($46 million), the Gippsland Regional Indoor Sports and Entertainment complex ($17 million), Morwell Recreation Reserve ($4 million), Latrobe Sports and Entertainment Complex ($1.7 million), Ted Summerton Reserve ($3 million), Sale and Traralgon Tennis Centres ($1.4 million) and nine other local reserves ($5 million).