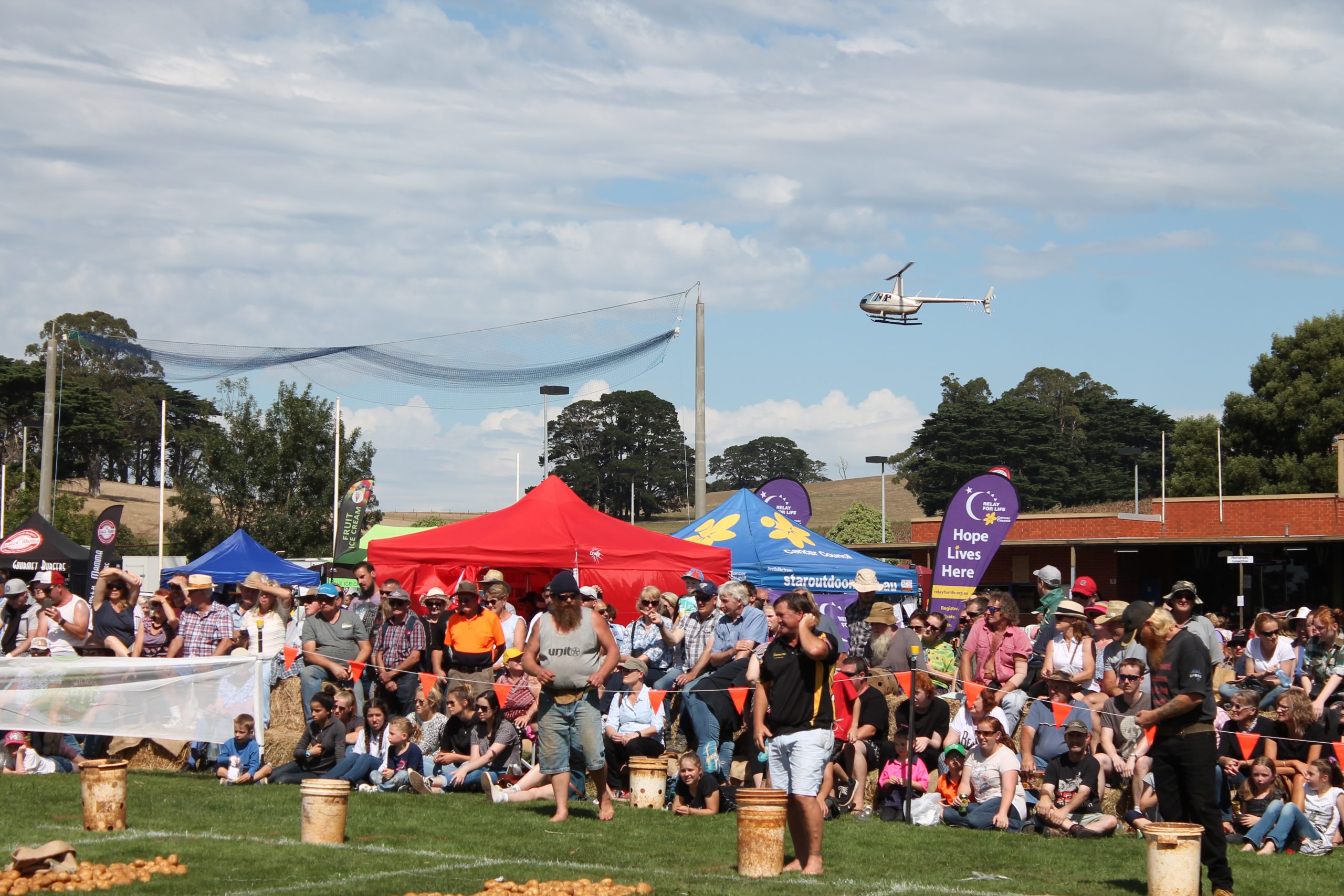 If you could do it with a spud, chances are you could have done it in Thorpdale on Sunday as the town's recreation reserve turned into a wondrous fairground for the bi-annual potato festival.

"It's been fantastic and a great turn out," organising committee vice-president Paul McLure said.
"Once the sky's cleared all the crowds have come in and I think everybody's had a great day."
While there was potato picking, and throwing, and eating, and many other potato related things, the event wasn't all about the humble spud.
With wood chopping competitions, sheep dog trials, and displays of new and old farming machinery, the festival was really a celebration of everything that had made, and continues to make, Thorpdale great.
"It's really good to show Thorpdale off, we're not just spuds, we're a small community but really strong," Mr McLure said.
Potato festival time is also an opportunity for area community groups to put their activities in front of the district.
Laurie Hasan from Baw Baw Engine and Auto club was among just one of those groups that were able to show off what they do and was thankful for the opportunity.
"You can't do it unless somebody helps a little bit," Mr Hasan said.
"A lot of people haven't seen this stuff before and there's a really good crowd."
Andy Caldwell from Traralgon competed in the wood cutting competition.
He normally travels across the state for events, so he was happy to compete on home turf.
"It's our club's chop, we run it" he said.
"I know a lot of people here, blokes I work with come and have a look."
Feedback from patrons was universally positive.
Many didn't expect the event to be so jam packed with things to do and see.
Nine year-old Louis Hennessy from Trafalgar said he loved it all, but when pushed named the potato picking race and the aeroplane chip drop as his highlights.
"I've enjoyed basically everything," he said.
His mum, Fiona, agreed.
"It's great. We're were amazed actually," she said.
"There's so much going on, you don't know where to start."
While organisers were still tallying the numbers, Mr McLure said he expected the attendance to out strip last year.
"I reckon we will top the 2015 comeback numbers, just by looking at how many we have in the car park," he said.