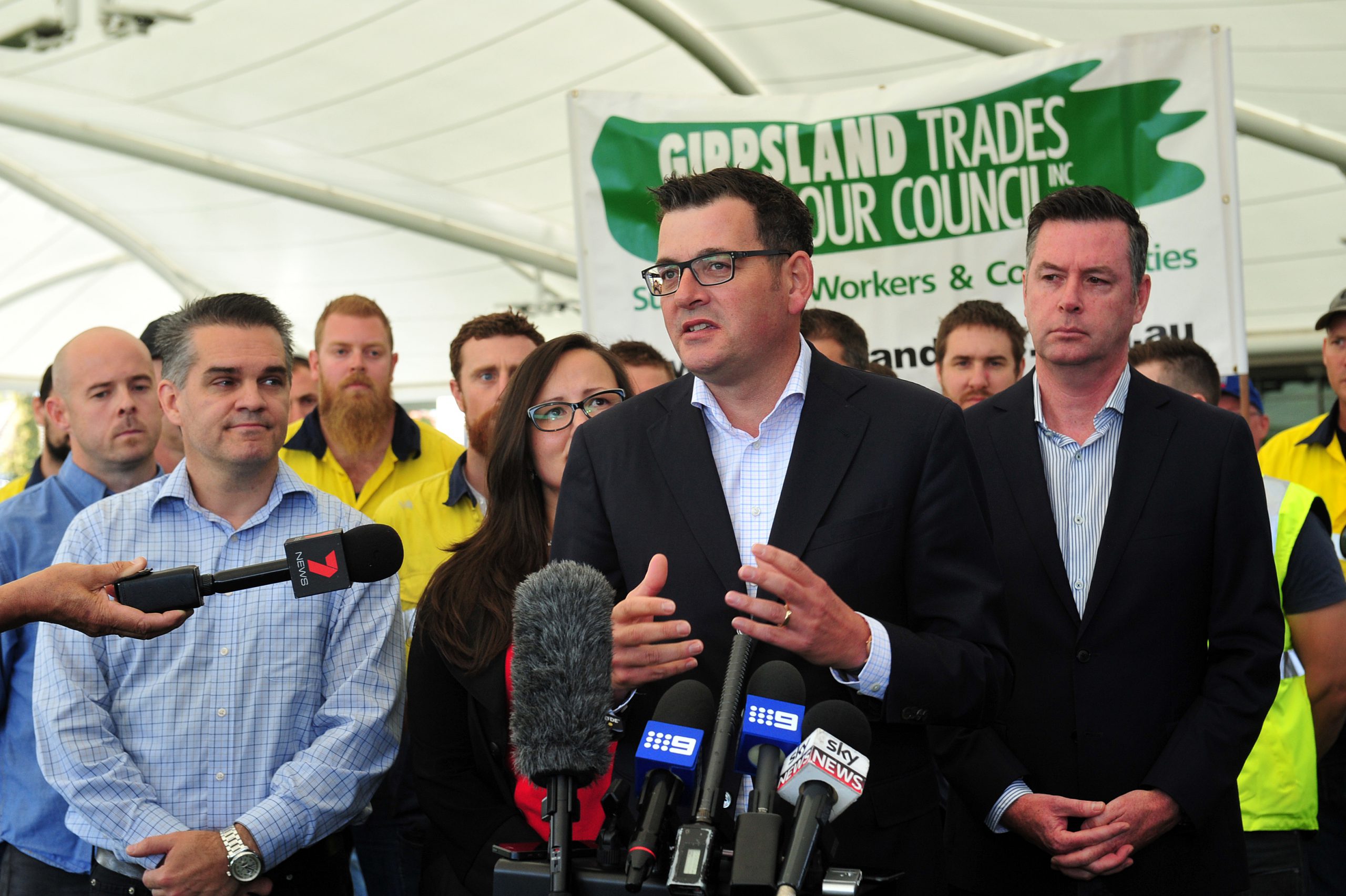 On Friday morning as Premier Daniel Andrews announced a scheme which will allow about 150 Hazelwood workers to move to jobs at other power stations, one employee was quick to front the press and show his support.

Mark Richards, the only worker not dressed in high vis gear, was glowing in his assessment of the scheme to the assembled press pack.
"It's a magnificent Australian first, there's no doubt about that," Mr Richards said, before thanking the different parties involved.
"It's the first step in a fair and just transition for the changes in our industry."
As the press conference was ending he made an impromptu return to the microphone to address a reporter who asked the premier why the government had not acted sooner to prepare for the station's closure.
"I'd have to say ENGIE originally had plans for a 2025 life and a 2023 mine expansion," the unit controller and Construction, Forestry, Mining and Energy Union Hazelwood lodge president said.
"So I don't think anyone would expect that to change overnight."
Speaking after the press conference, he said it had been an emotional day.
"I was emotional – I still am," Mr Richards said.
"When you look back at history and what the unions have done around the world, I think this is one of those landmark moments in the history of unions and government.
"Everyone talks about a transition, this is a just transition."
On Friday, Loy Yang A owner AGL became the first generator to sign onto the landmark worker transition scheme.
The scheme will allow older workers from other Latrobe Valley power stations to take early retirements to create vacancies for Hazelwood workers.
On Thursday, Loy Yang B owner Engie gave in-principle support for the scheme and the government believes an agreement with Yallourn owner EnergyAustralia is close.
Traralgon's Jason Sumner is a Hazelwood operator who did his apprenticeship at Hazelwood and said he would "love to" participate in the scheme if he could.
"It's a step in the right direction," Mr Sumner said.
"I'd like to stay in the industry for another 30-35 years, stay living in the Valley, raise a family in the Valley.
"This definitely is going to open up more positions and hopefully secure a lot of families' futures in the area."
Mr Andrews said it was a "proud day for workers and their families, for the power companies involved, for us as a government and for this local community".
"These jobs are here to stay and they'll be living, spending, investing, being part of this community, making it even stronger, even prouder for the future," he said.
Member for Eastern Victoria Harriet Shing said the deal involved serious negotiation to deliver a package which was suitable for the remaining Latrobe Valley generators.
"It's been many, many months of extensive, intensive work to get this Australian-first transition scheme finalised," Ms Shing said.