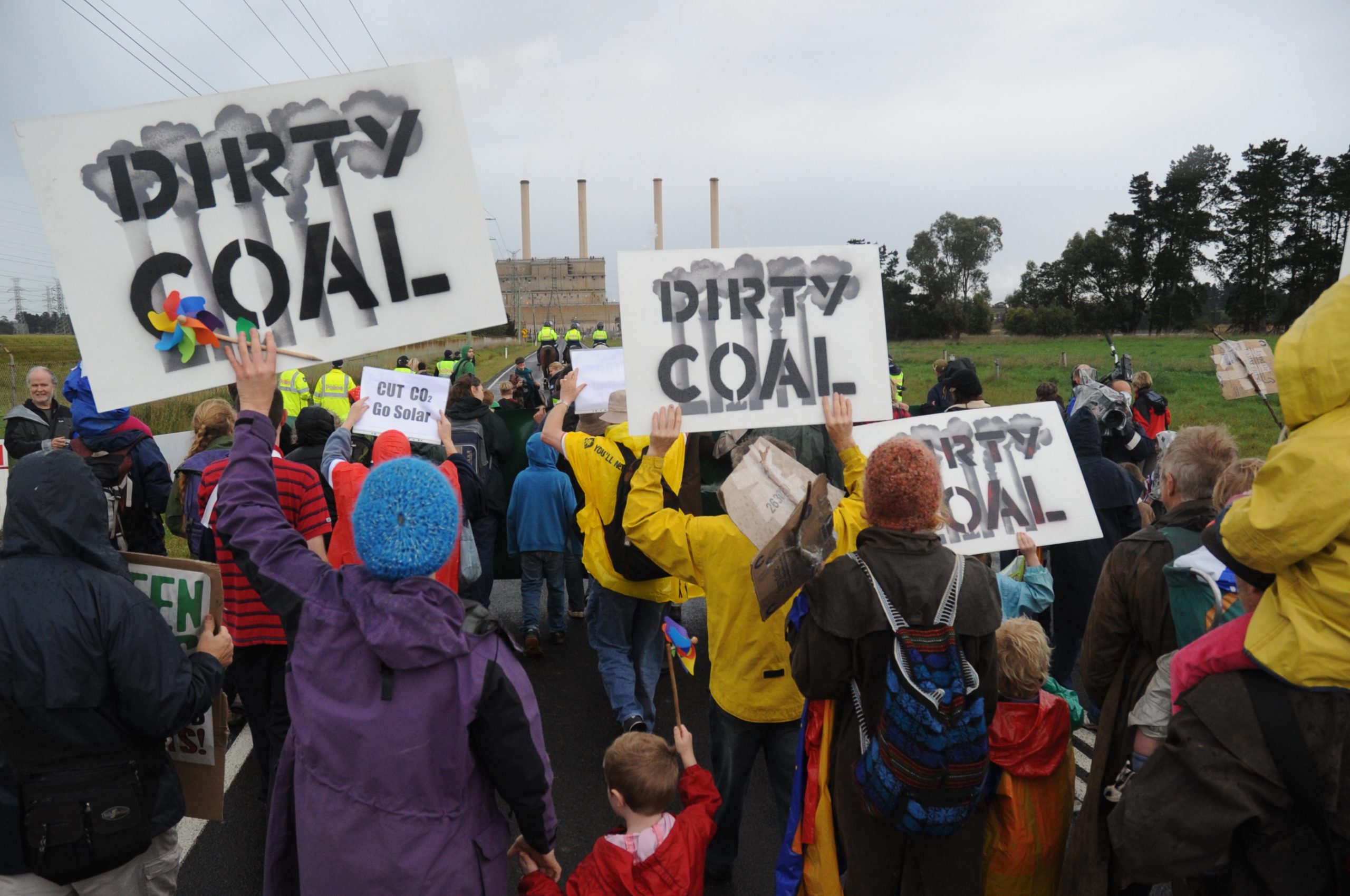 In the latter part of the 20th Century, environmental groups began to focus more heavily on climate change and the coal-fired power industry.
By about 2004, groups like Environment Victoria opposed plans by Hazelwood's owners to expand the mine and lengthen the life of the business to 2033 as part of the 'Westfield development' which would provide access to coal reserves and require the relocation of roads and Morwell River.
Environmentalists lost this battle, but continued their push for a transition to renewable energy generation.
A 2005 report by WWF Australia found Hazelwood was the least carbon efficient plant in the OECD.
The plant, which had been a mainstay of the Latrobe Valley economy within a power industry that had for so long been a source of pride for the community, had attracted a new label in some quarters – dirty and polluting.
Greenpeace protestors infiltrated the power station and mine in August 2005, unfurling anti-coal banners, marking the beginning of a series of protests at the plant.
Later, as federal politicians debated carbon pollution reduction policy and locals grappled with its potential economic impact, environmentalists set their sights on Hazelwood.
In November 2008, two environmental activists secured themselves to a rising coal conveyor.
In March 2009, two protestors chained themselves to a conveyor and in September that year, more than 400 protestors converged on Hazelwood, calling for it to be shut down and for the government to invest heavily in renewable energy.
The Express reported on 14 September 2009 there were representatives from groups including Greenpeace, Environment Victoria and Friends of the Earth, that locals were few and far between and 22 people were arrested at the protest.
In 2010 another protest was staged at Hazelwood, with activists forming a 'human solar thermal power station'.
The Brumby Labor government moved to phase out two generation units at Hazelwood, but the plan was later abolished by the Coalition government when it won power in 2010.
A Federal Labor Government scheme known as 'Contract for Closure' – which aimed to decommission 2000 megawatts of coal-fired power generation in the Valley – was abandoned after a period of private cost negotiations reached an impasse.
Environment Victoria chief executive Mark Wakeham said he was not celebrating Hazelwood's closure, but saw it as "long overdue" and an important milestone.
"We're making a significant shift to clean up our energy supply," Mr Wakeham said.
"It's been a pretty tough campaign at times but I feel like there's always been a pretty respectful debate."
He said environmentalists would now keep a close eye on mine rehabilitation and work towards a "more coherent energy policy".