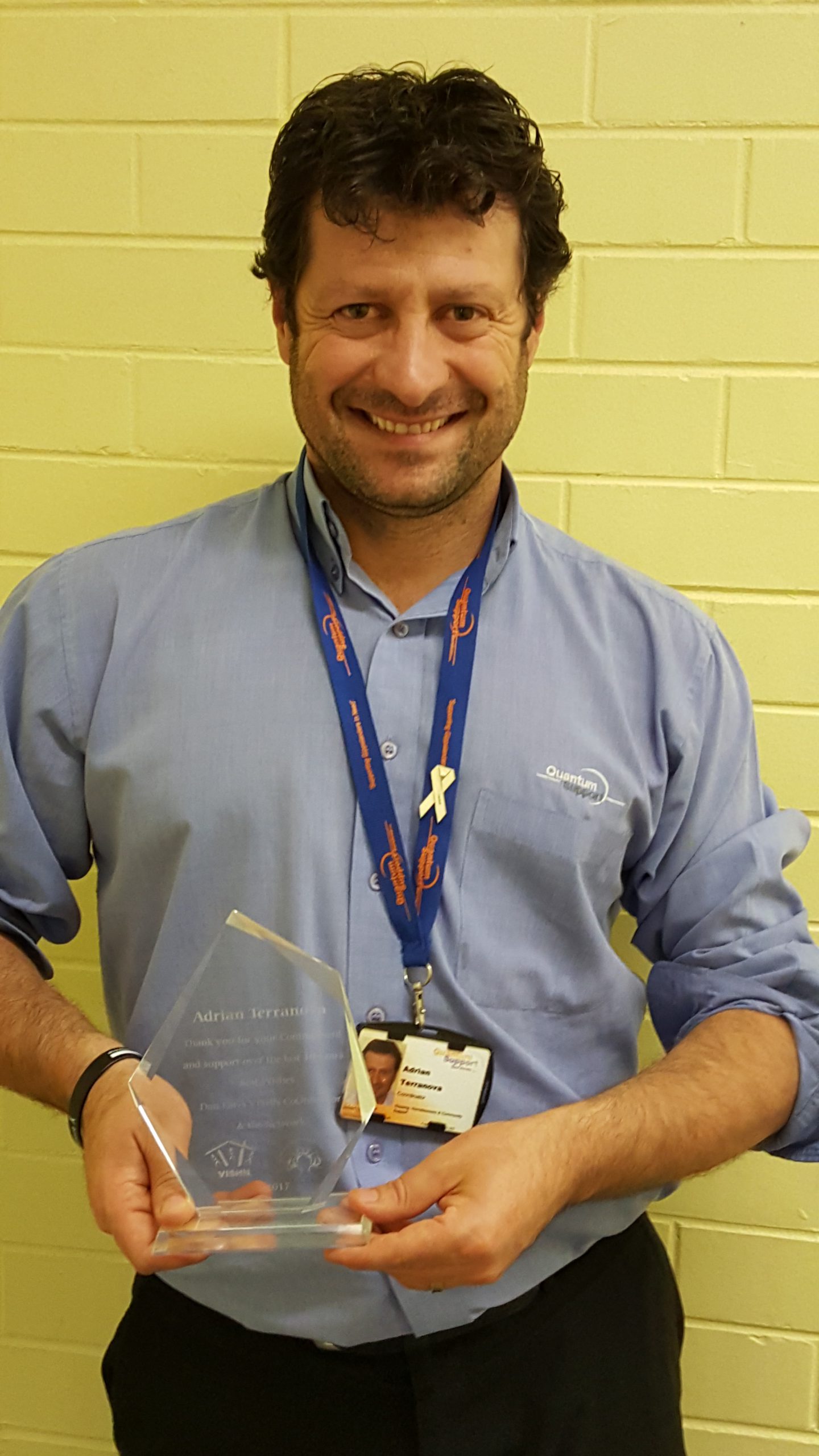 An employee at Quantum Support Services did not let a busy schedule get in the way of better outcomes for the most vulnerable in Gippsland's Aboriginal population.
The Victorian Indigenous Statewide Homelessness Network presented Adrian Terranova with an award at its annual conference, recognising his support and tenacity over the past decade.
Mr Terranova said it was common sense services with a common interest that would come together from time to time to reflect, plan and have continuous quality improvement.
"It makes sense that you would do that, but it doesn't happen," Mr Terranova said.
"Everyone just gets busy in what they're doing."
Originally the Morwell-based agency invited Aboriginal elders to present at these meetings, and over time Mr Terranova helped establish an entire network of groups which joined together to reflect and share resources.
The concept was so successful it is now a state wide industry model.
Department of Health and Human Services, Gippsland and East Gippsland Aboriginal Cooperative, Ramahyuck, Aboriginal Child Care Agency, Aboriginal Housing Victoria and local "key players" in housing support, Dan Laws and Lisa Wilson, are among those that meet four times a year.
Quantum is not specifically a support service for Aboriginal people, however Mr Terranova said he had done a lot of work to ensure Aboriginal people and their family members felt comfortable to come to them.
"And (cultural awareness training) is regularly kept up to date just to ensure that if an Aboriginal person presents we are responding to them in the most appropriate, culturally sensitive way," he said.
Mr Terranova said it was nice to have his name on the trophy, however it's the agency's award.
"Quantum have allowed me the opportunity to follow my own vision and ensure this is a successful program," he said.
Quantum general manager of homelessness and community strengthening Allan Williams said the award recognised the continuing success of the program which helped more than 75 families across Gippsland each year.
Quantum's Gippsland-wide Aboriginal housing program is ran by one employee in Morwell, and one in Bairnsdale, who aim to keep people in their homes and maintain tenancies.
Mr Terranova said food, shelter and water were the basic core essentials, and if you could get that right, you could keep building.
"For anyone who's homeless, their resume is not up to date," he said.
"If you get accommodation and the stability and supports around it, it all can flow."
Mr Terranova said he believed in the mantra that everybody should be given a fair go.
"People should be able to reach their goals and if they're encountering disadvantage, (it's important) they've got the appropriate supports in place to get through that situation or situations."
It's also an "exciting" time for those working in homelessness services following the Royal Commission into Family Violence.
"It's lots of work for us now as a result but there's investment and opportunities there now that weren't there before," Mr Terranova said.
If this article causes you distress or if you require help or information, phone Lifeline on 131 114 or Beyondblue on 1300 224 63.