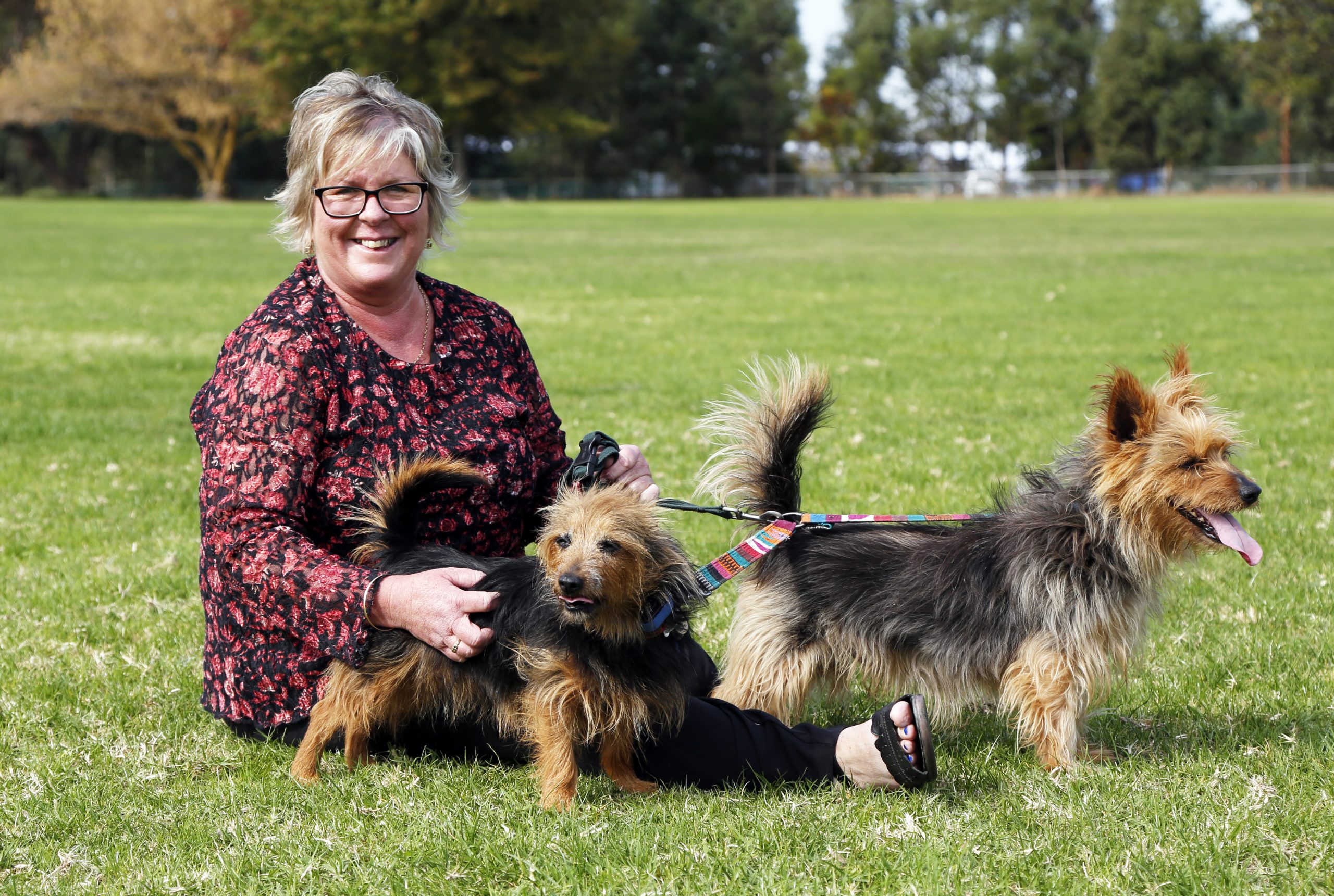 In May the streets and parks of Traralgon will become a sea of swishing tails and panting happy faces with the first ever RSPCA Million Paws Walk in the Latrobe Valley.

Event organiser and pet care professional Barb Webb said before her dog passed away, she would attend the RSPCA Million Paws Walk every year when she lived in Brisbane.
And when she moved to Gippsland to be closer to her family, she missed the "fun" day out.
"Until you get together with a bunch of dog-loving people, you don't see that side all the time," Ms Webb said.
"Some people dress them up and put them in fancy gear."
"And I'd go with my doggy friends … and we'd have a barbecue in the park afterwards and watch everything they'd organised."
On the day there will be three dog walking routes to accommodate for a range of abilities, all commencing at Agnes Brereton Park.
"The walk will go over the bridge and we cross one road, then walk behind ASIC, under the bridge then right around Victory Park and Newman Park," Ms Webb said.
The routes will come full circle to Agnes Brereton Park, where there will be information and displays from Aussie Pooch, Latrobe Vet Group, Adore All Pet Care, a fundraising sausage sizzle by Pax Hill Tennis Club and photo opportunities with Danae Studios.
Any pets lacking in some discipline can also take note of the obedience and agility displays from the Gippsland Dog Club, which will have a special roped off arena in the park.
Ms Webb said Traralgon did not necessarily have a lot of pet related functions.
"We have lovely walkways and we have lots of pet owners," she said.
This won't just be for the dog-lovers of Traralgon however.
Ms Webb is encouraging canine enthusiasts from Boolarra, Yinnar, Churchill, Tyers, Glengarry and beyond to clip on a leash and get involved.
"I'm just trying to get everyone that loves dogs to share in a great day out with them and to raise money for the RSPCA," Ms Webb said.
It's a cause Ms Webb has been supporting as long as she can remember.
"It's something that's close to my heart. I'm a monthly donor and I really support the work they do," she said.
"I love dogs, I love all animals and I love that they protect them and try hard to keep them safe."
Ms Webb is also hoping local primary school students and their families can get involved in fundraising for the RSCPA.
Traralgon's Agnes Brereton Park will be one of 18 locations across Victoria hosting the Millions Paws Walk on Sunday, 21 May for the RSPCA's biggest annual fundraising event which has been running for 22 years.
RSPCA Victoria chief executive Liz Walker said every dollar raised will make a big difference and will help care for the 23,000-plus animals that come into the RSPCA's Animal Care Centres each year.
The funds raised will be used for RSPCA programs, adoptions, veterinary services, campaigns and rehabilitating animals.
Registrations for the event are now open. Visit www.millionpawswalk.com.au. You don't have to own a dog to be a part of the event.
For more information about the Traralgon RSPCA Million Paws Walk contact Barb Webb on 0415 696 144 or email adoreallpetcare@iprimus.com.au