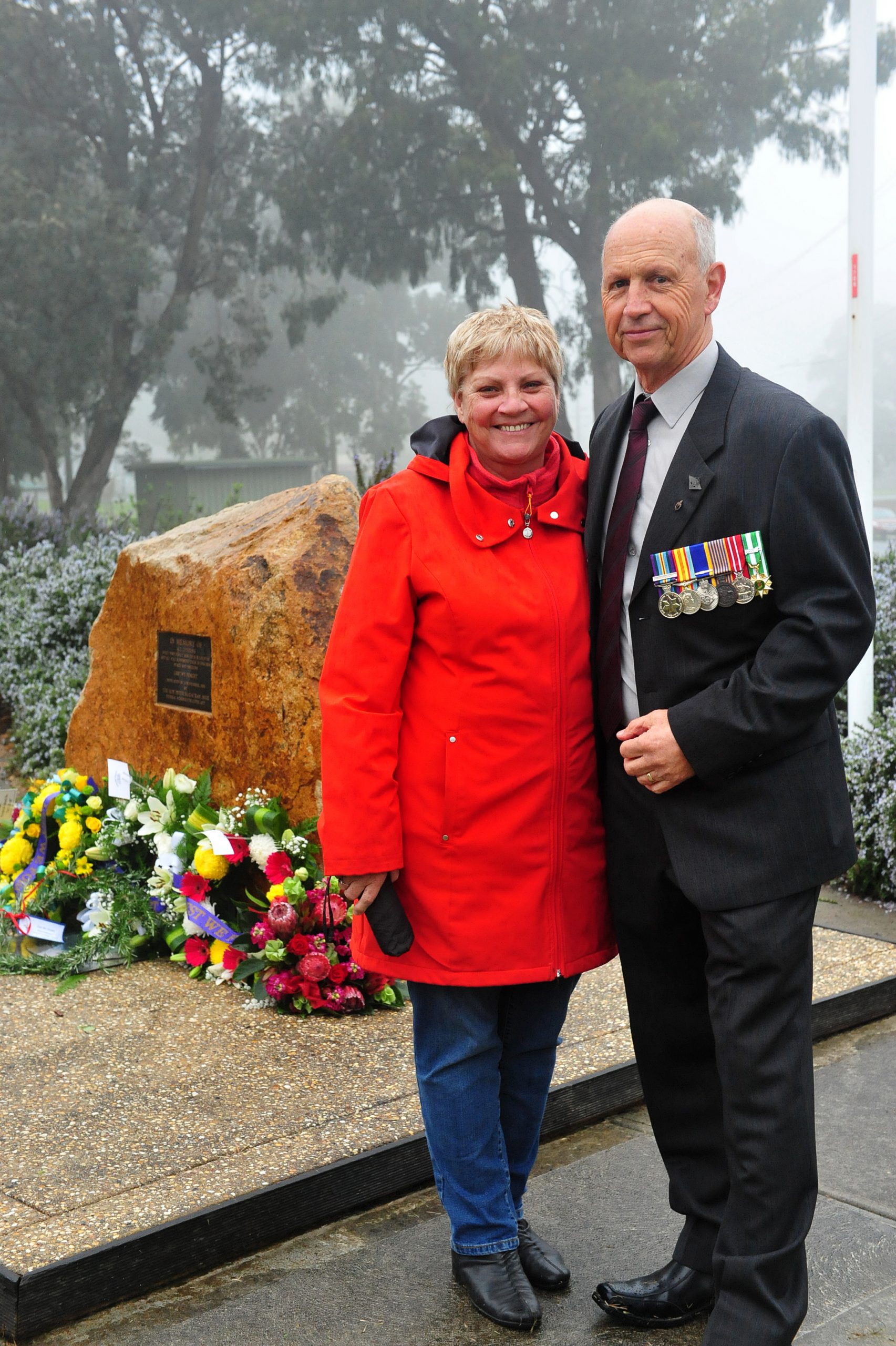 A proud Cathy Stewart watched on as her husband retold a tale of the monsoon-soaked, ammunition-shattered rubber plantations of Vietnam to the dawn assembly outside Tyers Hall on Anzac Day.
She said it was his story, and not hers, however the anxiety and "alienation" of war would've felt very real as she checked the letterbox for news from her fianc she couldn't be sure she would ever receive.
"We had a lot of paper snippets here and there and a little bit on television, and even then you'd write a letter and it would take two weeks to get there," Mrs Stewart said.
Allan Stewart arrived home from the Vietnam War in May, 1967, and the couple were married by November.
"He was 19 (when he left) and he wasn't the same when he came back," Mrs Stewart said.
"He was very mature and very different.
"I had a bit of trouble coping with the way he was very unsettled and he sort of didn't know what he wanted to do for a while."
Mrs Stewart's mother however helped her through this difficult period, where she sat her down and explained the need for patience.
Around 8am on Anzac Day, Allan retold his experience as an artillery gunner with 1 Field Regiment of the Royal Australian Artillery at Nui Dat, giving the Tyers community some insight into the kinds of experiences that changed the lives of so many young "chaps".
He shared the "horrific" three-and-a-half hours at the Battle of Long Tan, where members of the Australian Task Force continually unpacked and carried thousands of artillery rounds to the 18 gunners through sheets of rain and smoke.
"I was almost choking," Mr Stewart said.
"We couldn't hear orders being called out because of the noise but everybody knew what we had to do.
"The next day we found out 18 of our men had been killed, about 23 were injured and about 245 enemy had been found to be dead at the scene."
Mr Stewart often thinks it was those fallen men who saved his life.
It was his father who originally encouraged him to join the army when he was 17 years old.
"I lived way out behind Mirboo North and there was no work up there," he said.
"It was a bit of an adventure really."
"When I joined the army, (the Vietnam War) hadn't started and I almost went to Malaya for two years, but because I was too young to go there I ended up staying and going to Vietnam instead."
Fortunately Allan took his father's advice to take three years' service over six, otherwise he would have returned to Vietnam for a second tour, delaying his wedding with Mrs Stewart.
The couple met in Sydney when Mr Stewart was stationed in Holsworthy.
They then finally settled in the Latrobe Valley after the Vietnam War where Mr Stewart spent 28 years in the police force.
The couple have been living in Tyers for 17 years, where Allan enjoys the AFL Anzac Day clash every year as a Collingwood supporter.