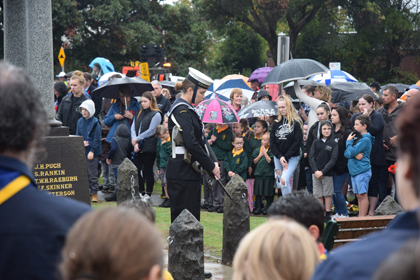 It was a heartfelt Anzac Day service at Trafalgar on Tuesday as three fallen servicemen were honoured by their families and the RSL with a plaque.
Cyril Magnuson, known as Squizzy by most of his mates, was a Japanese prisoner of war in World War II.
He later worked for the State Electricity Commission at Yallourn.
Trafalgar Thorpdale RSL president Ray James said Mr Magnuson took the torment of being a prisoner of war through to his grave.
It is believed Mr Magnuson had no family but will now be remembered for years to come as his plaque will sit alongside another prisoner of war – Jack Cooper's at the Trafalgar RSL.
Frantz 'Frank' Perry was also recognised with his service through the early stages of the Vietnam War.
Mr Perry was in the Royal Regiment of Australian Artillery and passed away in October last year.
His funeral service was held at the Trafalgar RSL Hall.
The third person to be recognised on Tuesday was the late Royal Australian Air Force servicemen, Noel Sampson, whose plaque will sit alongside his father's WW1 plaque.
The Sampson plaque was unveiled by his son, Bill Sampson.
Mr James said Noel was a "leading aircraftman" and "a very good mechanic in civilian life".
"Fitting a plaque to a memorial wall is a true sign of remembrance for they shall be remembered always," Mr James said.
The plaques are located on the memorial wall outside the Trafalgar RSL on Kitchener Street.