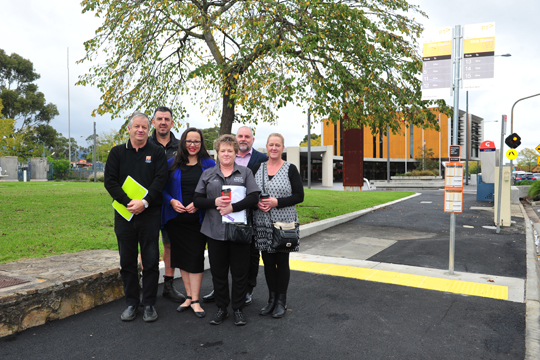 The Moe Traders Association is pleased following a meeting about its concerns over new bus stops and a public transport timetable in the town.
Public Transport Victoria, along with State MPs Harriet Shing and Gary Blackwood, met with Moe Traders Association and Committee for Moe members to discuss concerns surrounding the controversial new bus arrangements.
Latrobe City Councillor Brad Law and a council staffer was also present at the meeting on Friday.
Moe Traders Association secretary Sue Broadbent said the meeting addressed issues surrounding a lack of public consultation and safety concerns.
"We've got a number of safety concerns about the bus stops and their positions, they've all been put in existing congested areas," Ms Broadbent said.
"For instance the one in Narracan Drive is seeing people with a disability crossing the road in major peak traffic times and on dusk – there's no crossing for them."
The Express has previously reported on bus stops on George Street near the public toilet block, Saviges Road near Aldi supermarket and on Waterloo Road.
Ms Broadbent said the group also expressed its disappointment about a loss of car parks on George Street.
"It's seen traders lose a total of 10 car parks, it's having a big impact on business," Ms Broadbent said.
Ms Broadbent said the meeting also addressed concerns the new bus timetable was preventing people from getting to work on time and impacting the reliability of bus services for local students.
State Member for Eastern Victoria Harriet Shing said she was pleased with the outcome of the meeting, citing public consultation was an ongoing process.
"Some of the issues that came up was the impact of changes to bus routes that require people to plan their trips differently, the issue of congestion, and the location of bus stops in Moe, and the way that timetables are operating under the changes," Ms Shing said.
"The process of consultation is ongoing but some people have raised concerns that more consultation was required and that community input was not as available as it could have been.
"As part of delivering a regional network, we are doing many of these things for the first time and continuously improving the services that are required."
Ms Shing said it was important Public Transport Victoria increased the number of services to cope with growth across the Latrobe Valley and encouraged people to provide feedback through PTV or the Moe Traders Association.
"This includes the way that timetables and routes are designed, and the way that changes are discussed and communicated to the community and public transport users," Ms Shing said.