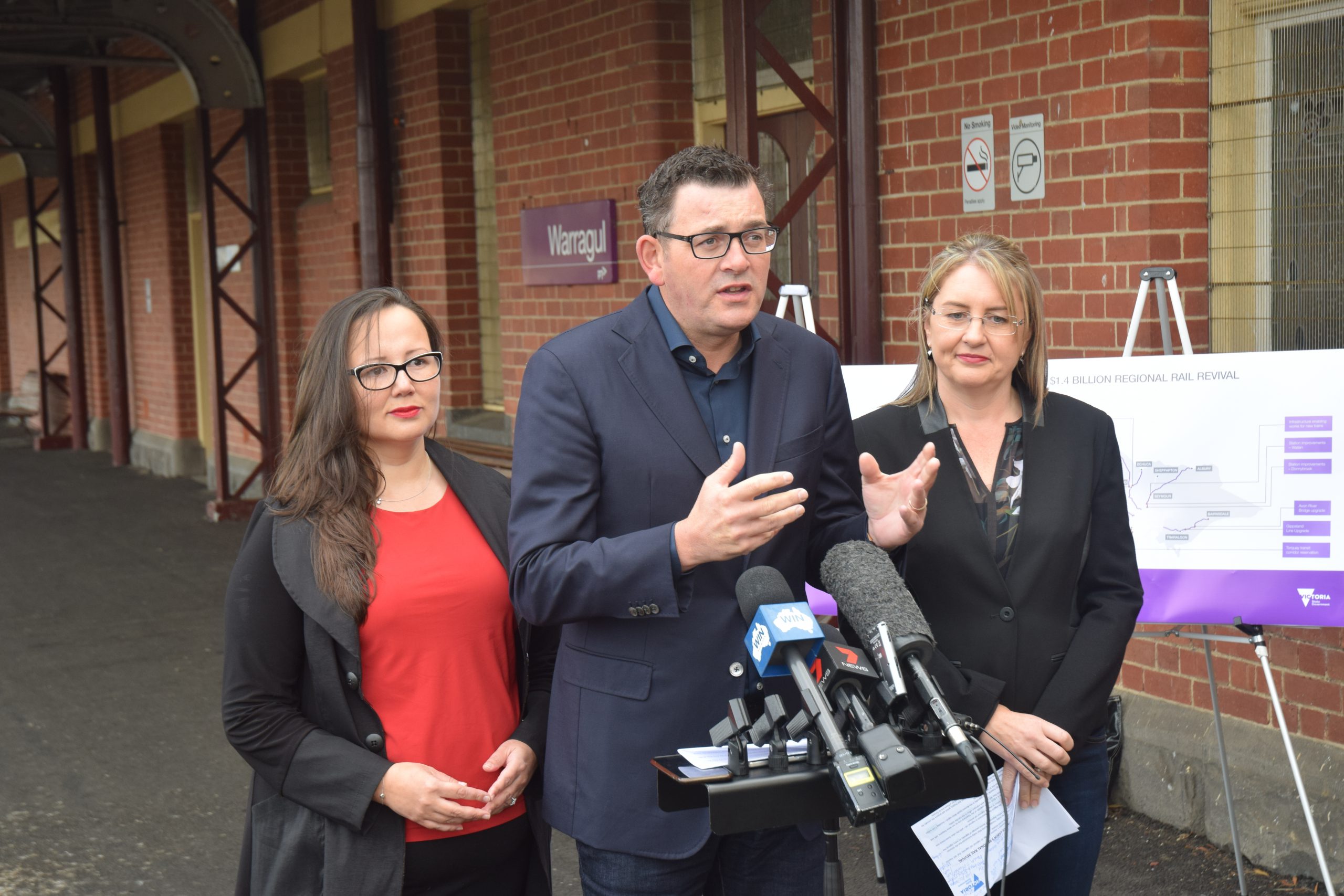 Sections of Gippsland's hamstrung rail line will be duplicated after the State Government announced plans yesterday to upgrade the service under a $435 million project, ahead of tomorrow's state budget.

Morwell and Traralgon stations would receive a second platform under the proposal, while about nine kilometres of rail between Moe, Morwell and Traralgon would be duplicated.
The State Government said the works would create more than 400 jobs, with a dedicated project office established in the Latrobe Valley to oversee the long-awaited upgrades.
The Gippsland line upgrade is the centrepiece of the project, with work expected to commence on regional lines across the state as early as next year.
"We can get many of these elements of this package out to tender straight away because we've done the detailed work," Public Transport Minister Jacinta Allan said.
"We've done the planning work, we've done the business case work and we're ready to go."
However, the announcement has drawn criticism from Federal Infrastructure Minister and Gippsland MP Darren Chester, who accused the state of making announcements with money it did not have.
It's hoped the upgrades will provide more frequent and reliable services on the Gippsland line which has been plagued by punctuality and reliability issues for years.
Gippsland VLine Users Group convener Natalie Thorne said the announcement "signifies that Gippsland has been heard".
"Gippslanders can feel like they've been listened to," Ms Thorne said.
Announcing the $1.45 billion statewide Regional Rail Revival Package at Warragul Station yesterday, Premier Daniel Andrews said the project would be funded through the 'Asset Recycling Initiative', money secured from the Port of Melbourne sale.
"We have a signed agreement with the Federal Government that relates to a 15 per cent bonus payment from the sale of the Port of Melbourne, so every single dollar that's required to fund these projects is Victorian money," Mr Andrews said.
The 'Asset Recycling Initiative' was created by the Federal Government to increase infrastructure and boost economic growth and jobs by offering states a financial incentive to sell or lease government-owned assets.
The proceeds from the sale would then be invested in new infrastructure.
However, Federal Member for Gippsland and Minister for Infrastructure Darren Chester said the State Government was making announcements with "money it did not have", saying the Commonwealth was yet to witness any details of the project.
"We're going to need to see a plan, we're going to need to see a business case and we're going to need to see a State Government regional rail fund in this week's state budget," Mr Chester told The Express yesterday.
But State Member for Eastern Victoria Harriet Shing hit back at Mr Chester, saying a lot of work had been undertaken to ensure the project was "shovel-ready".
"All information about the planning and detail of these projects will be provided to the Commonwealth, of course we've done the work necessary to make sure that they are viable, deliverable and will enable the region to provide better services to more people," Ms Shing said.
"If the Commonwealth is now refusing to honour the written agreement with Victoria, then Darren Chester will be failing the very constituents he was elected to represent.
Train detection systems at 20 level crossings along the Gippsland-Pakenham line will also be implemented in an attempt to increase safety for rail and road users with Traralgon's train depot to be relocated to a larger site to accommodate more trains and support services.
An additional $95 million will be set aside for the duplication of the Avon River Bridge, east of Traralgon, allowing for more punctual services to Bairnsdale, with further duplications to take place between Bunyip and Longwarry and those two towns to receive second platforms.