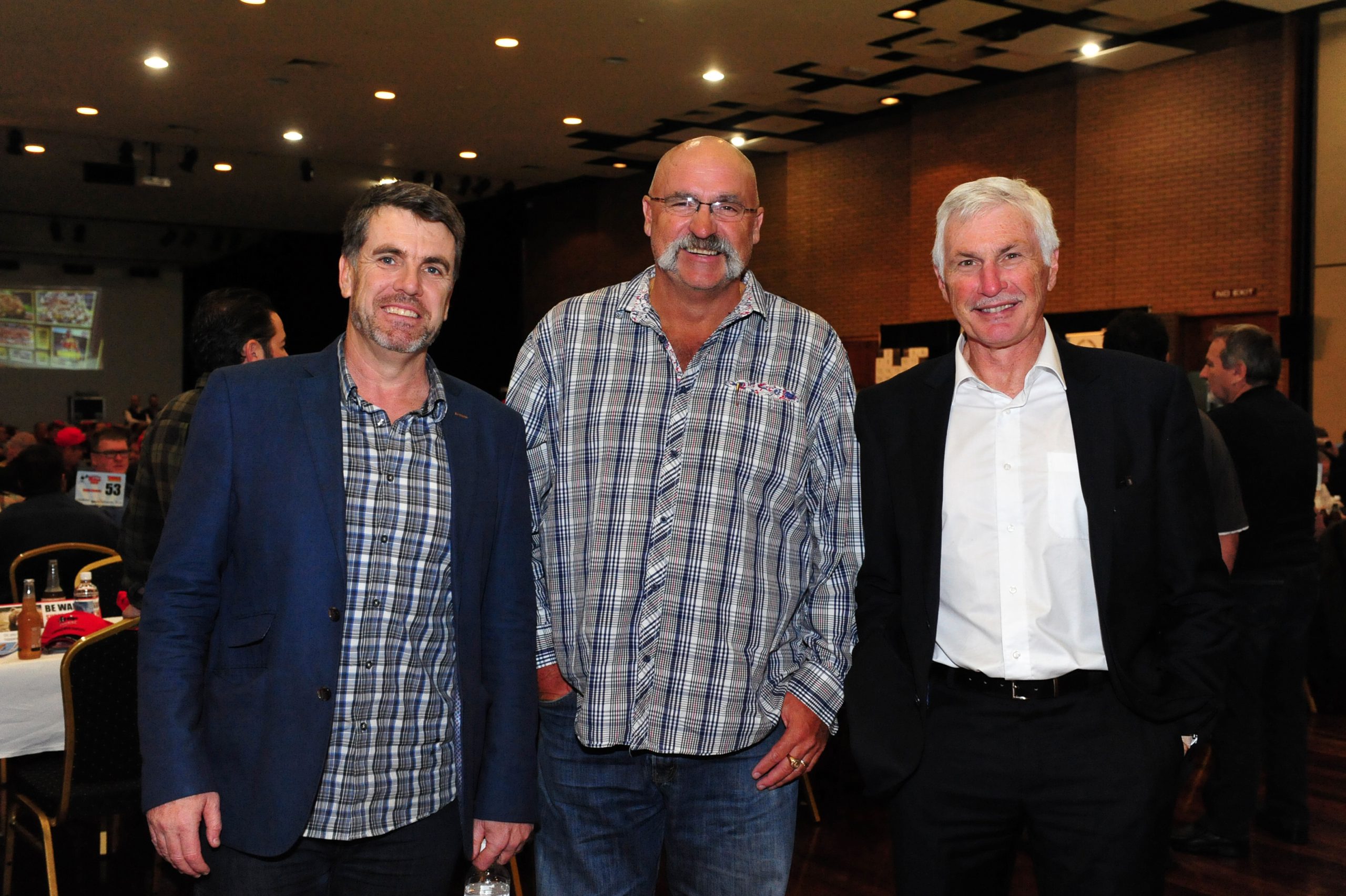 Beer, sausages and burgers filled Kernot Hall on Friday for Latrobe's annual Biggest Ever Blokes BBQ.
More than 500 men from across the community came together to acknowledge a disease that affects about 20,000 Australian men annually – prostate cancer.
Event chair Ian Nethercote said the barbecue was a "huge success", acknowledging it had raised close to $500,000 since 2013.
"As far as our revenue raised goes, I think it will be very similar to what we raised last year, which will be confirmed later this week," Mr Nethercote said.
"A significant proportion of that will be re-invested into our local community through advertising campaigns, research projects and contributions to purchase new equipment and facilities that aren't currently available without going to Melbourne."
The event, into its fifth year, was headlined by some well-known personalities including former AFL coach Mick Malthouse, ex Test cricketer Merv Hughes, comedian Des Dowling and four-time Australian rules premiership coach and prostate cancer advocate David Parkin.
Mr Parkin spoke about the importance of being alert about family genes when it came to prostate cancer.
Both his father and grandfather died from the disease in their 60s.
"I had a regular check-up once and my specialist told me that my PSA (prostate specific antigen) had doubled in six months," Mr Parkin said.
"A biopsy revealed that I had contracted prostate cancer, it was aggressive.
"After speaking to my specialist I decided it was best to remove my prostate, given my family history, through robotic surgery."
Some years on, Mr Parkin said he was "as fit as ever".
"More men will die in the next 12 months from prostate cancer than women will of breast cancer, so fellas do yourself and your family a favour and get a bloody check-up, and make them regular," Mr Parkin said.
The proceedings were emceed by media personality John Deeks who has volunteered his services at the Latrobe event since it started five years ago.
Local auctioneers Rob Wilson and Tony Salvatore conducted some 35 live auctions between them, auctioning items that included advertising campaigns, holiday and accomodation packages, power tools, garden appliances, sporting memorabilia and theatre packages.

Mr Nethercote thanked the committee, security organisations, the Lions clubs and the Latrobe Valley Prostate Support Group for their on ongoing support.

"It's also important to acknowledge all those who sponsored and participated in the event because they've helped improve the level of understanding of prostate disease and contributed to facilitate the extension of services and facilities available to men and their families who are unfortunate enough to contract prostate cancer in the region," Mr Nethercote said.

A portion of money raised will be allocated to national research programs through the Prostate Cancer Foundation of Australia.