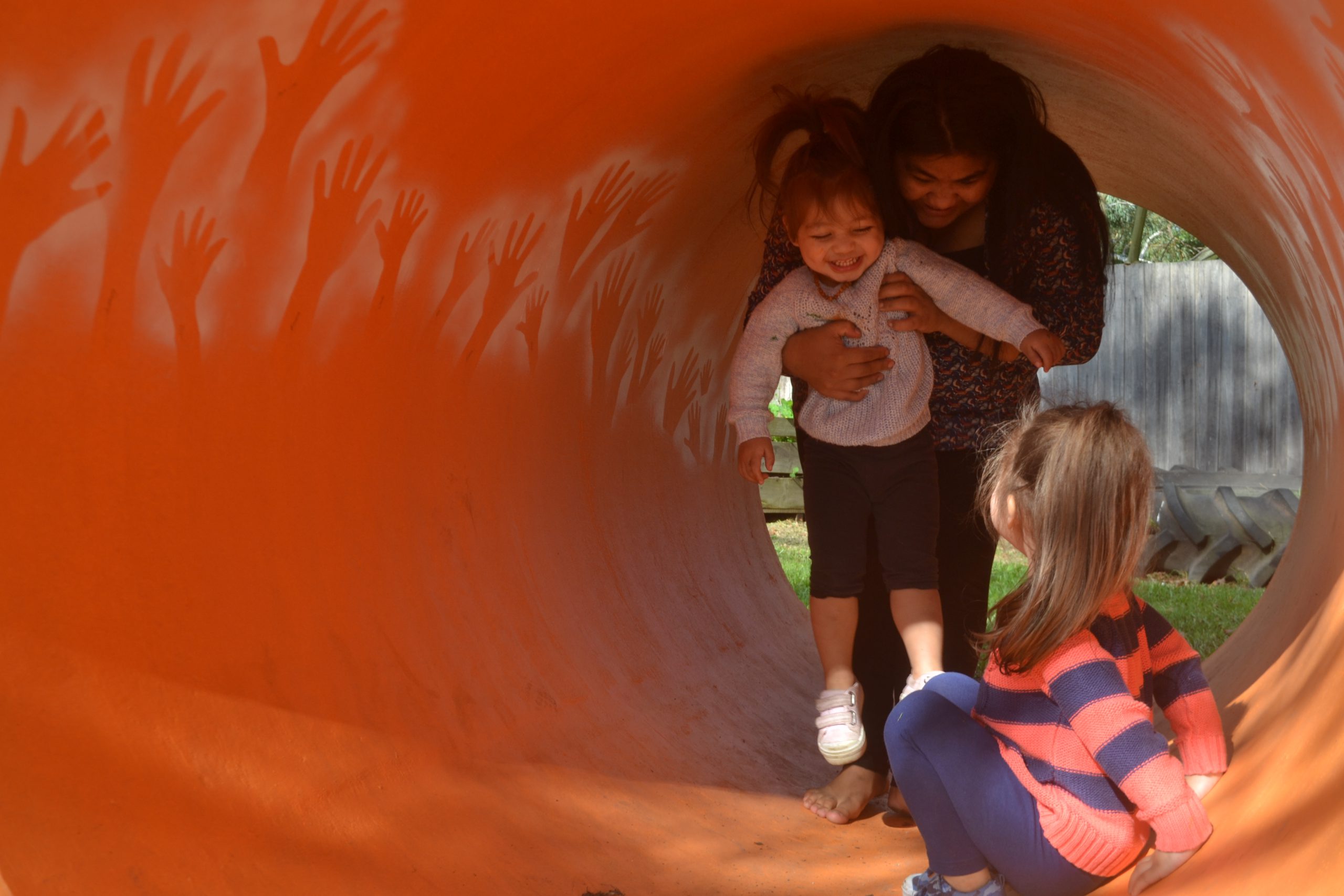 Celebrating National Families Week, Save the Children Latrobe unveiled a number of indigenous art pieces incorporated into the playground at its family fun day event.
Indigenous artist Saffina Stewart repainted a tunnel and a fence at the organisation's Moe playground, both of which tell a story of belonging.
"On the outside (of the cement tunnel), there are little bottoms surrounded by bigger bottoms, imprints like we've been sitting on the sand in circles. (It represents) babies and children being looked after by parents and carers. The tube is about family, community and belonging," she said.
"Every strip on the fence is different. It means that although we might all be different and we might all be unique, together we are a masterpiece."
Ms Stewart talked about the importance of teaching children to live respectfully on indigenous land.
"The gum leaf (featured in my work) is a sign of welcome. It means you are safe to walk on our land, you are protected by our law… but you must look after and respect our land. It means this is a safe and welcoming land that provides healing."
Save the Children Latrobe family support worker Geena Pettigrove said the indigenous community was underrepresented in local services.
"The tunnel was painted by an indigenous artist years ago and needed repainting and we wanted to learn from and engage the local indigenous community," she said.
"We wanted to communicate 'welcome' (to the indigenous community), not just today but from this day on."
The event had a range of activities for families to participate in, including face painting, arts and crafts activities, a petting zoo, and barbecue run by the Morwell Lions Club.
Ms Pettigrove said the Save the Children Latrobe facility had a range of programs to support families in the community, including supported play groups run by trained facilitators and evidence-based family program run in partnership with local primary schools.