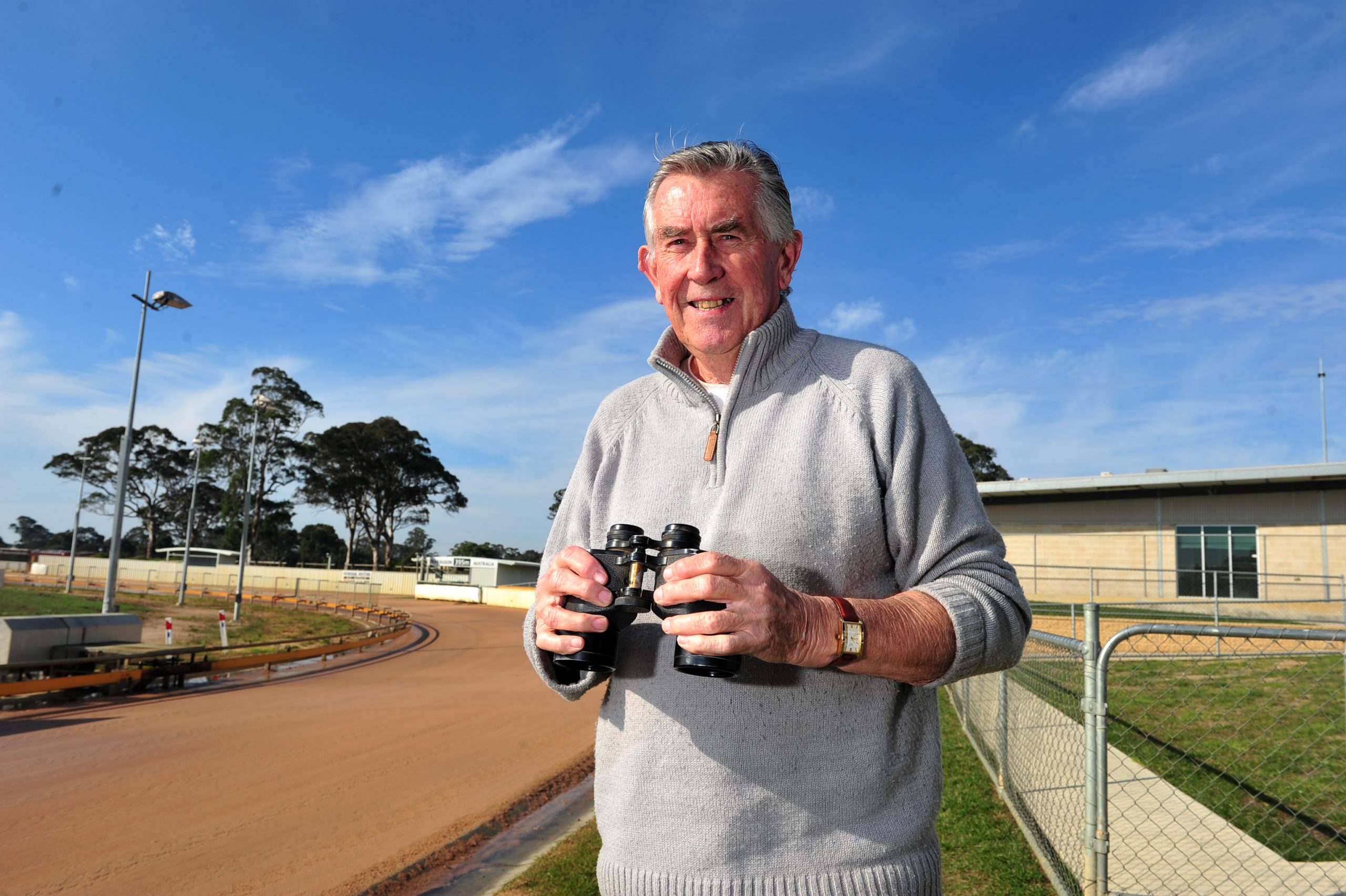 Switching off the microphone for the final time at Sale was one of the hardest moments of Peter Eustace's career.
The veteran race caller hung up the binoculars on Sunday, 21 May, closing the book on an innings that's spanned more than five decades.
Eustace began race calling in state's south west as a young bloke looking to get his foot in the door as a race caller.
"I loved the thought of calling, so I started by doing phantom calls at home, I used to get the newspaper and write out the fields long hand and make up my own race," Eustace said.
"My mother wanted me to be an accountant because I was good figures but I knew that wasn't for me."
Growing up in the Melbourne suburb of Hawthorn, Eustace lived a drop-punt away from Glenferrie Oval.
It's unsurprising he's a Hawks man "through and through".
"I played sub district cricket a lot, I tried to play with Hawthorn but I was too young at the time," he said.
"I was about 15 so I started playing sub district (cricket) for Flemington-Kensington out near the racecourse.
"I trained with Northcote and when Billy Lawry was playing Sheffield Shield and Test Cricket."
Eustace then moved to West Heidelberg, making it difficult to sink his toes into a career in race calling.
It wasn't long before he made the decision to relocate to the state's west calling the trots on 3CS Colac.
"One of the guys when I moved there at the time was Ian Major, he did the breakfast program when I started but went onto to become one of Melbourne's best footy commentators in my opinion," Eustace said.
His first race call was on Easter Monday, 1966 at Birregurra, about 15 minutes east of Colac.
"I was (at 3CS) a few years, taking over the breakfast slot and then a job came up in Gippsland for a race caller on 3TR in 1971."
It was about that time Eustace moved to Sale, where 3TR was located at the time, taking over from then Gippsland race caller Kevin Daig.
One of Eustace's first major calls in Gippsland was the Sale Cup of 1971.
"In those days, they didn't have a broadcast box at Sale so we used to have to call from the old grandstand," Eustace said.
"They used to rope off the areas for the three different radio stations at the time including 3DB and 3UZ and the local one 3TR.
"During the call local horse Precious Robe was coming up the straight with good form, people started jumping up and clapping in the last 200 metres… they were waving their bloody race books in the air and it was hard to see the fishing post. The atmosphere was fantastic and it went onto take first place."
Eustace went onto host 3GI's, now ABC Gippsland's, breakfast program for a number of years before going on to produce Penny Johnston's morning program out of Sale.
Another infamous moment in his career was in 1987, after calling what would eventually become a triple dead heat at Stony Creek.
"The judge at the time was the late John Dewar, he was on a level above me (in the tower) and he opened the man trap and said 'I can't for the life of me split the photo finish', so it was decided as a triple dead heat," Eustace said.
"I called the three horses across the line but I couldn't pick who won.
"I should've called a triple dead heat at time because I probably would have gone down in immortality."
Eustace went onto call all three codes of racing across Gippsland from the trots at Warragul and Traralgon to the greyhounds at Sale and Cranbourne and heard regularly at courses across southern Victoria.
Nowadays, Eustace, a Rosedale resident, lives with his partner – Sandra, and acknowledged it was his decision to climb down the tower.
"My eyes are starting to give me a bit of a bother, especially the greyhounds, so I'd rather go out being a decent caller," Eustace said.
"Once I finish calling that'll be it, unless there's a national shortage of race callers," he joked.
Eustace reassured the community that he would look into other areas of work in the Gippsland media contingent in the coming months.