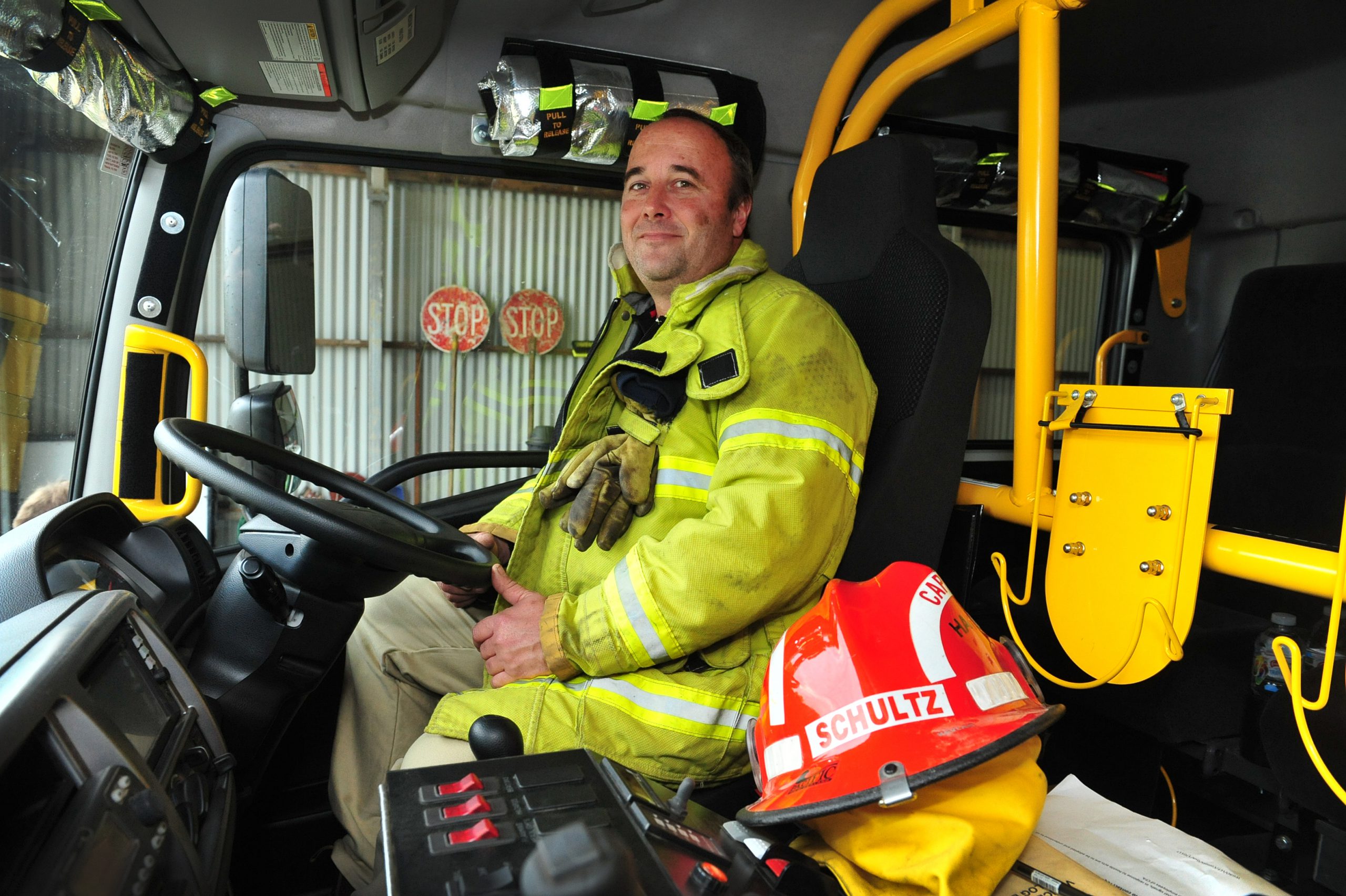 Mateship and camaraderie are the reasons why Anthony Schultz became a volunteer firefighter.

Known as 'Schultzy' to his mates, the father of three captains the Willow Grove Fire Brigade.
For the past 10 years he's also been an emergency service officer at Yallourn Power Station.
It's a career that's spanned 35 years behind the hose, following in his father's footsteps from a young age.
"For as long as I can remember ever since I was knee-high to a grasshopper I've been around fire trucks," Schultzy said.
"I can remember on school holidays sitting in the front cabin of the fire truck with dad driving at burn-offs that we used to do along the highway up at Benalla."
Schultzy's father, Ron Schultz, served as president of the now defunct Volunteer Urban Fire Brigades Association and held two terms in office on the Country Fire Authority's board in the 2000s.
"The happiest moment for me in my career would have to be when my father presented me with a 20 year service award at a brigade function in Belgrave," Schultzy said.
Starting as a junior brigade member at Benalla aged 11, Schultzy progressed through the ranks before he relocated to Upwey and Belgrave in 1998 where he met his wife, Kate.
After 10 years with the brigade, Schultzy made the move to Willow Grove to be closer to work.
"I travelled back and forwards from Belgrave to Yallourn for four years but it got a bit much and I wanted to be part of the community up here," he said.
"My oldest son who is now 12, Harrison, is a member of the junior fire brigade and he seems to be enjoying it very much."
The Willow Grove Fire Brigade is made up of about 20 active members and about another 50 on the books.
Schultzy said the brigade responded to about 30 calls each year.
"They're mostly grass and structure fires but we're also one of the first respondents for incidents up at (Mount) Baw Baw so we're pretty prepared for the snow as well," he said.
He recalled some of his more memorable moments as a firefighter during his three-and-a-half decade career.
"We got a call out to a house where we believed the person inside was unconscious," Schultzy said.
"After some time we gained entry into the house and we woke him up… he'd been sleeping, fortunately. It was a bit of a laugh."
"I've certainly been to a few 'cat up the tree calls' as well, which are pretty memorable because you help the elderly out quite often and that's what I love – helping others out"
For more information about joining the junior and senior brigades, visit the 'Willow Grove CFA' on Facebook.