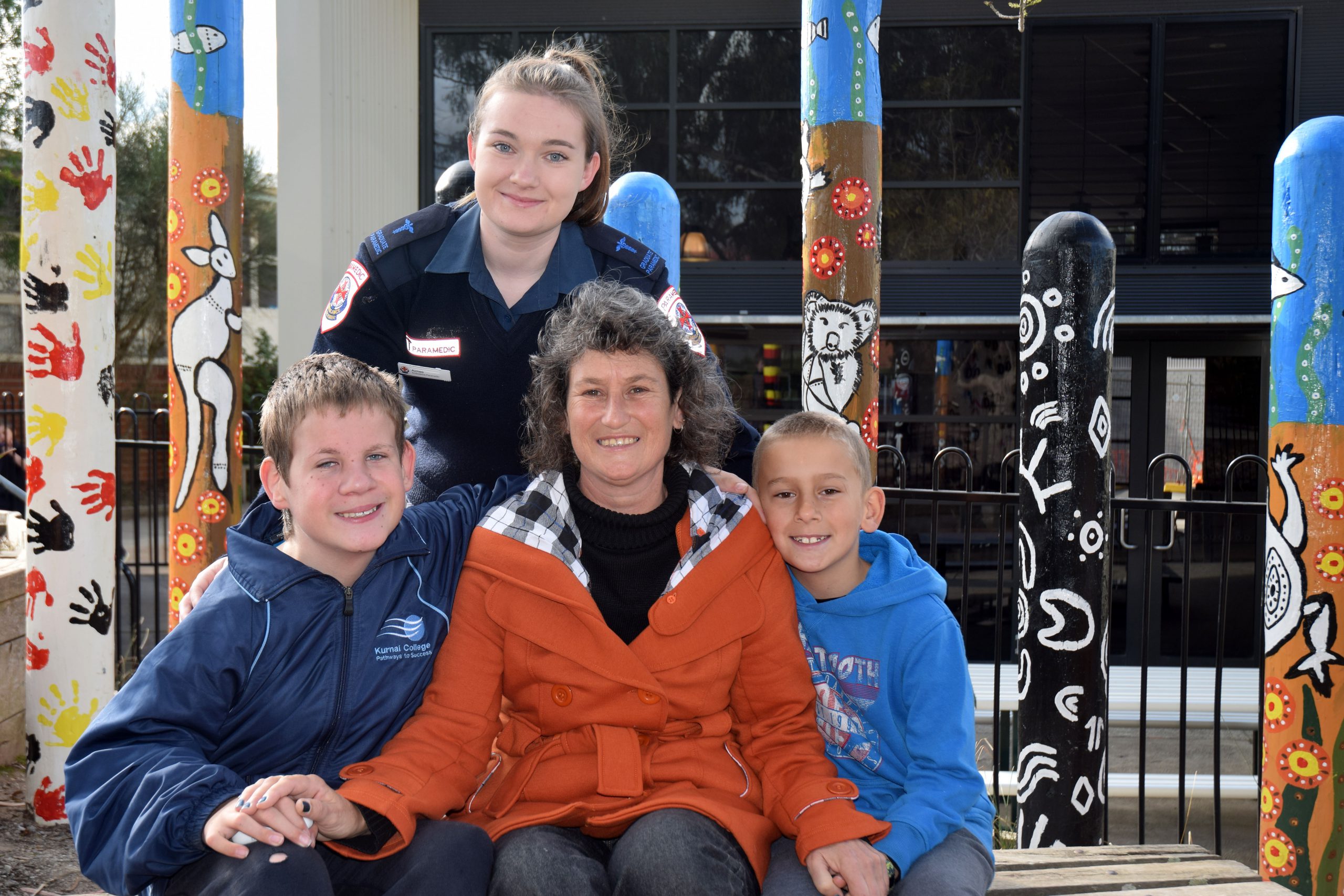 After calling Triple Zero to save their mother's life, Morwell boys Brendan and Kieran Webb have been recognised by Ambulance Victoria for their commendable efforts.
The boys were getting ready for school one Wednesday morning in late November last year when they noticed their mum, Naomi Brittain, was unresponsive.
Knowing their mother lived with type one diabetes, and five other chronic medical conditions, the boys didn't hesitate to phone for an ambulance.
"My brother (Kieran) came and told me that mum was having a (hypoglycemic episode) and told me to call Triple Zero," 12 year-old Brendan said.
While Brendan called the ambulance, Kieran attended to his mother.
"We did exactly what the operator told us to do, I got out her tester and checked her blood glucose and it was very low," 10 year-old Kieran said.
"I was just checking and waiting at the window and when they arrived I went over and unlocked the door and let them in."
One of the paramedics to respond to the call was Aimee Beattie, from Morwell, who said the boys told paramedics about their mum's medical history and how she had become unresponsive.
"They had tested her sugars, I think Kieran had tried on every one of his mum's fingers (on one hand) so when I went to try them, I had to use the other hand," Ms Beattie said.
While the paramedics were treating their mother, the boys were trying to get ready for school.
"They were worried about being late while this was all happening," Ms Beattie said.
"I've never met a pair of boys as good as this, they did just a such a fantastic job in such a serious situation."
After their mother became responsive, the boys were taken to school in one of the responding ambulances.
Their mother, Ms Brittain said teaching children the basics of using a phone and calling Triple Zero in an emergency situation was an essential life skill.
"This is such a special moment for me, and my boys should feel very proud of themselves," Ms Brittain said.
"They've been recognised for saving my life and I couldn't be more grateful, I have two beautiful and intelligent boys."
Ms Brittain encouraged parents to teach their children what to do in an emergency situation.
She urged people to include a piece of paper on the fridge or wall the relevant emergency service contact details and any relevant medical information for family members who might suffer regular or ongoing medical issues.
The boys were presented with Bystander Commendation certificates in front of Morwell Park Primary School's grade four class on Thursday.