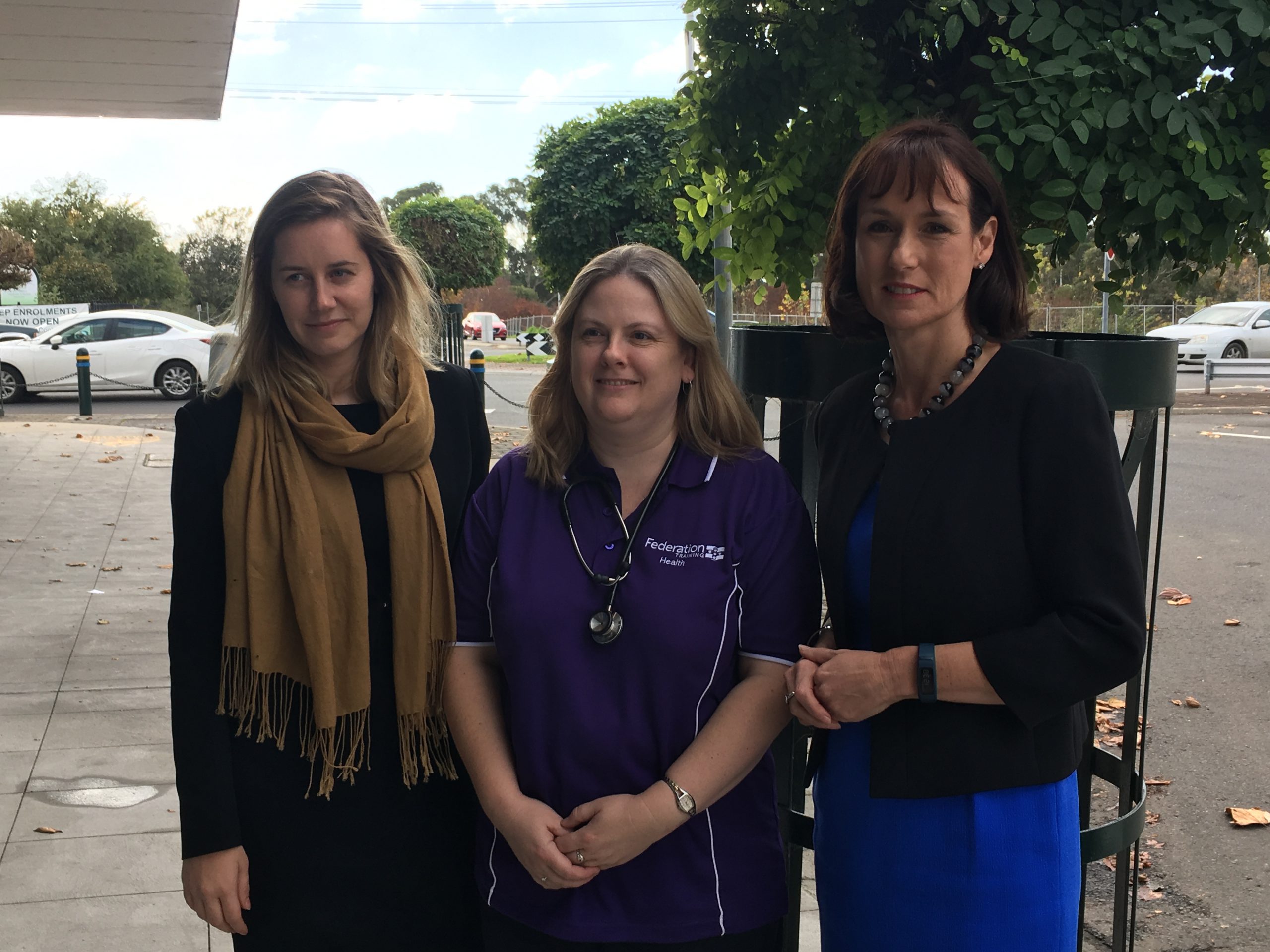 When Shelley Pasquill decided to enrol at Federation Training 20 years after the last time she studied, a major factor in her decision to take the plunge was the range of support services on offer.
Chief among them was 'the Bubble' – a unit launched in 2015 to provide services like literacy and numeracy support, career advice and counselling.
Set up with $2.5 million provided by the State Government's TAFE Future Fund, it provided Ms Pasquill with the maths tutoring she needed to undertake a Diploma of Nursing at the Morwell campus.
The Bubble was set up at the TAFE's Yallourn, Warragul and Bairnsdale campuses.
"The whole reason I talked myself into signing up for the TAFE is because of the Bubble," she said.
"I knew I had a safety net because it's the first time I've been to school in 20 years."
The services available at the Bubble allowed her to reacquaint herself with skills such as how to calculate fractions and provided an opportunity to practice equations learnt in class.
But in December last year, Federation Training announced the Bubble would be scrapped and replaced.
Following the closure of the Bubble, Ms Pasquill said she started maths tutoring at the TAFE, however she felt it was not the same as what was provided by the Bubble.
But Federation Training managing director Jonathan Davis said the Bubble was replaced because it wasn't used by students.
"These (Bubble) centres were not heavily utilised with the main reason being that students often hesitated to ask for help," Mr Davis said.
"We employed 15 learning officers who now work with students in the classroom and provide a more personalised and localised service."
He said maths tutoring was now available to students in class and the TAFE's new student support services team had developed a lesson for nursing students.
"These sessions focus on developing the numeracy skills required to complete nursing calculations units and are designed to provide students with the necessary skills when they are on placement. The feedback from the nursing students and staff has been very positive," Mr Davis said.
Last week, Ms Pasquill sat down with state Opposition training, skills and apprenticeships spokesperson Steph Ryan and State Member for Eastern Victoria Melina Bath to discuss the matter.
Ms Ryan said the State Government needed to "step in and give Federation Training the support it needs".
"The minister's (Training and Skills Minister Gayle Tierney) only defence has been to claim that the merger of Advance TAFE and GippsTAFE (to form Federation Training) several years ago has caused these problems but the reality is that was more than three years ago," Ms Ryan said.
The merger of the two TAFEs was announced in April 2014 under the former state government.
In response, Ms Tierney said the former Coalition government spent four years "destroying TAFE in Gippsland, so change will not happen overnight, as much as we'd like it to".
"This government has already made significant investment in Federation Training and with a new CEO and board in place, we're making sure students have access to high quality, industry relevant training at their local TAFE."