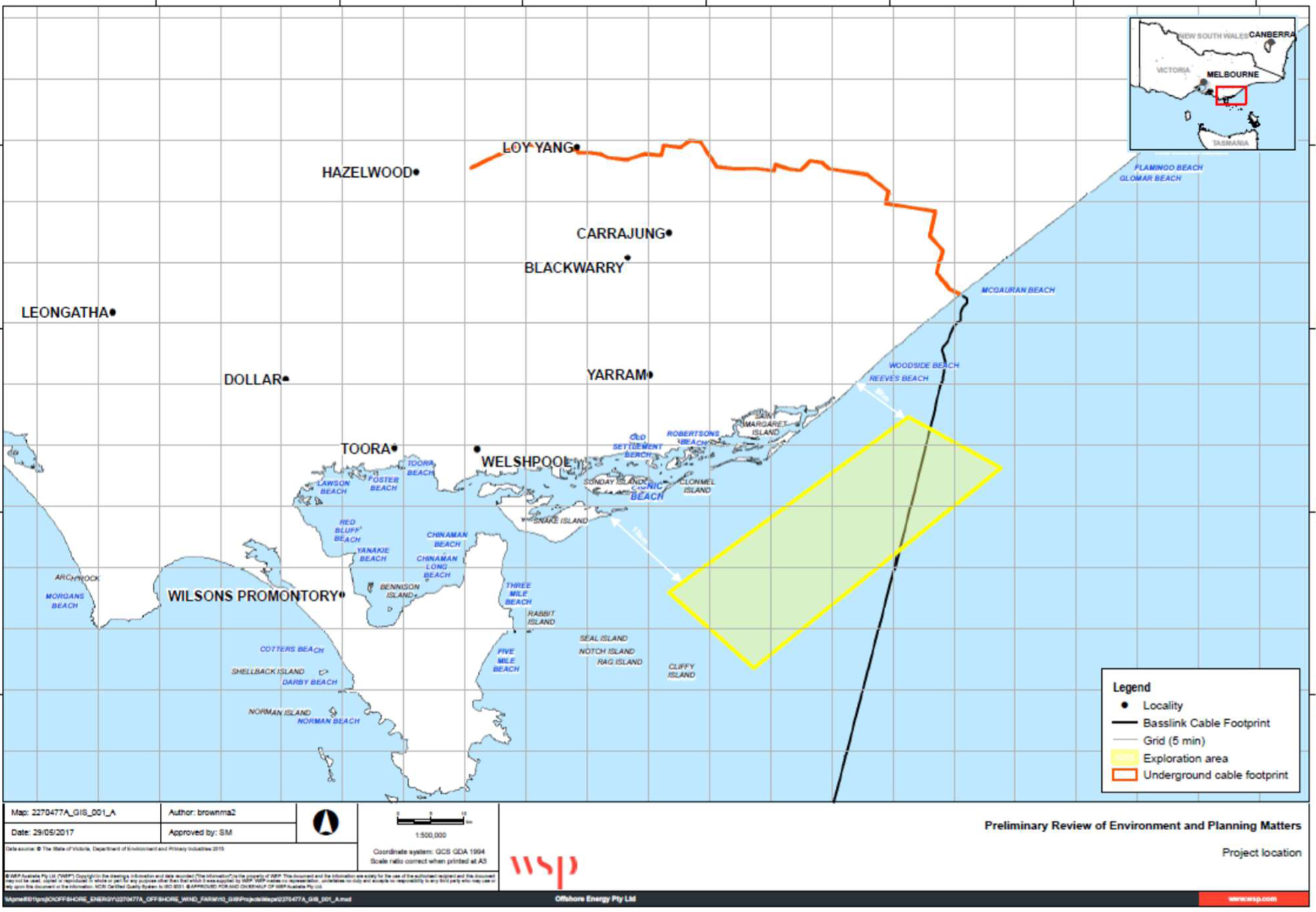 The waters off the Gippsland coast could become home to Australia's first offshore wind farm – with the potential to generate 12,000 jobs – if a plan by a Victorian energy company comes to fruition.
Offshore Energy today announced the Star of the South Energy Project ahead of a Victorian Government New Energy Technology Roundtable at Federation University.
The project is still at an early stage and will require a three-year feasibility phase, but would create 2000 direct and 10,000 indirect construction jobs if it goes ahead.
"These jobs will go over an extended period – the construction of these projects can take up to 10 years," Offshore Energy managing director Andy Evans said.
Overall, the project would have a total investment value of $8 billion and include up to 250 turbines within a 574 square kilometre area in Commonwealth waters off the coast of south Gippsland.
Offshore Energy said the project as currently proposed would reduce carbon emissions by about 10.5 million tonnes per year.
It would also have a total capacity of at least 2000 megawatts of electricity and deliver about 8000 gigawatts per year – about 18 per cent of Victoria's power usage.
Mr Evans said the proposed site of the project was "fantastic" due to the wind resource, water depths of between 20m-40m and access to the Latrobe Valley's transmission infrastructure.
It would connect to the Latrobe Valley's existing infrastructure via undersea and underground transmission cables.
"Our company has been looking at this for five years," he said.
"We're getting to the stage where offshore wind prices are plummeting around the world."
Regional Development Australia Gippsland chair Richard Elkington described the announcement as "good news from an investment point of view".

"This is the private sector saying 'we've got some really good infrastructure and people in Gippsland, we're considering a major investment'," Mr Elkington said.
"And they've already made one – a feasibility study that takes three years is very expensive."
The announcement comes just two months after the closure of Hazelwood power station, which removed 1600 megawatts from the state's electricity grid and resulted in the loss of 750 jobs.
Mr Elkington said it presented an alternative to establishing smaller wind farms in separate locations on shore and allowed for them to be clustered in a single location with plenty of wind.
The Latrobe Valley's transmission infrastructure was up to the task of transporting the electricity the project would generate, he said.
"The transmission system from the Latrobe Valley is predicated on another 500-megawatt unit at Loy Yang B so it was already under capacity (before Hazelwood closed)," Mr Elkington said.
"So, without getting into the transmission characteristics there is an opportunity – we already have the infrastructure to carry this electricity to the marketplace."