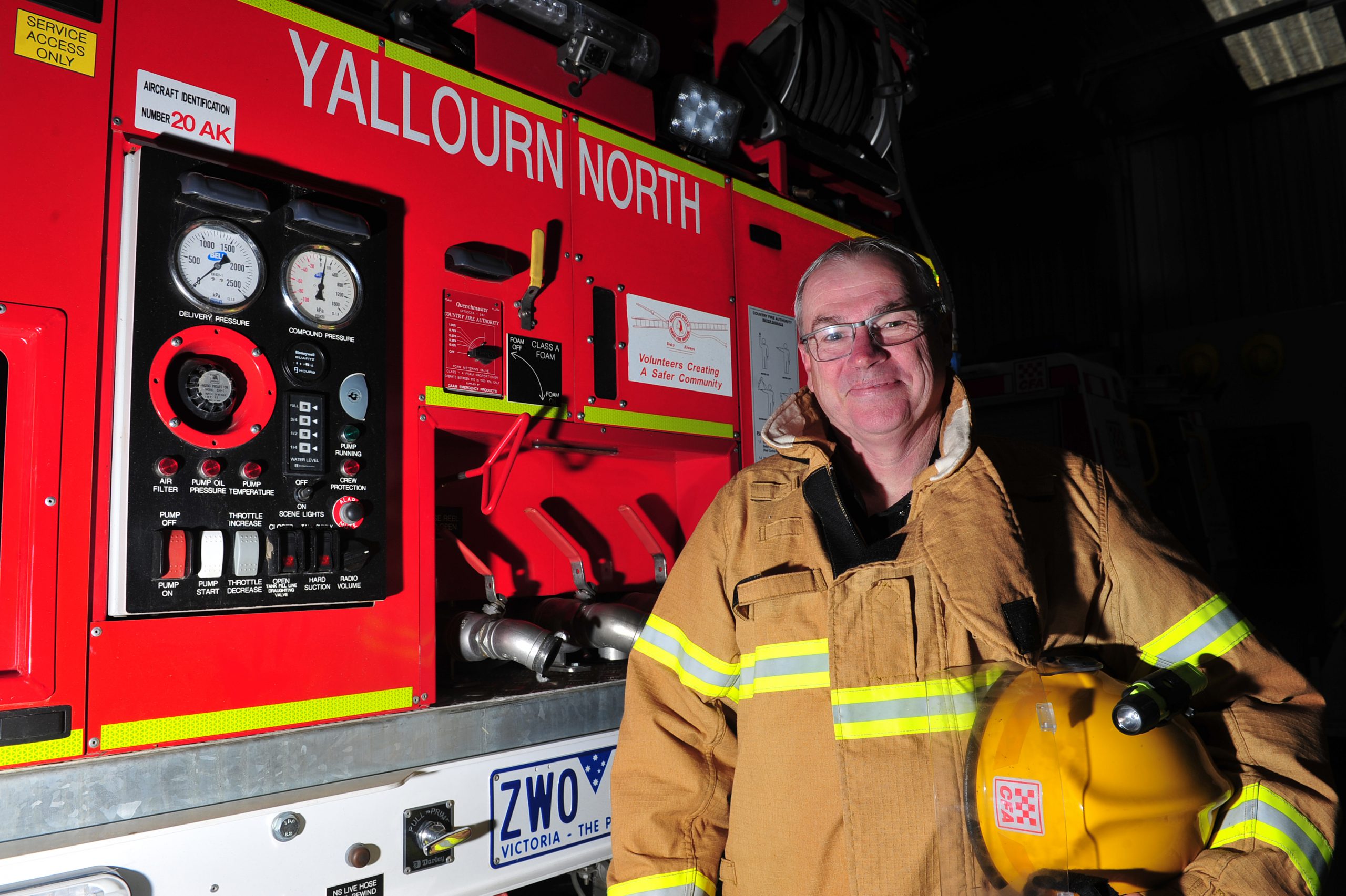 Country Fire Authority life member Lance King signed up as a volunteer with the Yallourn North Urban Fire Brigade in 1977 for no other reason than to keep fit in the football off-season.

"I didn't like cricket much," Mr King said.
The fire brigade running events were appealing to the Yallourn North teenager, who said the lads would sprint 40 metres then race up ladders in six-and-a-half seconds, barely touching their hands on the rails in an "amazing" display of skill.
It wasn't until later his satisfaction in serving the community grew and he found an attraction to the dynamics of emergency management.
Mr King's name is now on the Queen's Birthday Honours List after he received an Australian Fire Services Medal for his devotion to the CFA which was the foundation for innovation and outstanding leadership in the emergency management sector.
The CFA volunteer of 40 years and emergency coordinator at Latrobe City Council said fire brigades had come a long way since his first turn out.
"I didn't even have overalls back in those days because you just hopped on the truck," Mr King said.
He and his fellow volunteer jumped in the truck to respond to a grassfire on the side of a road.
"I said to a bloke, 'what do we do next?'
"He said, 'I don't know, I thought you knew'.
"So luckily the fire wasn't big and we got an extinguisher off the truck and put it out with a fire extinguisher."
Since his first siren call, he's been an officer with the brigade, a secretary, a lieutenant, a captain, a group officer and now District 27 president.
His emergency management career has led him to Cyclone Yasi in Queensland in 2011, the Western Districts floods in 2010 and 2011 and to a handful of fires around the country.
In the wake of the 2009 Black Saturday fires which devastated the state, he was employed for three years with the Municipal Association of Victoria.
"I was actually in our fire truck in our pumper at Yallourn North watching the Churchill fire take off," he said.
The flames sent "smoke and ash right across the Valley" and the situation called for a Rapid Impact Assessment to ascertain the extent of devastation.
"I flew in a helicopter over all the burnt houses right around the whole fire footprint… there was hundreds of those," Mr King said.
He worked for the Murrindindi Shire for about 10 days following Black Saturday, and drove up to King Lake, passing countless burnt cars in police tape.
People would walk into the library area "covered in ash" and stand at the door not knowing what to do.
"They'd been in the bush two or three days trying to get help," Mr King said.
Mr King discovered leadership was as much about finding the right way to communicate.
He approached four officers at the army's food tent and asked who was in charge.
When no one answered him he rethought his approach and said 'tell me who the ranking officer is'.
"The guys says, 'that would be me'."
"From there, we set up systems and we ended up with over 4000 requests."
The incident management system he developed during his tenure at the MAV is now used by 75 Victorian councils.
Mr King understands leadership comes with learned experience and confidence built over time.
"We all make mistakes," he said.
"You learn from those mistakes and you try and pass them on to the people that you work with, especially in a volunteer sense."
Flexibility is paramount to Mr King, and looking at all the facts available to you as communication often breaks down in a time of emergency.
"There's always something that hits you from behind that you never expect in the first place," he said.
The "chuffed" 58 year-old would like to thank the Yallourn North Urban Fire Brigade for giving him the opportunity to get this far.
"And I just thank those people who saw fit to nominate me," he said.
A sense of humour was also a necessity for Mr King in this "serious business".
"Every now and then we have to take a step back and have a laugh at ourselves otherwise you're going to stress yourself out doing this job."
"One of the things I've learnt through doing this job for a long time – people help people."