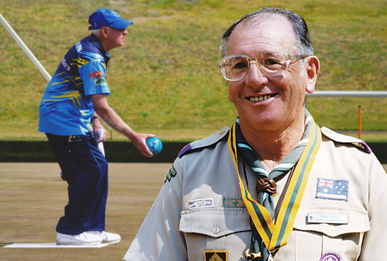 Max Grubb is remembered for his leadership and commitment to the community following 64 years of volunteer services at the Yallourn Bowling Club and almost seven decades of membership of the local scouting fraternity.
The 85 year-old Newborough resident died last month after a short illness.
Mr Grubb, born in Ballarat in 1932, moved to Yallourn at a young age with his family after his father secured work with the State Electricity Commission at Yallourn Power Station.
The move sparked what would become a long association with the Latrobe Valley and, in particular, a strong passion for lawn bowls and Scouts.
He spent 21 years on the bowling club's board of management, 11 of those as chairman.
During his time at the helm, Mr Grubb assisted with the extension to the clubhouse at Newborough, replaced and improved the greens and sealed the car park, to name only a few of his achievements.
But ultimately, it was how Mr Grubb led the club that showcased the kind of person he truly was.
It was his qualities as a leader, both dedicated and hardworking, that saw him awarded life membership by the club in 2015.
Yallourn Bowling Club past chairman Bryon Puddy said Mr Grubb was "one of a kind" and acknowledged his lifetime of service to the community.
"His heart was in it until the day he died, he did everything around the club," Mr Puddy said.
"If the lights needed changing – Max was there. If the doors needed adjusting or the windows needed wiping – he'd be there."
But it wasn't only as leader that Mr Grubb won the respect of many across the Latrobe Valley.
The 85 year-old had a distinguished career on the green, winning a club singles championship in 1975-76 and was runner up in 2012.
He also played bowls with his wife, Helen, winning a mixed pairs championship.
It made up one of 15 titles, in total.
Along the way, he lined up with his family on the green including son Alan and son-in-law Sean, as well as his father and father-in-law in the early days.
"You could tell when Max was happy – he would whistle on the green," Mr Puddy said.
"But when things weren't going all that well, he would stand near to his opponents, still whistling, trying to distract their concentration."
Mr Puddy jokingly referred to it as "gamesmanship".
"He would stand at the bowls head, arms folded and legs crossed.
"If he was displeased with the result, he would walk around in a circle, if he was happy he would keep on whistling, he was certainly a character."
Mr Grubb also held portfolios on the board of management which included recruitment, house manager and classic singles during his six-decade stint.
"Anything that raised the profile of Yallourn Bowling Club, Max was for it," Mr Puddy said.
Outside of lawn bowls, Mr Grubb was known for his love of scouts, presented with the highest award in scouting 'The Silver Kangaroo' in 1999.
He held the position of Gippsland district commissioner for 21 years and was awarded a Paul Harris Fellow by the Rotary Club of Moe for his service to scouting in 1999.
He was made an honorary commissioner of the Victorian Scouting Association and at the time of his death was on two scouting committees in the Baw Baw District.
"There's no doubt the community has lost a stalwart and a local legend, but his legacy and work will long live on," Mr Puddy said.
Mr Grubb is survived by his wife Helen, and four children Alan, Debbie, Julie and Kristine.