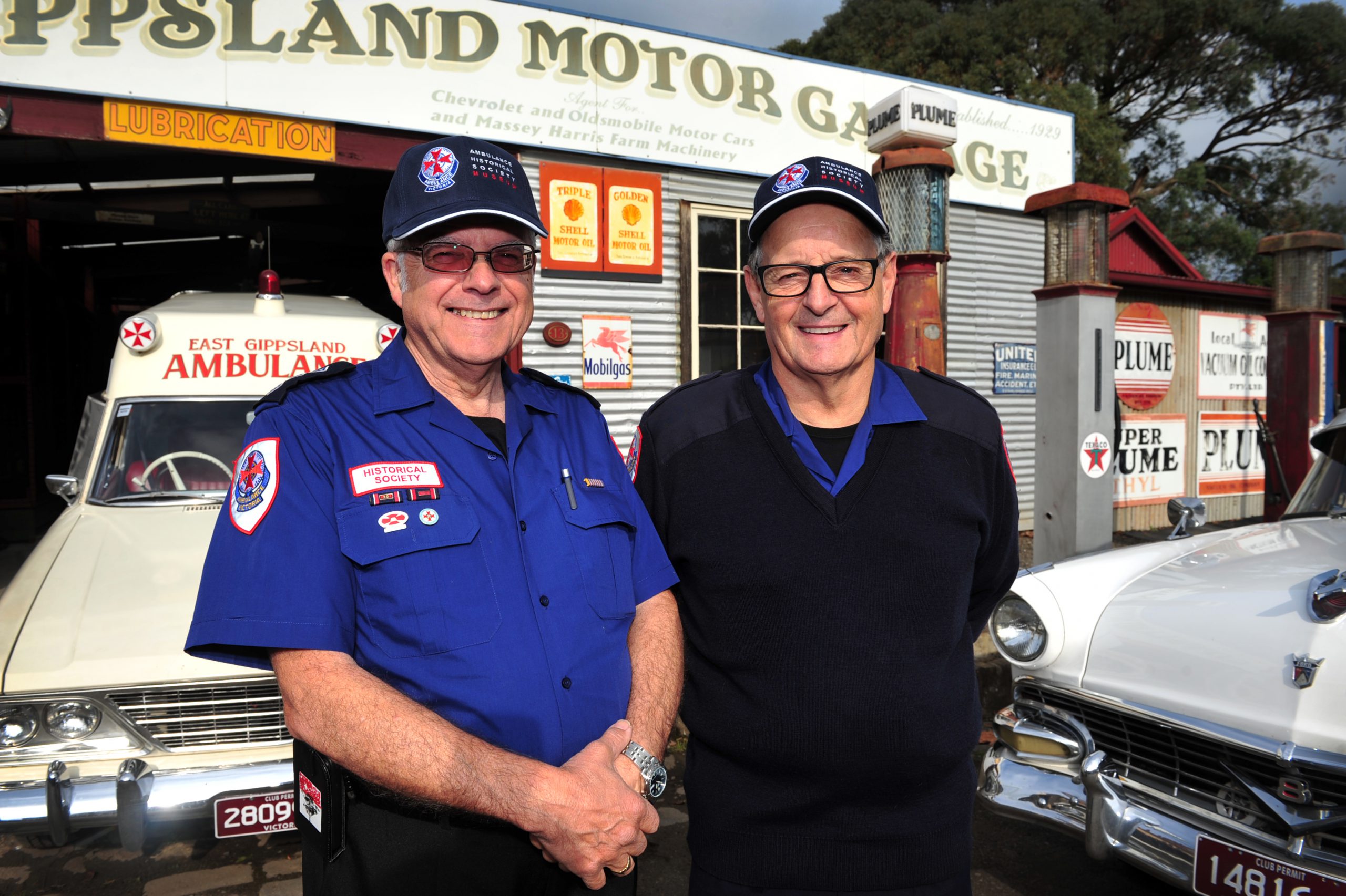 1962 Studebaker
1957 Ford Mainline
For former paramedics Neil Hall and Frank Abela, these ambulances were once the tools of their apprenticeship.

Parked adjacently at Old Gippstown in Moe last week, the 1965 Studebaker and 1957 Ford Mainline looked like they were about to feature in a 1960s movie.
But for these two, the ambulances represent what life was like as a paramedic back in the 1960s and '70s.
It comes as the Ambulance Museum of Victoria issued a plea earlier this month to Gippslanders, calling for ambulance memorabilia and old equipment from across the region.
"Whether it be uniforms, medical equipment or memorabilia, if it's perceived to be out-dated by today's standards, we would love to get our hands on it and showcase it in our museum," Abela, a retired paramedic who served for 50 years, said.
The museum, which includes 19 ambulances from a 1912 World War I Talbot to a four year-old Mercedes Sprinter, is made up mostly of retired ex-paramedics who travel the state showcasing the mobile time-warps.
"It gives the members of the public a chance to have a look at the older vehicles and talk to us old people in terms of the history behind them and what these old girls were like to work out of," Hall, a Morwell resident, said.
Interestingly, both men agreed the ambulances of yesteryear provided more "patient comfort" to those in dire situations, but acknowledged comfort wasn't at the forefront of people's mind in an emergency.
"You basically have a station wagon-type ride and not a commercial vehicle," Abela said.
"(The service) does their best in making them a bit more patient friendly but at the end of the day, the vehicle itself is primarily a commercial vehicle with heavy suspension and tyres so they don't ride as well… give me an old girl any day.
"But I suppose from an emergency point of view, the patient doesn't really care as long as they get to the hospital in a short time."
The museum is hoping to document personal accounts and service details from Gippsland, including events and ambulance-related equipment from across the region and encourages people to join as a member.
Membership allows free admission to the museum for family and friends.
Cost is $10 per person per year or $25 for three years.
The museum is located at 1/55 Barry Street, Bayswater.
For more information, phone Peter Dent on 0427 508 888 or email vintambos@bigpond.com or visit ahsv.org.au