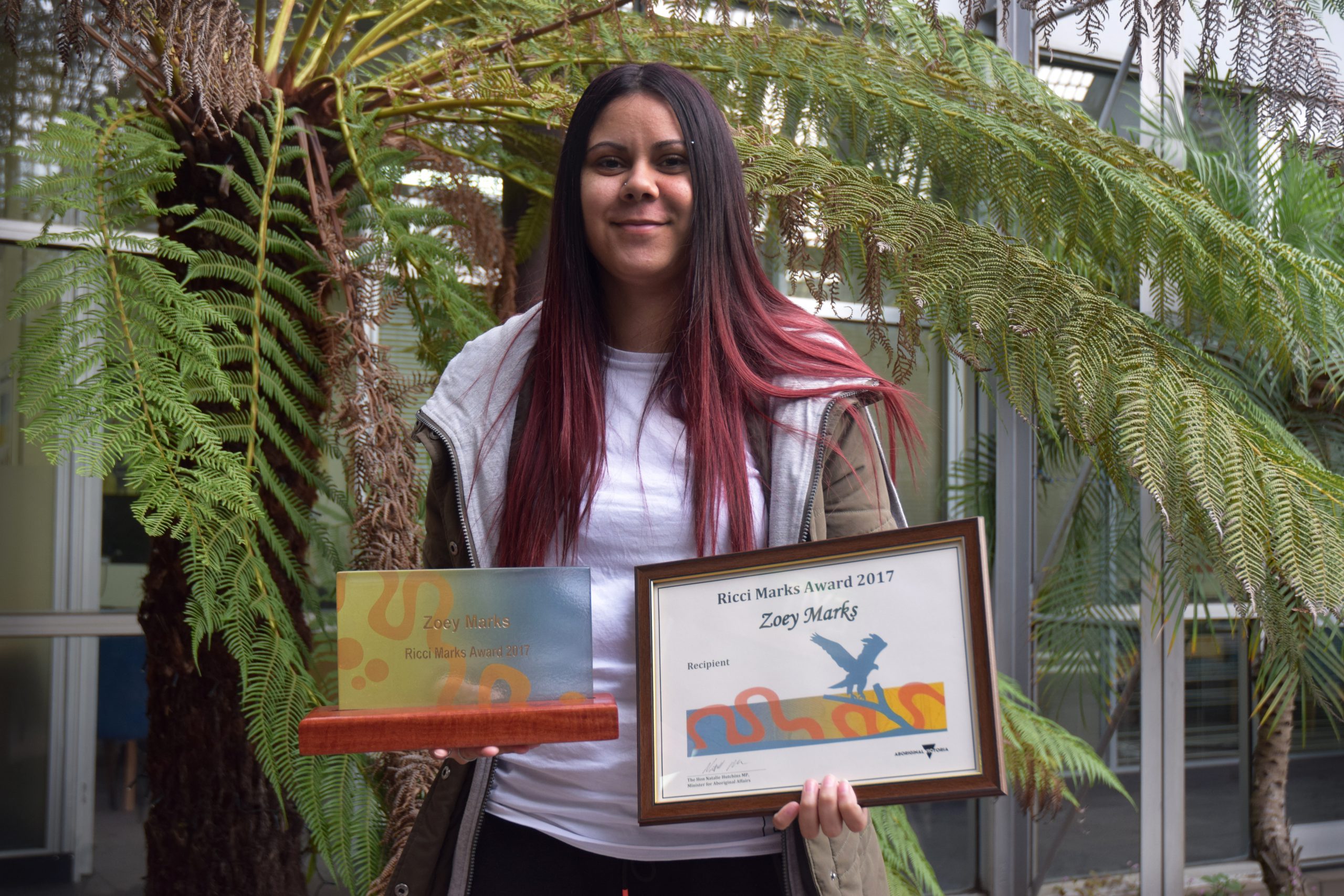 Homelessness wasn't going to be an option for Morwell resident Zoey Marks.

After her foster carer of two years told her she had to move on, a then 19 year-old Zoey with "absolutely nothing" had no option other than to knock on her mother's door and ask for a bed.
"It was probably one of the hardest years I've had in my life," Zoey said.
"I spent a whole year trying to help my mum and my brother wean off the drugs."
Zoey handed most of her money on to her mum, however it didn't necessarily place food on the shelves.
"We usually starved by the weekend," Zoey said.
"I spent a whole year trying to help them when I didn't realise that they were dragging me down even more.
"I was up five o'clock, four o'clock in the morning crying and asking what is going on with my life."
A year later, Zoey would have a very different answer to the same question.
Zoey, a 21 year-old Gunai Kurnai woman, is a new recipient of the Ricci Marks Award for Aboriginal young achievers.
Berry Street helped Zoey find a unit in Morwell, placed her in employment and provided her with mentoring on how to build an independent life, or "adulting", as they call it.
Zoey's mentor, and Berry Street integrated family services case manager, Kylie Dubrich-McLoughlin, has joined her in cooking, shopping and outings to the cinema and has been there to simply respond to text messages.
Berry Street threw Zoey a 21st birthday party and are now in the process of helping her find a car.
Zoey recognised having "somebody to lean on" at Berry Street had been hugely influential in her life, however she also understands the importance of asking for help in the first place.
"You can't just have people give it to you, because then it's not going to work," she said.
"So if you're going to want it, good things are going to happen."
Zoey spoke of a "cycle" she witnessed her peers enter, where dreams were lost to teenage pregnancy, or handed over in exchange for drugs and alcohol.
"I want to make our community a lot stronger through my culture," Zoey said.
"When you go into other people's communities and you see how strong they all are because of the bond that they have.
"And you know, with a lot of our community, it's not as strong. There's a lot of lost communication, lost connections."
Zoey plans to pass on some of her wisdom in her upcoming advisory role at Berry Street.
"It's just my passion to help people, especially young people, especially young people that have been through the same situation that I've been through."
She said young people didn't always have to go down a "bad path", even if they started off in a difficult situation.
"You can always turn your life around."