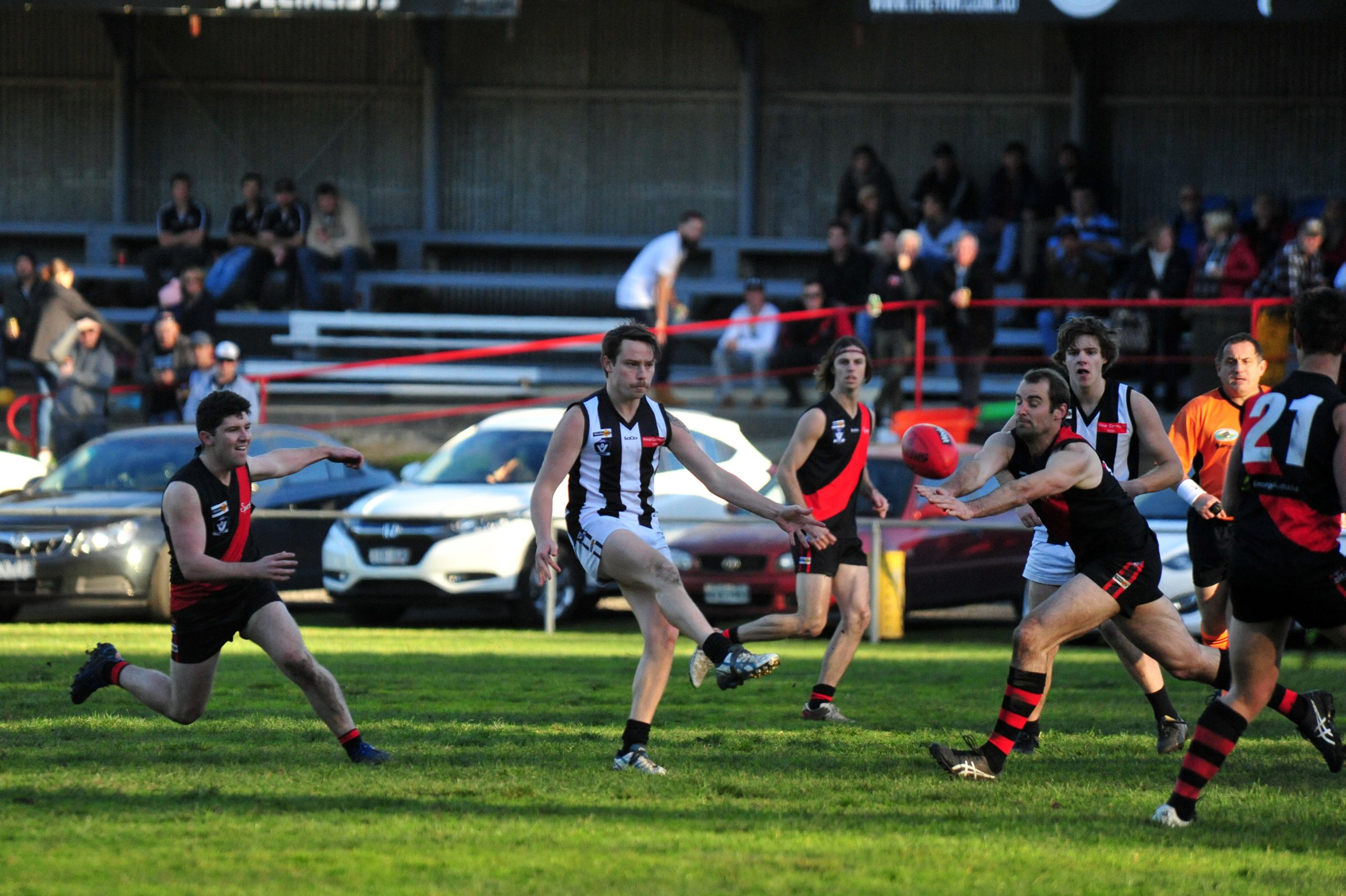 FOOTBALL

MID GIPPSLAND
The Mid Gippsland Football League finally has an undisputed leader after Yallourn/Yallourn North downed Yinnar in their first-versus-second clash at George Bates Reserve on Saturday.
The 50-point win gives the Bombers a four-point lead at the top of the table after the hosts dominated for four-quarters to win the tough contest.
YYN player-coach Adam Bailey said he was thrilled by his team's performance.
"Last week we were pretty patchy and we always like to play four good quarters, which is what we focused on today," Bailey said.
"It's a good feeling to be on top of the ladder, but we won't get carried away.
"It's pretty tight between the teams still so it was pretty important for us to get the win today."
The match got off to a scrappy start, with poor disposals by both teams.
The Magpies were not able to capitalise on their early opportunities at goal and it fell to the Bomber's Darcy Shellcot to boot the first major of the game, before Tyler Brown followed up with their second.
By quarter-time, YYN held a 3.2 (20) to 1.2 (8) lead over Yinnar.
Shellcot opened his team's account in the second term, capitalising on a 50 metre free kick to slot home his second of the game.
The Magpies' Tyler Chisholm responded with one of his own.
Both teams applied even pressure in the second quarter and treated the spectators to an exhibition of quality football.
By half-time the hosts' lead had opened up to 6.4 (40) to 3.3 (21).
Both teams goaled early in the third quarter before the Bombers began to turn the screws.
Despite its attacking pressure and dominance, YYN struggled to make its advantage count on the scoreboard.
The scoreboard at three-quarter time read 8.8 (56) to 4.3 (27) in the Bombers' favour.
With Yinnar needing to get itself back into the game, Daniel Hawking stepped up for his team and made the most of his opportunity to slot home a major.
Both teams looked to apply pressure through solid defence, before Thomas Hutton kicked two to assert his side's dominance.
The match had become one-sided by the time the final siren rang, with YYN taking the match 12.12 (81) to 5.4 (34).
Magpies player-coach Jamie Aitken was unimpressed by his team's performance.
"We had a stinker today and it's just not good enough. YYN played the better football and they wanted it more," Aitken said.
Hutton, Brown and Shelcott each kicked three for the Bombers, while Campbell Macinnes was named best on ground.
Hafis Matthews kicked two for Yinnar and was named the visitor's best.
Trafalgar v Thorpdale
Trafalgar put on a last quarter master class to upset Thorpdale and seize an unlikely one-point victory in their round 12 match-up.
Playing at home, the Blues led at every break after making the most of their opportunities.
At three-quarter time, the home team led 7.6 (48) to 4.9 (33).
The Bloods shifted gears in the final quarter to pressure the Thorpdale back line, kicking four majors to the Blues' one in their AFL Gippsland mental health round match.
At the end of play, Trafalgar had clinched an 8.10 (58) to 8.9 (57) win.
Harrison Malady kicked two for the visitors, while Daniel Puglia was named best on ground.
Matt Powell, Nick Fairbank, Thomas Mcdermott and Joshua Collie shared goal-kicking honours with two apiece.
Trent Gibson was best on ground for the home team.
Despite the loss, Thorpdale remains in third place ahead of Newborough.
Trafalgar now finds itself in sixth place, behind Mirboo North on percentage.
Newborough v Morwell East
Reigning premier Newborough has lost three in a row after a shock loss to Morwell East on Saturday.
The Hawks dominated throughout the match at Newborough Recreation Reserve, leading at every break.
The Bulldogs struggled to get into their forward line and when they did they failed to convert their opportunities.
At half-time, Morwell East held a 6.4 (40) to 1.6 (12) lead.
Newborough came out fighting in the third quarter, closing the lead to two goals at three-quarter time before the Hawks responded by piling on the pressure in the final term.
At the final siren, Morwell East won 12.8 (80) to the Bulldogs' 8.7 (55).
Lachlan White booted five for the visitors and Frank Marks was named best on ground.
Michael Gelagotis kicked five for Newborough and Luke Mulqueen was best on.
Newborough remains in fourth place, behind Thorpdale on percentage and the Hawks are in seventh.
Hill End v Yarragon
Hill End has taken the points against Yarragon after securing a 20-point victory.
Leading at every break, the Hillmen pleased the home crowd with a 12.8 (80) to 9.6 (60) win.
Michael Santo kicked four for the home team and Jack Hudson was judged their best performer.
Todd Mann kicked three for the visitors and Paul Harvey was their best.
Following the win, Hill End is in eighth-place, four points clear of Yarragon.
Boolarra v Mirboo North
Mirboo North totally dominated Boolarra on the Demons' home turf, taking a mammoth 123-point victory.
Boolarra did not kick its first – and only – major until the final term as the Tigers seemingly scored at will.
At the end of the day, Mirboo North won 20.12 (132) to 1.3 (9).
Damien Turner was best on ground for the Tigers, while Joshua Taylor kicked six to be their top goal kicker.
Chase Saunders kicked the home side's solitary goal and Tom Reiske was named best on ground.