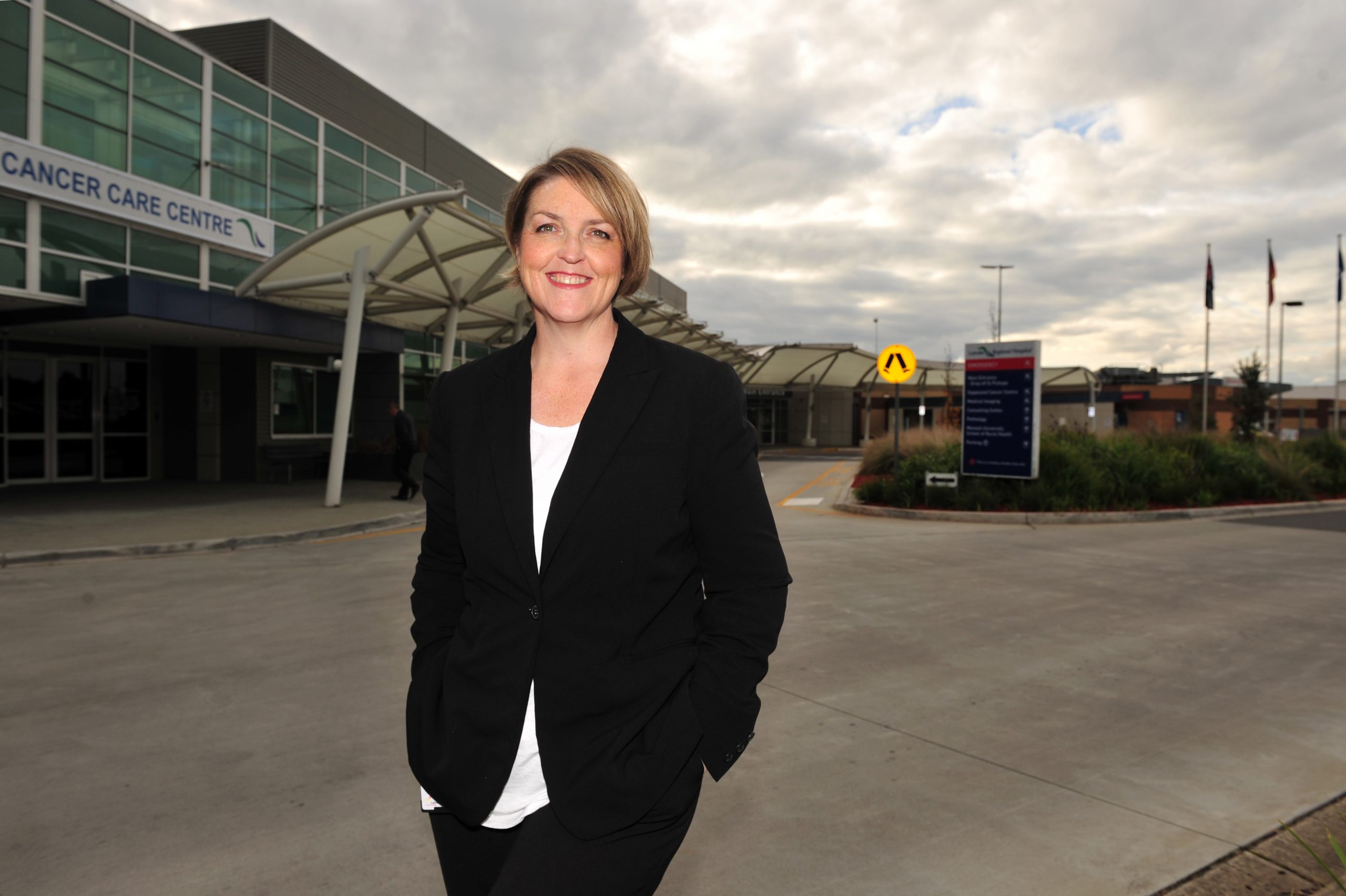 Kellie O'Callaghan admits stepping away from Latrobe Regional Hospital's leadership team will be a big change.
For almost 12 years she's served on the hospital's board, the past seven of those as chair.
To say somebody like Ms O'Callaghan is busy, would be an understatement.
Her recent roles include that of hospital chair, mayor of Latrobe City, as well as mum, not to mention living with the rare chronic medical condition known as Wegener's granulomatosis, in which blood vessels become inflamed, leading to damage in major organs of the body.
In 2013 Ms O'Callaghan also battled breast cancer.
"I probably work a little bit better in more sort of dynamic situations," Ms O'Callaghan said of how she had coped.
"It's extremely long days. It's a lot of work. We don't have a lot of holidays and things. There aren't a lot of days off.
"When I do commit to a role, I tend to jump in boots and all and get into it. I guess part of that is just a drive and a commitment to the community."
Ms O'Callaghan said the reality, however, of illness meant there were moments when she needed to stop.
"In hindsight, I probably pushed it a bit hard during the breast cancer. I know that now. You couldn't have told me at the time," she said.
"But I think part of that is a coping mechanism too… when you are unwell and you can't do something, when someone lets you out of the cage and you can, you just run like all heck and grab whatever you can and just get into it.
"I probably push it a bit hard. A day wouldn't go by without someone saying 'can you just slow it down a bit'."
It was from the hospital's community advisory committee that Ms O'Callaghan moved onto the board, bringing the perspective of a consumer of local and Melbourne health services.
Friday marked Ms O'Callaghan's last day on the board following a tenure that has overseen significant expansion of services and infrastructure at LRH.
"The expansion at LRH has been one that's reflected community expectation, whether that be the cancer centre, mum and baby unit, allied health expansion or whether it's the new cardiac cathaterisation lab that will come online later in the year, each of those things has been in response to a level of community need," Ms O'Callaghan said.
"There's always things I would like to have done more of. There will always be things in hindsight I think 'should I have pushed harder? Should I take a different approach to it?'
"None of that reflects on the service provision, or my board colleagues or our exec team, that's just me setting a particular expectation of myself.
"I wouldn't change what it is that we have, but I would like to think there are still opportunities for us to be able to improve and continue to improve."
Current building work at the hospital are due for completion in August and includes an expanded emergency department, short stay unit, two day rooms for endoscopy procedures, a cardiac catheterisation laboratory and two new 32-bed wards.
Earlier this year, LRH revealed the next phase of its master plan which would include an expanded theatre complex, new maternity services, more inpatient wards and an expanded 16-bed intensive care unit. This is yet to gain funding.
"Ideally I'd really like to see the community be able to have that service they aspired to in terms of that overall master plan," Ms O'Callaghan said.
"Also for there to be a really structured service and infrastructure plan so that at any point in time, community don't have to fight for little bits of health services to be built.
"It'd be really good that community can focus on being well and accessing the support they need and not have to fight for the bricks and mortar."
Linda McCoy will take Ms O'Callaghan's place as board chair.
Politics not on agenda

Kellie O'Callaghan has ruled out a move into state or federal politics, after ending her term as chair of Latrobe Regional Hospital.
Ms O'Callaghan is an independent Latrobe City councillor and currently serving a likely one-year term as mayor which will end in December.
But she has ruled out a tilt towards other levels of government as her next move in public life.
"It doesn't remotely interest me, I actually couldn't think of anything worse," Ms O'Callaghan told The Express.
"I quite like those politicians that we work with, irrespective of their parties or affiliations or anything else.
"When you build those sorts of relationships with people and then you're watching them get cleaned up for whatever reason, I don't enjoy that.
"I don't see that as something I would enjoy."
Ms O'Callaghan said she preferred to work locally on specific projects and state and federal politics were "so much bigger", she also did not want to put her family through all that went with that level of public life.
She said state and federal politics was "inherently about party politics".
"I don't want to be in a party because I change my mind a lot. I can be influenced by what it is that's happening and the circumstances might change the way I think about something and I like that.
"I've had people, more credit to them, who walk up to me and say 'what the hell are you up to? What's the end game? Why are you doing this?'
"I don't know that it's easy to define what it is I want to do, I just know it's driven by a sense of responsibility to community."
Ms O'Callaghan said not being aligned with any particular political party did pose its challenges.
"You don't have that level of political relationship, so you always run the risk that someone might not like you," she said.
"If that means I miss out on an opportunity because I'm not prepared to sign up, so be it."