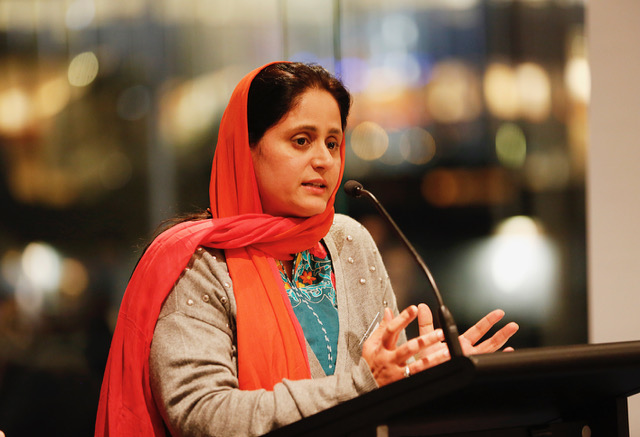 United Muslim Sisters of Latrobe Valley president Arfa Khan said she had encountered many Gippsland families who didn't have a clear picture of what the holy month of Ramadan was.
"There are so many families around, I am the first Muslim that they know," Ms Khan said.
"Obviously when they ask questions I don't take offence to any questions, because they don't know anything about it."
The organisation's fourth annual Eid Festival is an effort to share the Muslim faith with the broader community and is a branch in the Social Cohesion Project developed with Victoria Police.
The festival will be this weekend, however the Latrobe Valley Muslim community celebrated Eid together at Kernot Hall on Sunday, 2 July for prayers and a communal breakfast at the end of a month's fasting during Ramadan.
"We don't eat or drink anything when we are fasting, a little before sunrise and till sunset," Ms Khan said.
She said people often assumed she could have water during these daylight hours, however this wasn't the case.
For Muslims, this exercise in self-control is a way to thank God for the "bounties in life" and an opportunity to increase generosity to charity.
Since the hours of fasting are dictated by the sun, she said it was lucky she wasn't somewhere like Canada with extended daylight.
"Fasting was for 11 hours or something (in Gippsland) but in some countries it is more than 16 hours, so people do fast there too."
Ms Khan described how the communal breakfast at the end of Ramadan revealed how people coped with the month.
"You can eat all day long so some people go crazy eating, but some people, their body adapts to the change and they eat, you know, in small amounts and small portions, everybody is different," she said.
The UMSLV Eid Festival will run from 10am to 4pm at Old Gippstown, Moe, on Sunday, 16 July, and entry is $5 per person or $15 per family.
Pre-purchase tickets at www.stickytickets.com.au/54269