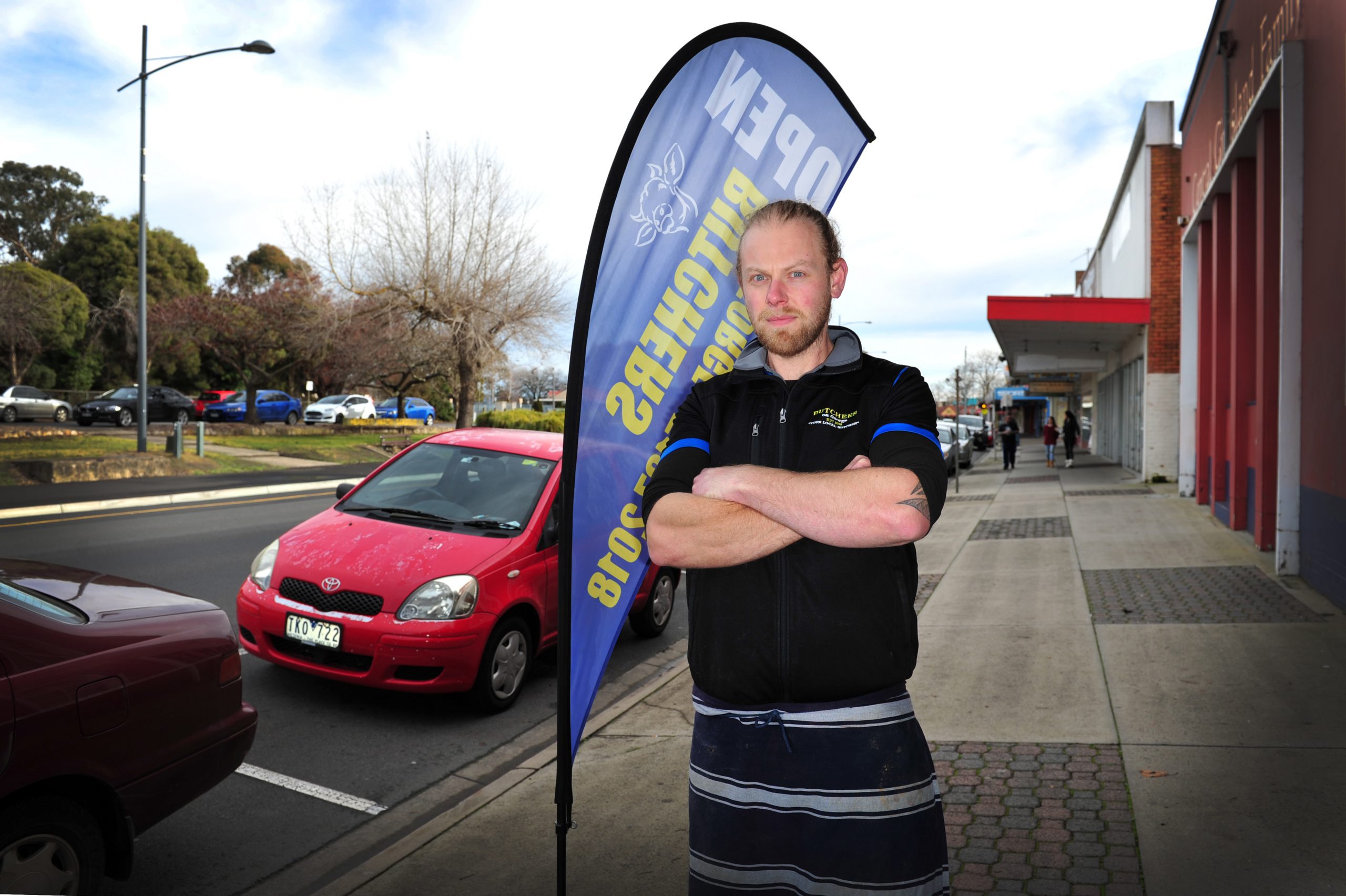 A Moe butcher says the loss of car parks opposite his shop on George Street has had a detrimental impact on his business and has called for angle parking to be reinstated in the street.
Andrew Parniak, who owns and operates Butchers On George, said he had experienced a 15 per cent decline in business as a result of the parking changes.
The car parks were removed earlier this year to make way for an extended taxi rank and bus stop.
But Mr Parniak said a lot of his customers had been forced to park on Kirk Street and were finding it increasingly difficult to find a vacant park in town during business hours.
"I had one lady pull me up in the street the other day and she said 'you probably haven't seen me in a few weeks'," Mr Parniak said.
"She pretty much told me straight out the reason why was because she has two young kids and if she can't get a park within 50 metres of my shop, it's just too hard for her to get the kids out."
The removal of the angle car parks took place in March prior to the implementation of the region's revised bus network.
But according to Mr Parniak, who has operated his George Street business for 11 years, the only notification he received about the loss of parking was from Public Transport Victoria "advising that construction was about to begin".
"It's definitely had an impact on my takings," Mr Parniak said.
"I've estimated, since the removal of parking we've experienced a 15 per cent decline in sales and that's a direct result of the loss of parking."
Mr Parniak called on Latrobe City Council and Public Transport Victoria last week to "seriously consider" implementing angle parking on the retail side of George Street.
He said angle parking would make it easier for customers to access nearby shops and likely double the amount of spaces currently available.
"Not everybody finds it easy to parallel park, even though they should be able to do it. Angle parking would create more spaces for customers to utilise," he said.
"The opposite side of George Street could stay as it is, the buses and taxis need to remain there in a central location, but it just shouldn't have been at the cost of our car parks."
Latrobe City councillor Brad Law agreed and said for "a bit of extra money and engineering expertise" angle parking could have been moved to the opposite side of George Street during the town's redevelopment.
"It is one of my biggest bugbears that council took the easiest option… angle parking could have been flipped over from its original position to the traders side without much hassle at all," Cr Law said.
"They would have had to realign the pedestrian crossing and do some work on the first intersection into Kirk Street but that would have doubled the parking on the traders' side and everybody would have been happy."
Cr Law's comments come as the Moe Traders Association and Committee for Moe are expected to write to Cr Law, calling for a working party to be established to deal with the town's parking issues and what they say is an inefficient public bus network.
"We can't just lay the blame at one aspect to council because it was a joint decision by Public Transport Victoria, Latrobe Valley Bus Lines and Latrobe City," Cr Law said.
"The biggest issue is the best outcome has not been achieved for the community.
"The reality is we need to increase car parking as the community grows so we need to build more and better infrastructure and not take it away."
Latrobe City general manager infrastructure and recreation Steven Piasente said a motion from Cr Law to discuss establishing a working party to look into the issue would be discussed at tonight's council meeting.
Mr Piasente said council had given the community an opportunity to provide feedback to proposed parking changes.
"Latrobe City Council consulted with the community throughout the planning and implementation of the Moe Activity Centre Plan and Moe Rail Precinct Revitalisation Project," he said.
"Of course, any major plan once completed through a community input process is eventually released as a draft for community feedback – this process was also undertaken."
He pointed to a 19 June resolution by council to consult about proposed parking changes in Moore Street, Moe, between Albert and Haigh streets, as an example of council consulting about community needs.