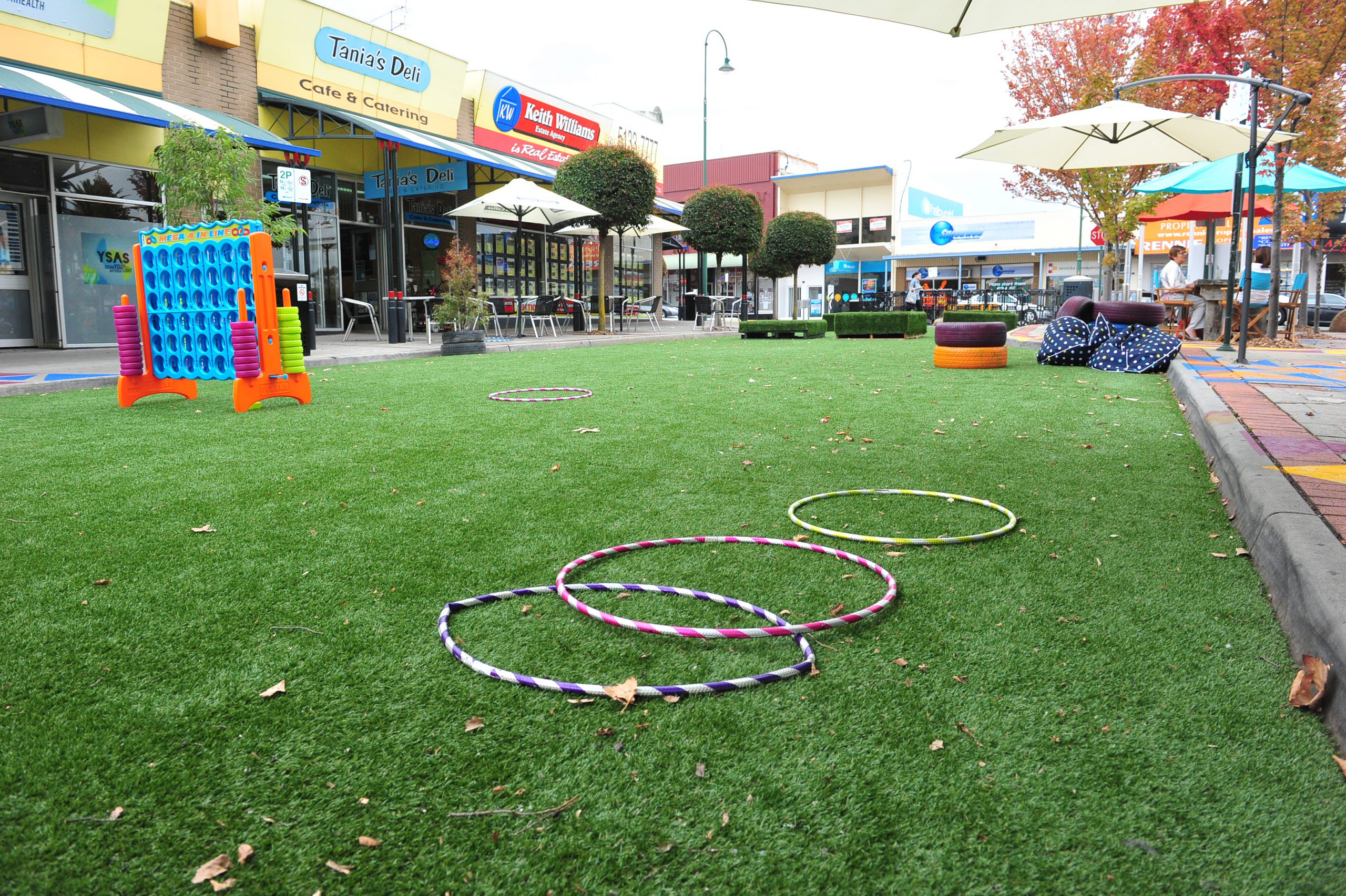 Latrobe city councillors have voted to dismantle the temporary pop up park in Tarwin Street, Morwell with deconstruction of the park currently underway.
It follows four submissions from community members objecting to the continuance of the temporary park and a petition comprising 397 signatures from community members opposing the park was received by council on 8 May, 2017.
The petition stated the park was "causing business interruption through Commercial Road" and that "many of the local residents are incensed with the disruption to traffic".
The park's end comes after it was named as a finalist in the 2017 Keep Victoria Beautiful Sustainable Cities council award for environmental sustainability
Speaking at Monday's ordinary council meeting, councillor Grame Middlemiss said he was "a bit wedged on the issue" after moving to support the recommendation to dismantle the pop-up park.
"I'm a supporter of the pop-up park in Tarwin Street… the community got a great deal of enjoyment on it," he said.
"Perhaps its time has run out… I suspect that opposition may have been sparked by members of the business community."
Cr Darrell White said the pop up park had "done its job".
"I believe now the time is up. That is the message I am getting from the community," Cr White said.
"In the whole scheme of things, there is money set aside (for dismantling it)."
The park was established in April last year.
The Sustainable Cities awards ceremony will be held on Thursday, 21 September in Melbourne where Latrobe City Council are finalists for a number of other awards.
Councillors voted to maintain the pop-up park until 21 August at an ordinary council meeting in March, 2017, however deconstruction began on Tuesday after councillors voted to dismantle the park at their Monday meeting.
Business owner Tania Reed, who owns Tania's Deli facing directly onto the pop-up park, said it was "devastating" that the park was being dismantled.
"(The pop-up park) gets used all through the day. It's just a fantastic meeting spot I feel," she said.
"It's surprising how much it gets used. It brings a smile to your face, it's a joy to watch what happens out there.
"Children, grandparents, workers all come here and meet for lunch and it's a great spot for the community."
Ms Reed said the pop-up park had not caused any detriment to her business, nor did she think it had improved it significantly.
"I can't see either way. It brought a lot of colour and vibrance to the place and I think that is what I enjoyed the most, rather than cars whizzing past," she said.
"I don't mind walking a few extra metres to park my car, it doesn't worry me. I'd prefer to see action for the community."
Ms Reed said the lack of two-way traffic on Tarwin Street did not bother her at all.
"People don't like change, so it's a bit disappointing," she said.
Council consulted the community on the Future Morwell Urban Design Revitalisation Plan from March 28 to June 2017, which found that 71 per cent of respondents supported the development of a community gathering place located at the Tarwin Street and Commercial Road intersection.
However 50.5 per cent of respondents said two-way traffic should be reinstated and identified the two-way flow of traffic as the priority.
Cr Middlemiss told the meeting that although there was a group of people who wanted to get rid of the pop-up park, he suspected "a much larger group of people, when you implement Future Morwell, (will) want a park here".
"It is a very difficult situation. I'll go with this particular iteration, so I am happy to support its removal," he said.