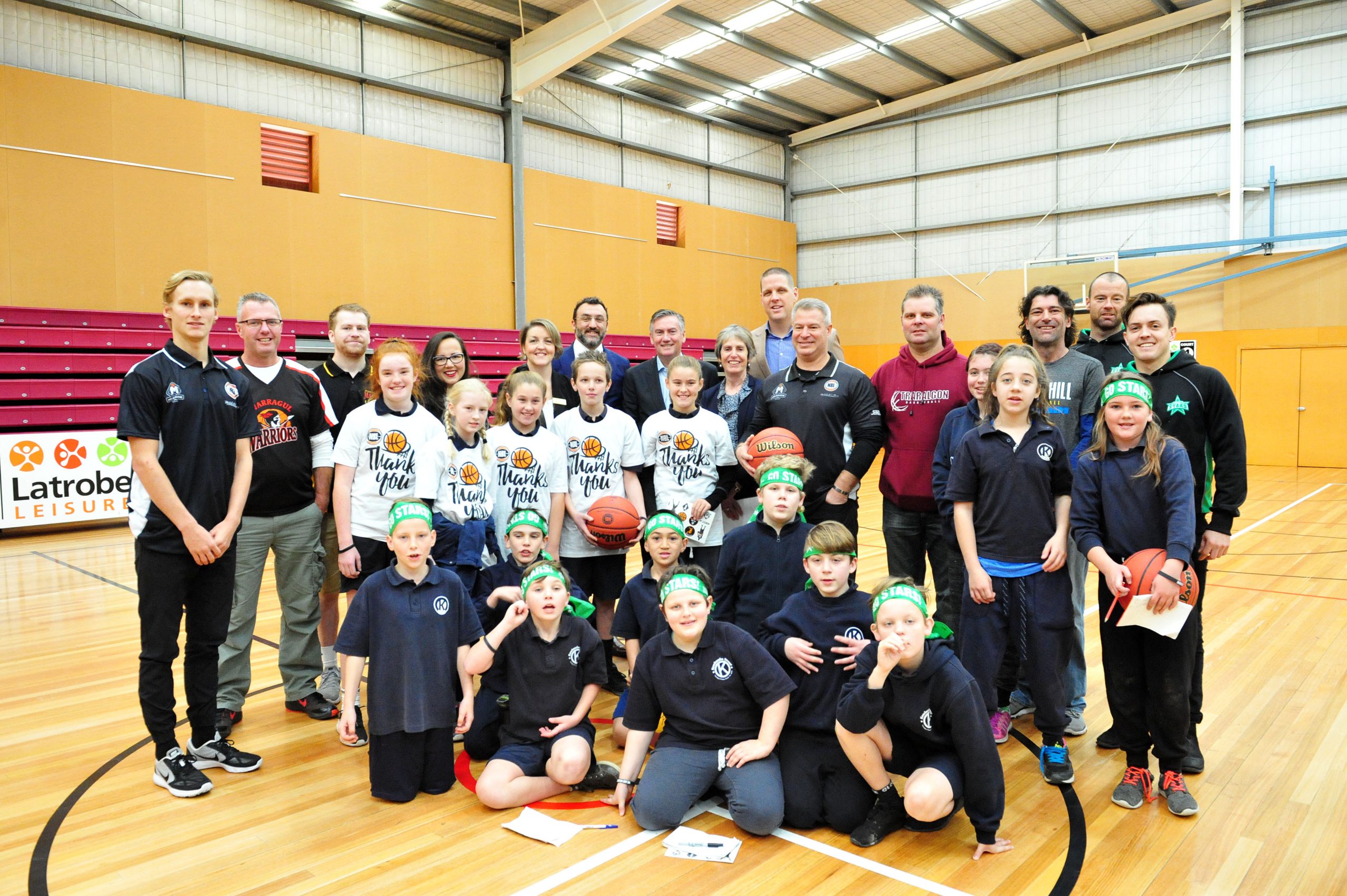 The National Basketball League and Big Bash League will take centre stage in the Latrobe Valley before the year's end following an announcement by the state government on Friday.
The NBL's eight clubs will take part in a three-day tournament next month while BBL clubs the Melbourne Stars and Hobart Hurricanes will play a Twenty20 pre-season clash under lights in December.
It forms part of the state government's $85 million Latrobe Valley Sports and Community Initiative announced at Moe's Ted Summerton Reserve in March.
The initiative is part of the government's $266 million Hazelwood transition plan for the region.
Speaking in front of a passionate crowd of students and onlookers at Traralgon Sports Stadium on Friday, Melbourne Stars president Eddie McGuire said the Big Bash League would draw an enormous crowd to the region in December.
"There's a lot of work that's gone on to make this happen," Mr McGuire said.
"We've been working flat out long before this announcement in the first place, in fact the first meeting I had with the premier on this, Dan Andrews, was probably about 18 months ago.
"Things don't just happen, so with the Big Bash; one to get Cricket Australia to sanction it, two to make sure that the facilities are alright and three to get everybody in the right position has taken a long time."
The T20 game will be held at the Traralgon Recreation Reserve on Friday, 15 December with the likes of Australian stars Glenn Maxwell and Meg Lanning in attendance.
It will follow a three-day NBL tournament to be held at Traralgon Sports Stadium next month from Thursday, 7 to Saturday, 9 September.
NBL chief executive Jeremy Loeliger told The Express on Friday Traralgon is the "ideal venue" to showcase the league's pre-season ahead of its 40th anniversary tip-off in October.
"It's a really important market for us here in the Latrobe Valley because there's lots of basketball participants in the region," Mr Loeliger said.
"Nothing's easy when you're trying to take eight teams to one place but we've got the benefit of I guess not having the infrastructure requirements that the AFL or Big Bash have.
"We've got an already-made basketball court right here in Traralgon but trying to get eight teams to one central hub is a lot of work, but the Victorian Government and local councils have moved heaven and earth to make it happen."
The leagues' visits to the region will include school clinics at Traralgon and Morwell as well as a number of engagement activities to promote physical activity and health and wellbeing.
State Member for Eastern Victoria Harriet Shing said the sporting events would boost visitor economy and showcase what the region had to offer.
"Communities, clubs, schools and teams are all helping to shape this record investment in sporting facilities and the benefits for our health, local pride and economic growth are enormous."
Mr McGuire said an announcement would likely be made in the coming weeks regarding an AFL pre-season match and the Collingwood Football Club.