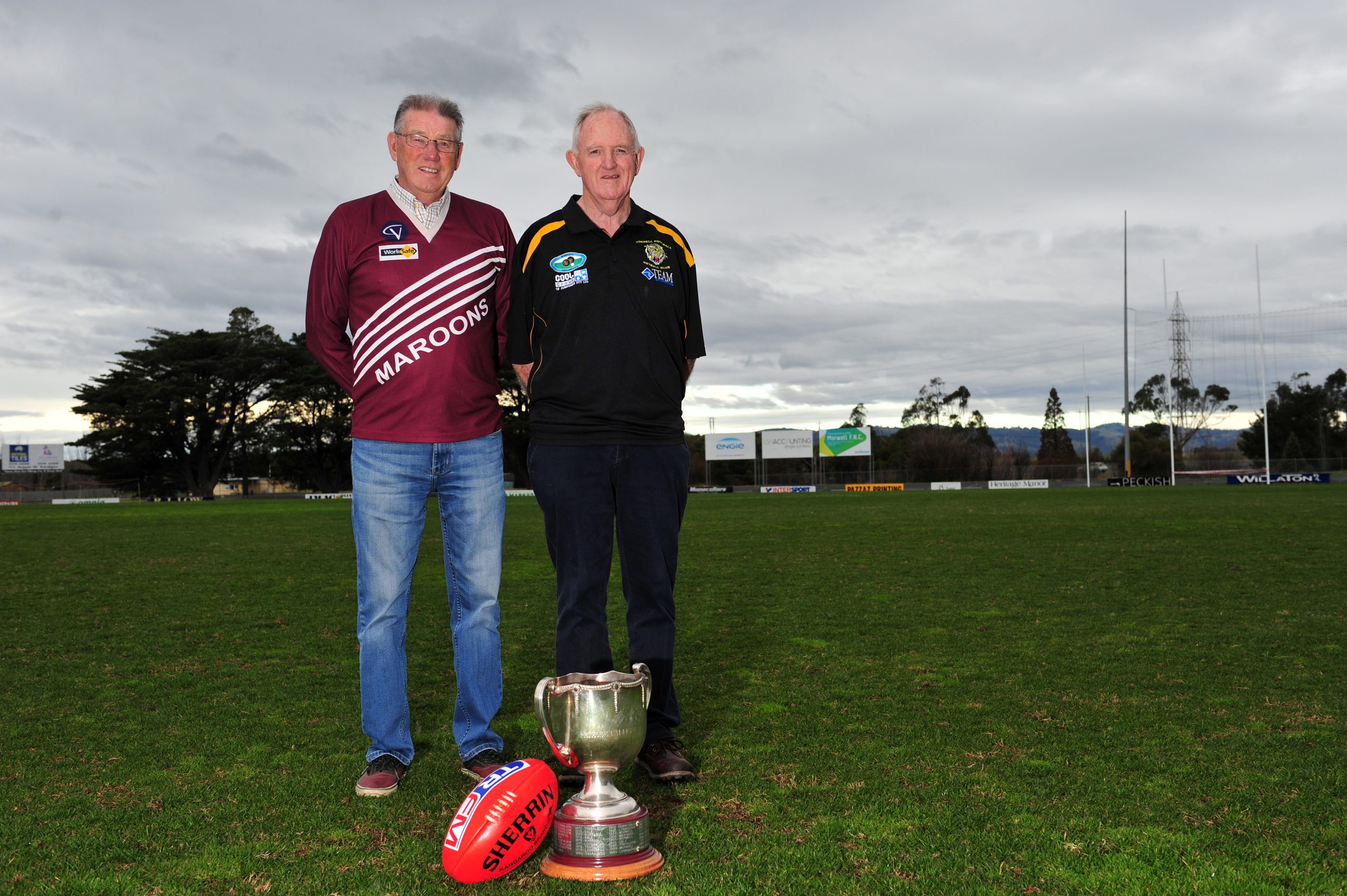 Morwell and Traralgon will meet this weekend for the 200th time in organised football competitions, dating back to when Traralgon crossed over from the old Gippsland Football League to the Central Gippsland Football League in 1936.
Of the 199 games played so far, Traralgon has bragging rights with 123 wins to Morwell's 74.
The adversaries haven't met in a grand final since 1993 and have contested just four finals in the last 23 seasons, but many exciting games have been played over the years.
Morwell life member Stan Morgan and Traralgon life member Terry Hunter are both life members of the Gippsland League.
"Even though Morwell and Traralgon are close together, when we're out on the ground it's a battle but off the ground we really respect each other," Morgan said.
Morgan and Hunter defied football folk law by building a great friendship in the face of fierce rivalry.
"Just by coincidence we're very good friends." Morgan said.
"Our families do a lot together.
"I don't think we've ever revved one another because we know we've got to meet again in a few weeks."
Clash 200 this week is set to be another one for the archives, with the round 17 fixture a must-win game for the Tigers who sit in fifth on the Gippsland League ladder, a game clear of Warragul in sixth.
Traralgon has sewn up its spot in the 2017 finals with its 11 wins to date enough to earn it a berth.
Morgan and Hunter hoped spectators would flock to Morwell for the history-making game and expected a characteristically fiery encounter.
"I'm certain there will be a big crowd because there always is and I'll be hoping for Morwell to sneak in and keep fifth spot on the ladder," Morgan said.
"I hope there's a big crowd and I hope it's a good game," Hunter said.
"They're not playing as well as last year but hopefully against Morwell they'll lift a bit."
In the early days during their time in the Central Gippsland league, the Tigers and the Maroons met 32 times between 1936 and 1953 where the beginnings of a fierce rivalry were seen.
1944 preliminary final
In the first year of competition since a recess of four years during World War II, Morwell and Traralgon met on neutral territory in Moe for the preliminary final.
Strong wings were used to effect by Traralgon in defence, which set up a 5.8 to 1.0 lead at the half time.
The deficit proved too much for the Tigers, and a seven goal third term set the Maroons up for a 14.16 (100) to 5.8 (38) win.
1948 preliminary final
Their next meeting in a finals match was the 1948 preliminary final which was played at Trafalgar.
In a tight encounter Traralgon led by four points at half-time, then by one at the last change.
Bill Walsh was a force to be reckoned with at full forward for Morwell, with his bag of nine goals the biggest haul of any Tiger until Greg Trembath kicked 10 in 1980.
Morwell streamed into the grand final before losing to Yallourn in the flag decider.
1949 grand final
The 1949 grand final between Morwell and Traralgon was the match-up that shouldn't have been.
After 12 round Traralgon was lagging with a 5-7 win-loss record.
The Maroons' round 13 win over defending premiers Yallourn kick-started a run of wins.
Traralgon rocketed to fourth spot on the ladder thanks to a two-point victory of Yarragon in the final home and away game of the season.
The Maroons built tremendous momentum after upset wins in the semi and preliminary finals to set up a grand final date with Morwell.
Traralgon teamed away in the first half and stacked on 12 goals.
Morwell managed to etch the lead back marginally in the second half, but Traralgon's dominant start was enough to seal premiership victory.
With the formation of the Latrobe Valley Football League in 1954, the adversaries continued their tug-of-war.
The 1960s cemented the now traditional rivalry, with the sides contesting five grand finals throughout the seven seasons between 1960 and 1966.
1964 grand final
Traralgon dominated the 1964 season, making it through to the grand final unbeaten with 21 wins.
Morwell came via the first semi-final with wins over Maffra and Moe to meet arch rival Traralgon in the decider.
It took the Maroons three quarters to shake the determined Tigers, who played without captain-coach Graham Donaldson and regular full back L.Wilson.
Terry Hunter was dynamic on the forward flank and was Traralgon's best.
"The rivalry was pretty hot during the 60's so to beat Morwell in a premiership was just out of this world." Hunter said.
1983 grand final
Morwell was badly depleted by injury and the suspension of key ruckman Mark Pearce ahead of the 1983 grand final and put in a magnificent performance to win the flag by six points – the closest grand final margin in the LVFL since 1974 when Warragul defeated Moe by four points.
The game opened like few expected with the star Morwell forwards well held. Traralgon tore ahead, kicking 5.10 to Morwell's 2.8 to lead by 20 points at half-time.
The lead chopped and changed all day, but Morwell began to sniff the premiership when Craig Veljkovic kicked two goals to bring the Tigers within a single point early in the last quarter.
A snap from Alan Lowe shortly thereafter hit the post and scores were level.
Rover Stephen Allison snagged a goal at the 27-minute mark to put the Tigers in front and seal their first premiership in 17 years.
"There have certainly been some great grand finals between the clubs," Hunter said.
"There have been times when the result has been in doubt well into the last quarter just like it was in 1983."
1993 grand final
Morwell made better use of its opportunities early on in the 1993 grand final, and went into quarter time with a 10-point lead.
Traralgon's Jim Stevenson and Greg Morley led a Maroons fight-back in the second quarter to head into the major break seven points up.
Dean Caldow kicked three of Morwell's four goals in the third quarter and the Tigers defence held Traralgon to a single goal to lead by 10 points at three-quarter time.
Anthony Waller kicked an early goal for Morwell in the last term and a reply came shortly after from Traralgon through Tony Lane and Simon Bennett.
Dean Caldow's brilliant day out was finished with a goal from free kick on the boundary to bring the flag home for Morwell.
2017 round eight
Just two of the 199 games played between Morwell and Traralgon have resulted in a draw – once of which occurred earlier this year in the Queen's Birthday match in round eight.
Scores were neck and neck all day and a seven-point lead to Traralgon at quarter time was the biggest of the game.
Hayden Britten and Brandon McDonald kicked two each for Morwell, while Tate Marsh was the only multiple scorer for Traralgon with two.
The Queen's Birthday is now a marquee fixture for both teams as highlighted with one-off guest appearances by the likes of Jason Akermanis (Morwell 2012) and Brendan Fevola (Traralgon 2013).
In last year's encounter, Morwell clinched a sensational one-point victory over the Maroons.