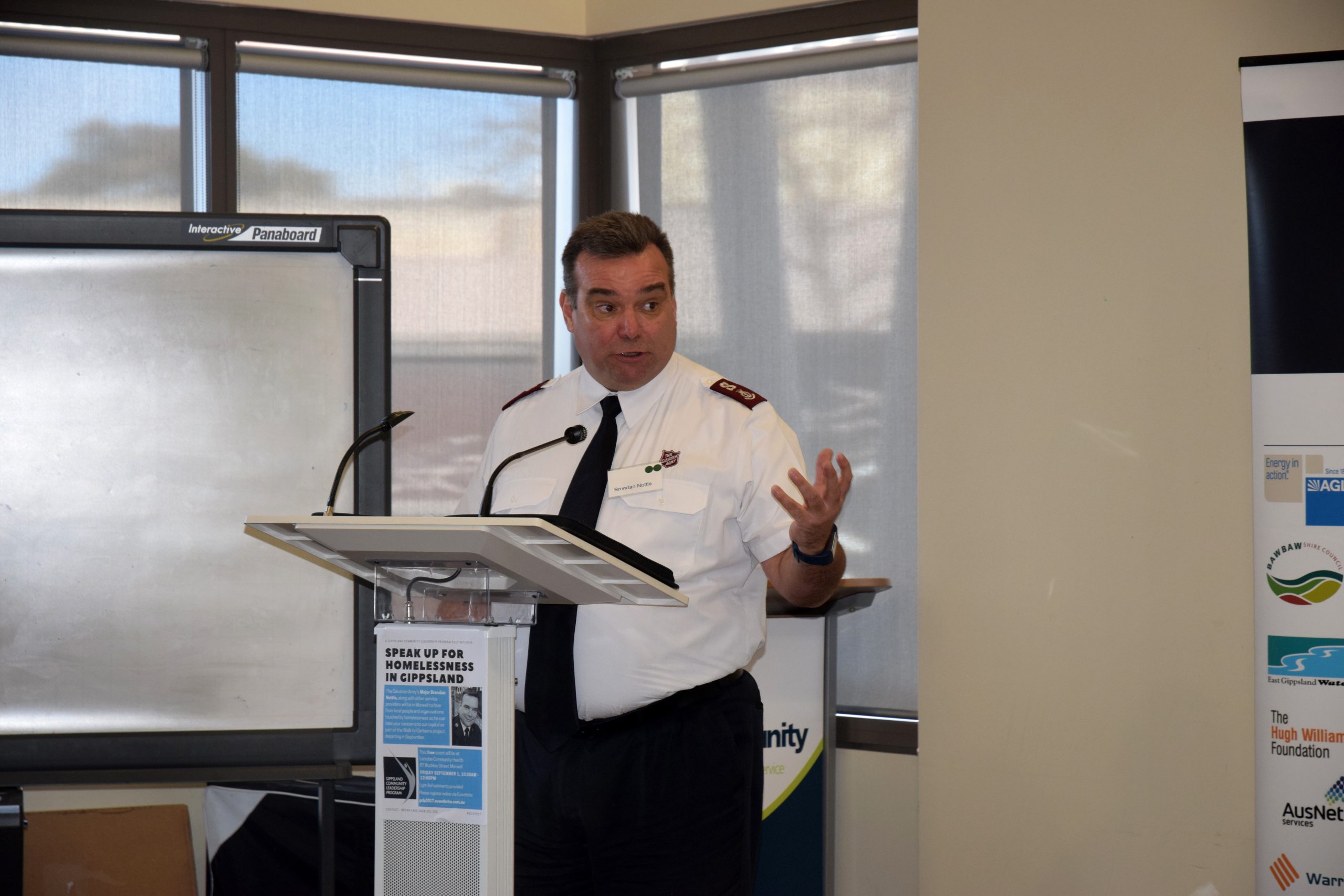 The story of Latrobe Valley former homeless man Paul Turenko is one of many first-hand accounts inspiring The Salvation Army's Major Brendan Nottle's to take the issue to Canberra on foot.
Major Nottle stopped at Latrobe Community Health Service in Morwell on Friday, a week before commencing his 40-day trek, and heard Gippsland's experiences and concerns with homelessness and shared his heartbreaking encounters with the issue which prompted his action.
His wife Sandra found a woman with wounds on her arms wandering the laneway next to their Melbourne building.
"The woman said 'I haven't told anybody this ever, but when I was a child my father raped me, and it happened on my birthday, it happened on Mother's Day, it happened on Father's Day and Christmas Day and every time those days come along I want to get the bad blood out of my body'," Major Nottle said.
The woman was "deeply and profoundly damaged", fell pregnant to her father and passed on any disability support money or income to her daughter, who eventually went to a prestigious private school and studied at university.
"I share this story that blows apart stereotypical views that so many hold about homelessness," Major Nottle said.
"I'm actually driven, inspired and almost in awe of those people who've shared their story because I become inspired by their amazing resilience."
On the way to Canberra, Major Nottle will collate data from community forums about the issue and urge politicians "it's time for a national plan".
"But it's got to be bipartisan, it has to be long-term and it has to be well resourced, and it has to be addressing not just homelessness, not just macro issues about a lack of adorable housing, but it has to address the micro issues," Major Nottle said.
"People's homelessness starts in the suburbs and regional rural areas, and yet when this became high profile in the media last year, the assumption was that services would get more funding, but the reality is the services in the regional and rural areas need more resourcing."
The forum on Friday was organised by the 2017 Gippsland Community Leadership Program.
If this article causes you distress, phone Lifeline 13 11 14.