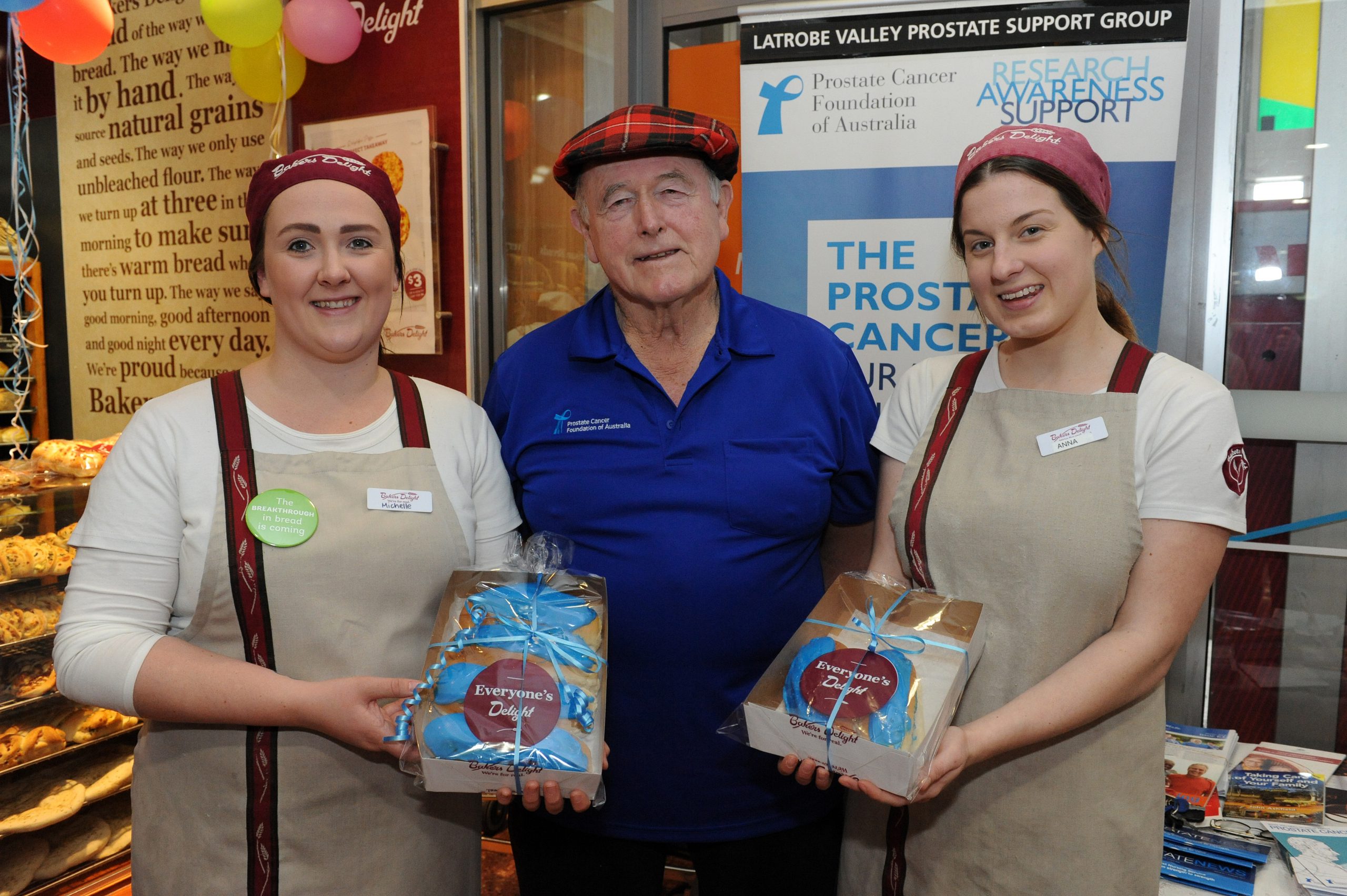 One Traralgon bakery is set to sell and distribute dozens of packets of blue jam-filled bunlets next month to raise awareness and funds for prostate cancer and research.
Bakers Delight in Stockland Plaza Traralgon will donate 100 per cent of the earnings from each packet of bunlets sold to prostate research.
Latrobe Valley Prostate Support Group secretary Allan Cunningham said early detection was essential to treat prostate cancer and encouraged people to support the cause.
"Money raised from the sale of these blue bunlets will go the Australian Prostate Cancer Foundation to help with cancer research and prevention," Mr Cunningham said.
"Depending on how much money we raise, some of the money will also go towards local people to help support them through their ongoing treatment.
"It's great to have the support of our local Bakers Delight and Stockland Plaza and we hope to expand this initiative outside of Gippsland in the coming years."
Bakers Delight Traralgon owner Max Stevenson said the Sale store at the Gippsland Centre would also participate.
"We do a lot of work with cancer awareness, particularly with the Breast Cancer Network of Australia, so this gives us an opportunity to help local men who are potentially facing prostate cancer," Mr Stevenson said.
"These men are our customers and they're also the fathers of our staff too so it's so important to encourage them to visit their doctors regularly and take care of their health."
The blue jam-filled bunlets coincide with prostate awareness month in an attempt to promote men's health and encourage them to visit a general practitioner regularly.
"Early detection is the most important stage for treatment and to have a successful outcome we can't stress enough how critical it is for men to regularly visit their doctor," Mr Cunningham said.
The Latrobe Valley Prostate Support Group will hold a sausage sizzle outside Bendigo Bank on Franklin Street, Traralgon on Thursday, 28 September to raise funds and awareness for prostate disease.
The blue bunlets will be on sale for the month of September at the Traralgon and Sale Bakers Delight stores.