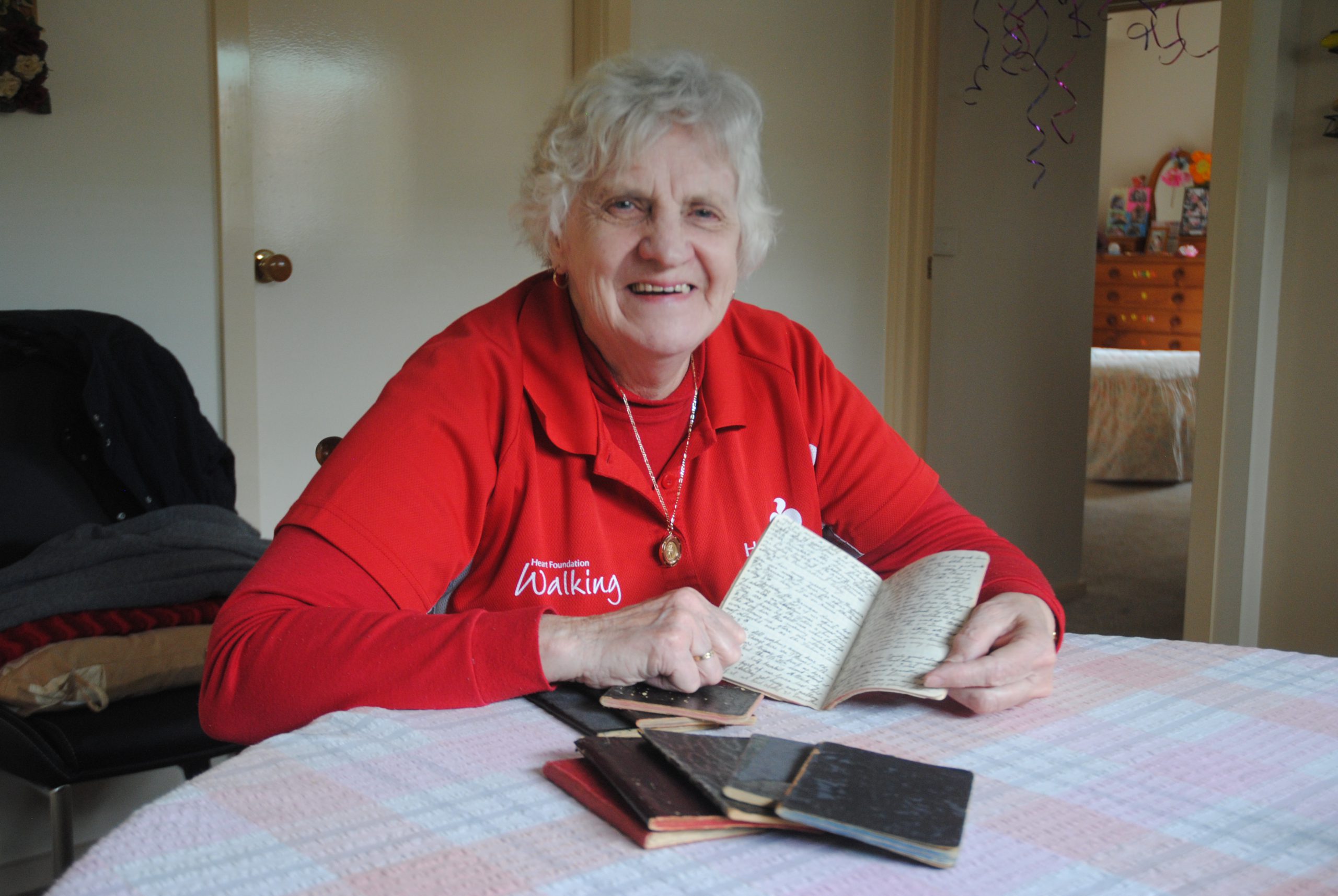 Traralgon resident Elva Cunningham has always treasured her father's nine pocket-sized war diaries, which managed to evade collection following World War I.

Now in retirement, the 75-year-old has found the time to work on a book documenting the observations of Sergeant Thomas Arthur Dykes, supported by comprehensive research of Mount Evelyn RSL secretary Anthony McAleer.
"For me, they were my diaries. They were all I had from my father," Ms Cunningham said.
Sgt Dykes died in 1952 when Ms Cunningham was nine years old and through reading the "honest" diaries, she not only learnt about her lost father, but also had access to an incredible first-hand account of the horrors of the Gallipoli Campaign and fields of the Western Front.
"My mother said he used to say they were written in the mud and the blood," Ms Cunningham said.
'Mud and blood' was the name of the brown and red symbol of the 23rd Battalion Sgt Dykes was a part of.
Ms Cunningham found it an appropriate term due to the appalling conditions of the war, which had psychological implications the man never recovered from.
"He said a chap who was standing behind him just got shot, just copped a bullet in the head, and it whizzed past him," Ms Cunningham said.
He survived the sinking of the Southland troopship in the Aegean Sea, the exhausting manning of Lone Pine, then the brutal winters of the Western Front which eventually hospitalised him with trench foot.
The diaries document the conditions, where they sometimes went without water and had flees contaminating their food.
"They lived on tins of jam, which really when you think about it, jam would've been a really great thing – it was sealed," Ms Cunningham said.
"They reckoned as soon as they opened it the Turks bombed them and it got full of dirt."
Sgt Dykes was awarded a Distinguished Conduct Medal for leading his men forward under heavy shell fire at Mont Saint-Quentin, after killing enemy soldiers and capturing a machine gun.
The editor of the book, Mr McAleer spent time researching the names mentioned in the diaries and provides notes in the margins about who they were and what happened to them in the war.
The words of Major Matthews before the Battle of Lone Pine now haunt Ms Cunningham.
According to the diary, he said, "Men, I won't keep you long… those are the last trenches taken from the Turks… You must hold them at all costs. Once you get in there, there is no coming back. You will stay there even if it costs you your lives".
"To me, who should be able to say that? … They were volunteering."
Ms Cunningham and her sister Elsie were the two children of their father's second marriage and through creating the book the Traralgon resident learnt a great deal about her family history.
"I didn't realise how rare I am, because I was born when he was in his 50s, and there aren't any servicemen alive now," she said.
"It's an unusual situation. People say to me, 'are you sure it was the first war?'"
'Who Wouldn't be a Soldier' will be launched by Major-General Mike O'Brien CSC on Sunday, 17 September at Mount Evelyn RSL Hall.
For more information contact mtevrsl@gmail.com and contact Elva Cunningham at elva.cunningham2@gmail.com for more information about the book.